Skiing & ski rental in St. Moritz
All INTERSPORT Rent locations at a glance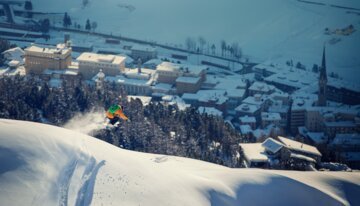 ©
Copyright: Filip Zuan / www.stmoritz.ch
By the way: The service at our INTERSPORT Rent shops on site is just as extraordinary and exclusive as winter holidays in St. Moritz …
Ski rental in St. Moritz
Your INTERSPORT Rent shops in St. Moritz
Yes, our RENTertainers are known for their love of winter sports, and for their ability to know just what kind of equipment you need for your winter sports adventures.
Our INTERSPORT Rent shops offer top-class service and state-of-the-art rental equipment. Seize the opportunity to test latest-generation equipment by leading manufacturers!
Just imagine: You, your brand-new rental equipment from INTERSPORT Rent and the perfectly groomed slopes of St. Moritz – the perfect combination for unforgettable moments in the snow!
INTERSPORT Ender Sport St. Moritz
INTERSPORT Ender Sport
Via Maistra 26, 7500 St. Moritz
INTERSPORT Rent Network Silvaplana Corvatsch
Talstation Corvatsch, Via dal Corvatsch 73, 7513 Silvaplana-Surlej
Skiing in St. Moritz
More about the ski resort
Like no other ski resort, St. Moritz-Corviglia stands for a unique combination of winter sports and lifestyle. Corviglia, the landmark mountain of St. Moritz, has seen many exclusive winter sports highlights, among them daredevils swooshing down the Cresta Run, one of the world's oldest natural ice skeleton racing toboggan tracks. What's more, the mountain is also home to Switzerland's steepest starting point for any descent, with a mind-blowing gradient of 100 per cent.
Curling, altitude training or snow polo: If you're looking for the exceptional, you can find it in St. Moritz. What's more, St. Moritz is a paradise for skiers, snowboarders, cross-country skiers and freeriders as well as for fans of ice hockey and winter hiking.
St. Moritz in a nutshell:
350 kilometres of slopes at altitudes between 1,773 and 3,057 metres above sea level
88 slopes, among them World-Cup-worthy runs
150 kilometres of winter hiking trails in and around St. Moritz
200 kilometres of cross-country skiing runs leading through St. Moritz and the Engadin region
the world's first Yoga piste
Snow Polo World Cup St. Moritz: the event highlight in winter
Skiing in St. Moritz is right for you if …
... you're looking for an exclusive ski holiday.
… you don't mind spending a bit more money on your ski holiday.
… you love extraordinary snow experiences.
… you would like to discover a state-of-the-art luxury ski resort.
… you love sunshine skiing.
Webcams
A look into the ski resort
INTERSPORT Rent tip
Our RENTertainers recommend
The Snow Polo World Cup in St. Moritz is the world's most prestigious winter polo tournament. Since 1985, the event has been taking place in St. Moritz, more precisely on the frozen lake of St. Moritz. Snow polo is considered the pinnacle of horse-back riding. The exclusive event is complemented by a great entertainment programme and top-class culinary offers. A highlight not to be missed!
Save the date: The event takes place every year at the end of January.
The best thing about it: Admission is free!
Did you know? At INTERSPORT Rent, you can rent an entire set of winter sports equipment in only three steps from the comfort of your couch!
INTERSPORT Rent shops in the regions
Cities with INTERSPORT Rent shops in the region