Skiing & ski rental in Klosters
All INTERSPORT Rent locations at a glance
©
Destination Davos Klosters | Three Piece Media
Ski rental in Klosters
INTERSPORT Rent shops in Klosters
At our five INTERSPORT Rent shops, you will be welcomed by experienced RENTertainers who are happy to advise you. You can choose from a wide range of high-quality winter sports equipment from leading brands. Whether you want to hit the slopes or explore the 150 or so kilometres of cross-country ski trails: You will find the right gear for your adventures in Klosters at our INTERSPORT Rent shops on site.
To spend as much time as possible in the snow, we recommend you reserve your equipment online from home. Then, all you have to do is pick up your gear at a shop of your choice in Klosters.
Skiing in Klosters
More about the ski resort
The ski resort of Klosters is the perfect entry point to the Davos-Klosters ski area. The Gotschnabahn cable car takes you right up to Gotschnagrat. If you are visiting with your family, we recommend you take the cable car up to the summit of Madrisa. That's where you'll find easy and family-friendly ski runs for beginners and returning skiers.
What's more: In Klosters, there's a huge variety of winter sports you can do at (almost) any time of the day or night: Several floodlit ski runs, ice skating rinks, cross-country ski trails and sledging runs all around Klosters invite you to pursue your passion for winter sports well into the night. So, nothing stands in the way of non-stop fun in the snow!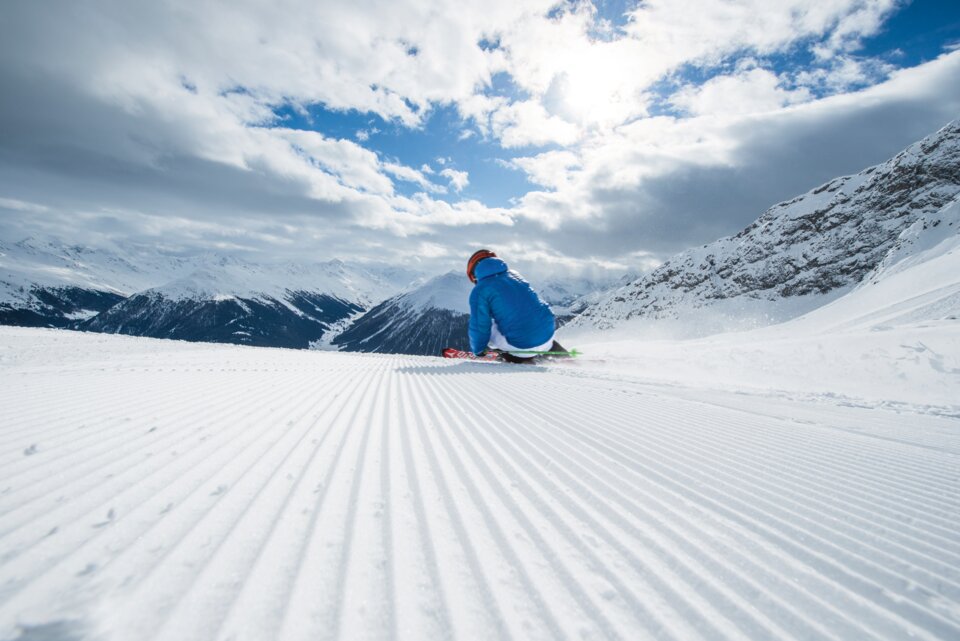 What's waiting for you in Klosters?
102 kilometres of ski runs
18 cable car and lift facilities
numerous ski and snowboard schools for beginners and returning skiers
150 kilometres of cross-country ski trails in the Davos-Klosters ski area
floodlit ski runs, sledging runs and cross-country ski trails
Snowgarden for snow-loving kids
SpeedRun on Weissfluhjoch and a SkiMovieRun
direct connection to the neighbouring Davos ski resort
Skiing in Klosters is right for you if ...
… you want to tackle one of the longest downhill runs in Europe. We're talking about the stretch from the Weissfluhjoch's summit down to Küblis – it's an impressive 12 kilometres in length.
… you are planning to brush up on your skiing skills: At the local ski schools, seasoned ski instructors will be happy to help you with that.
… you can't wait to spend enjoyable hours with your family on the slopes of Madrisa.
… you want to discover beautiful natural winter sports refuges away from the hustle and bustle, perfect for high alpine cross-country skiing, freeriding or snowshoeing.
… you would like to take advantage of the snow-sure conditions at one of the highest ski areas in Switzerland.
Webcams
A look into the ski resort
INTERSPORT Rent tip
Our RENTertainers recommend
Prolong your winter days: In Klosters, you can indulge in the joys of winter sports well after sunset. Several of the resort's ski runs, cross-country ski trails, ice rinks and even sledging runs are perfectly illuminated with powerful floodlights.
Night skiing
Davos Rinerhorn: Wednesdays and Fridays from 19:00 to 23:00
Klosters Selfranga: Tuesdays from 19:00 to 21:00 and Fridays from 19:30 to 21:30
Night cross-country skiing (3.2 kilometres of trails)
Klosters: Tuesdays and Thursdays until 21:30
INTERSPORT Rent shops in the regions
Cities with INTERSPORT Rent shops in the region