Snowboarding
At INTERSPORT Rent, you can get expert advice on snowboard equipment.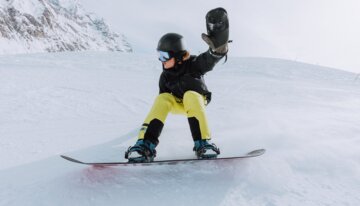 ©
Oliver Godbold photography / ROSSIGNOL
Everything you need to shred the slopes
*Advertisement
Snowboarding is more than a winter sport, it's a lifestyle – just like surfing, only in the snow. What do you need for a perfect snowboarding experience? First-rate equipment and great snow conditions, of course. The best place to rent your snowboarding gear is at INTERSPORT Rent.
Test the latest equipment on every day of your winter holiday and get personal advice from our RENTertainers ... That's all it takes to shred your way to happiness!
3 clicks to reserve your equipment online
Three clicks and the latest snowboard gear is yours – at least for the duration of your stay in the most beautiful ski resorts in the world. Because that's exactly where you'll find INTERSPORT Rent. There are more than 800 shops in a total of 14 countries in Europe and Canada.
Thanks to our quick and convenient online reservation system, you can start looking forward to your winter holiday as early as today. Just select your desired equipment for the planned duration of your stay.
Start the booking process ...
... and the countdown to pure snowboarding pleasure is on!
Snowboard know-how on the RENTertainer blog
At INTERSPORT Rent, you not only get first-rate equipment – but also a lot of expert knowledge and helpful tips on snowboarding. On the RENTertainer blog, our winter sports experts pass on their intel to you – special insider tips included. And of course, there are several die-hard snowboarders among them …
Would you like to brush up on your snowboard skills before the season starts? And you can't wait to finally put those nifty tips and tricks into practice? Do you want to impress your friends with your in-depth know-how on shredding? Nothing's easier than that – with the help of INTERSPORT Rent, you'll soon become a snowboard pro yourself!