Ski helmets
Test great products at INTERSPORT Rent!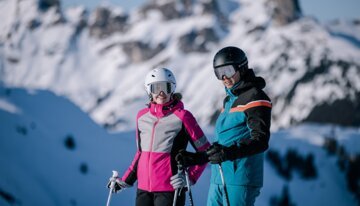 ©
IIC - INTERSPORT International Corporation GmbH
A perfect match for your head – with INTERSPORT Rent
*Advertisement
Safe skiing – that's only possible with a helmet! Fortunately, wearing a helmet is a matter of course for most skiers nowadays. However, there are many different products out there, with different properties and features.
INTERSPORT Rent makes it easier for you to find the perfect ski helmet. How? For one, with the helmet facts presented on this page. And secondly, with the professional help of our RENTertainers, your winter sports experts on site!
Where can you find them? At more than 800 INTERSPORT Rent shops in Europe and Canada. Discover the best ski helmets by leading manufacturers for renting and testing – right at the world's best ski resorts!
Which parts does a ski helmet consist of?
A ski helmet consists of two main parts:
The core: made from EPS (rigid) foam, for absorbing impacts
The shell: made from carbon fibre, hard plastic or fibreglass, for mechanical protection
Ski helmets also differ in their construction:
In-mould construction: The thin outer shell is fused with the EPS layer. In-mould helmets are well-ventilated and a bit lighter and more expensive than hardshell helmets.
Hardshell construction: The thicker outer shell is glued to the inner liner. This construction method is said to offer comparatively more protection. However, it also makes the helmet slightly heavier.
In addition, you can choose between half-shell and full-shell helmets, or class A and class B helmets:
Half-shell helmets – class B: cover the upper part of your head, often used in combination with flexible ear pads
Full-shell helmets – class A: cover your entire head including your ears, hence offering better protection
So if you're looking for the highest level of safety, we recommen getting a class A helmet, or even better, a helmet with MIPS.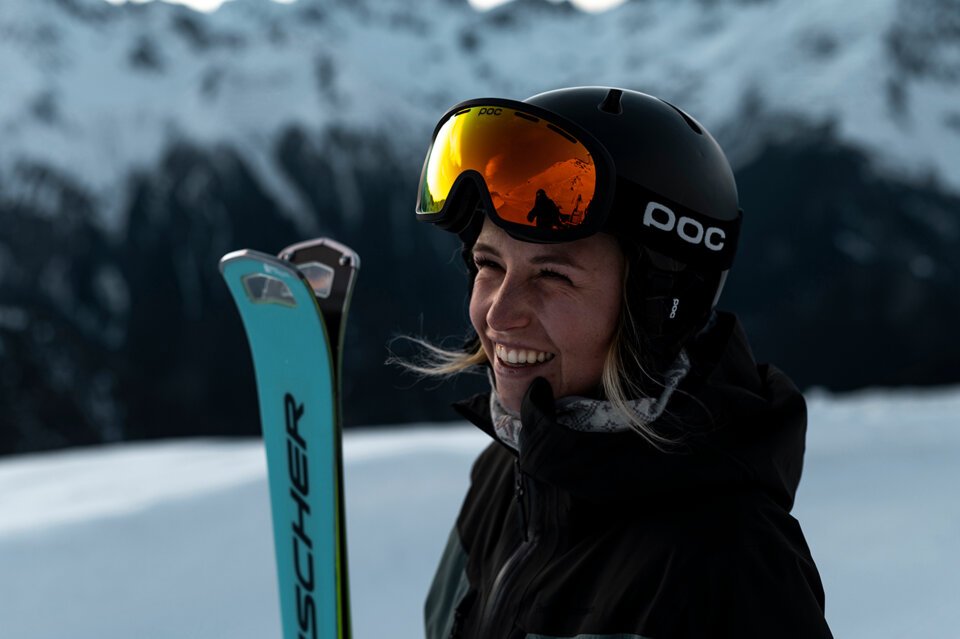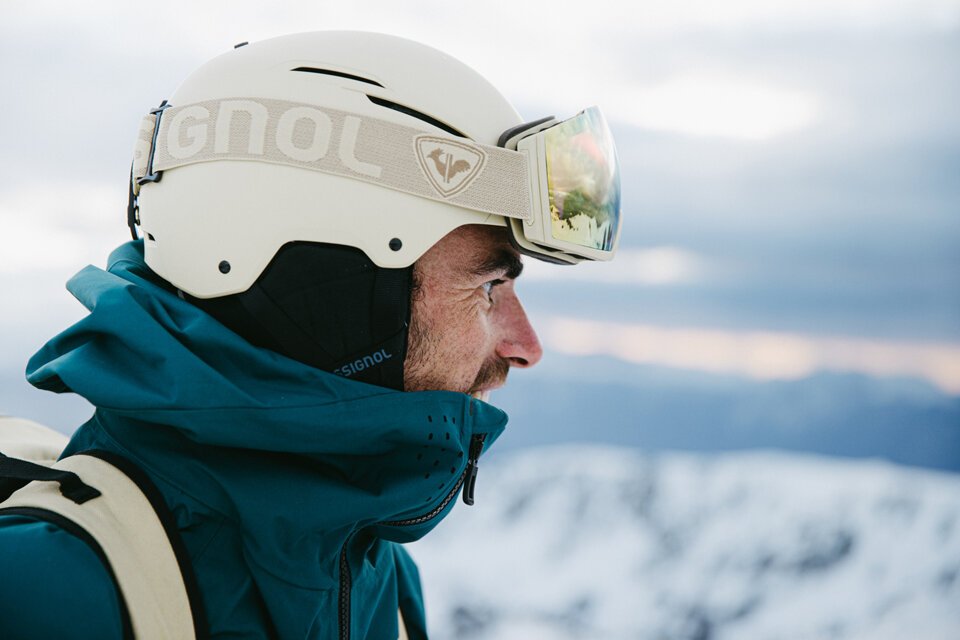 More safety on the slopes: MIPS or SPIN
Have you ever heard of MIPS, short for "Multidirectional Impact Protection System"? It refers to a safety system for ski helmets that applies in case of angled impacts to the head, to better protect the brain from rotational forces.
MIPS reduces these forces by way of a friction layer which allows the helmet to slide. An additional means of protection that has prevented many head injuries!
And what's SPIN (Shearing Pads Inside)? It refers to a technology launched by the Swedish POC brand. It has the same aim as MIPS but works a bit differently. The technology's central element are in-built silicone pads.
What both systems have in common: Both MIPS and SPIN are well worth their money – and a valuable investment in your safety!
Ski helmets with or without visors?
Ski helmets with a visor make ski goggles unnecessary. It's mainly a matter of personal taste whether you prefer helmets with or without visors. Both have their advantages.
offer a wider field of vision
tend to fog up less
make ski goggles unnecessary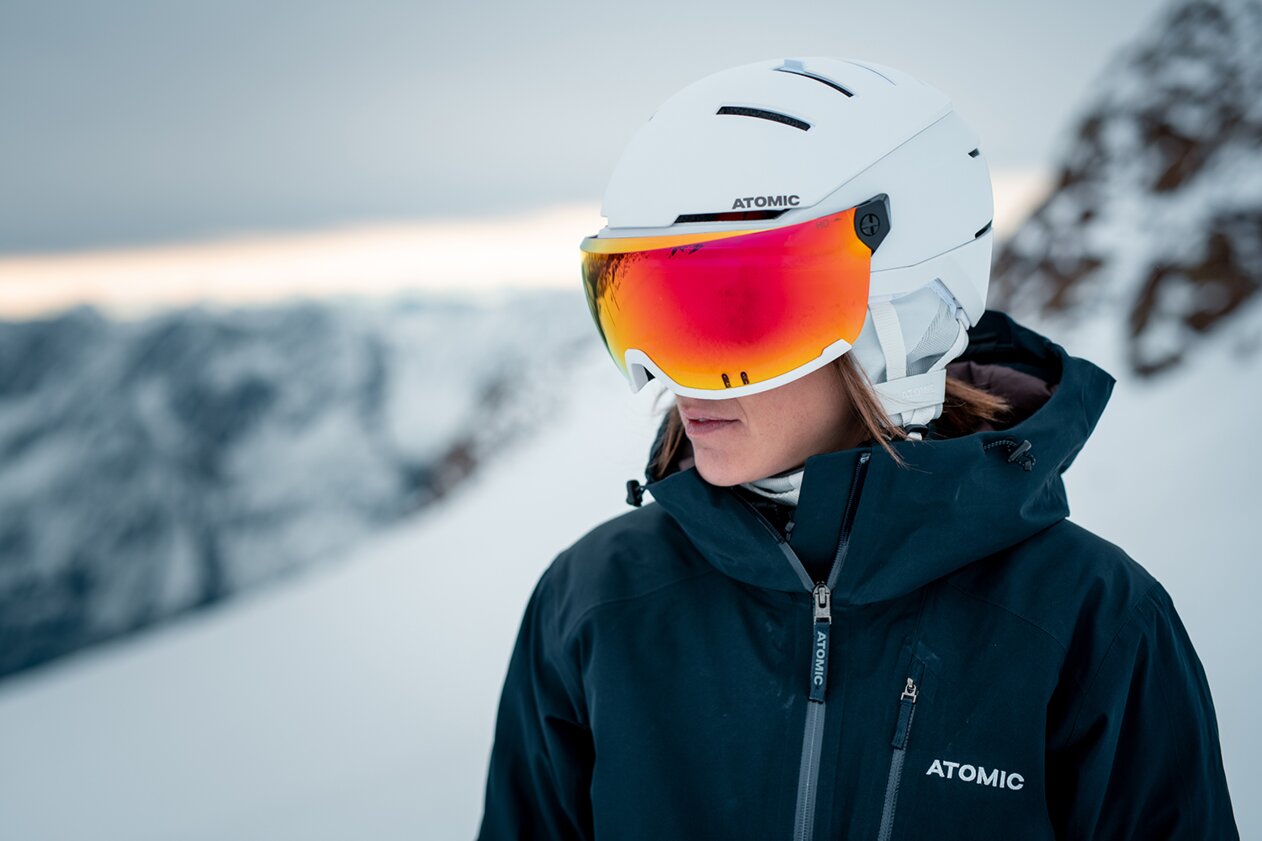 Ski helmets without a visor plus ski goggles
Ski goggles usually offer better UV protection than visors.
With some products, you can swap your goggles' lenses to match the current weather conditions.
Important: Make sure that your ski goggles are compatible with your helmet!
How to find your perfect ski helmet: 3 tips
The following three tips might come in handy when shopping for a new ski helmet:
Bring your ski goggles!
If you already have a pair of ski goggles and are looking to buy a ski helmet without a visor, don't forget to bring your goggles to the shops to ensure that they are compatible with your new helmet!
Measure your head circumference!
This is especially important if you want to order your helmet online. To measure your head circumference, run the tape measure around the widest part of your head, just above the eyebrows!
Know some tricks!
When you try on a new helmet, we recommend the following trick: Put on the helmet with the chin strap open and shake and nod your head – a properly fitting helmet should stay in place without moving around. To make sure that the helmet doesn't pinch, wear it for several minutes.
Discover even more tips on finding a ski helmet with the perfect size and fit!
A good-quality ski helmet costs between 100 and 130 Euros. And you shouldn't compromise when it comes to safety features! What's more, little details like ventilation systems, goggle clips, inside padding, chin straps and ear pads can make all the difference between a good helmet and a great one.
Did you know? On our blog, we also have useful information on buying ski helmets for children!
Ski helmets and equipment at INTERSPORT Rent
Testing a different ski helmet every day? That's easy with INTERSPORT Rent! With the help of our winter sports experts on site, you're sure to find the perfect women's or men's helmet for your needs. Plus, we also offer a vast choice of other high-quality rental equipment for skiing – all of it at a great price. Find out more about:
Find a location and just stop by ...
... or reserve your gear online now.