Ski touring poles
The RENTertainers at INTERSPORT Rent know which touring poles you should get.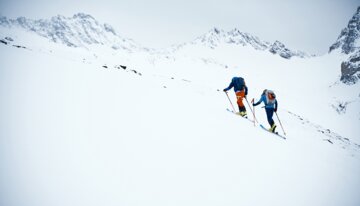 Find suitable touring poles at INTERSPORT Rent
*Advertisement
The importance of touring poles for ski touring often gets underestimated. But without them, skinning up the mountain is almost impossible. They not only provide support but also added safety. When skiing down the mountain, they help you keep your balance, better control your turns, and allow you to push yourself forward on flat passages. When taking a break, you can lean on them for support.
Basically, ski touring poles should be as lightweight and robust as possible. INTERSPORT Rent explains which materials their various components are made of and how various types of touring poles differ from each other.
What materials are touring poles made of?
Aluminium, carbon, carbide, EVA foam or cork – touring poles are made up of a colourful mix of different materials. Now you can find out which materials are used for which components.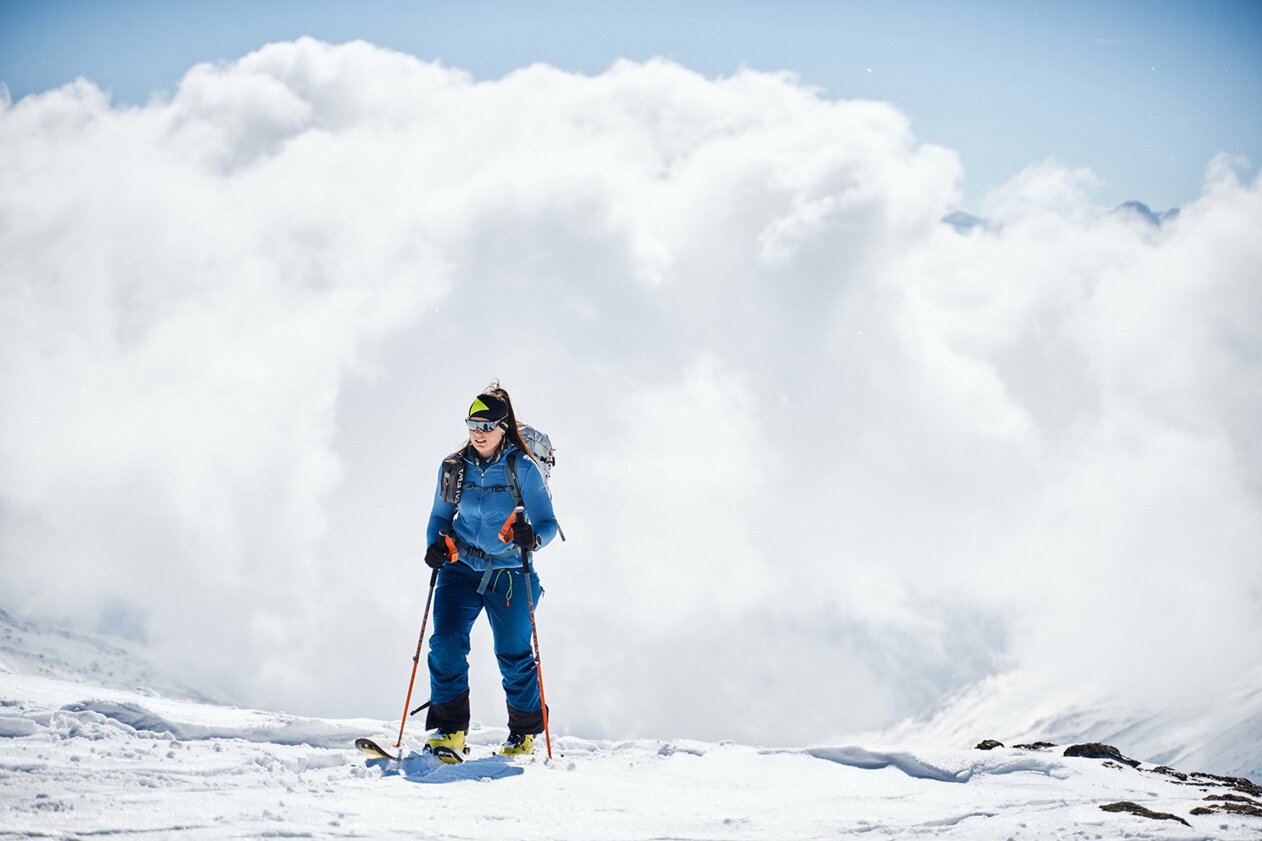 Touring poles made of aluminium and/or carbon
Manufacturers use aluminium and carbon as the main materials for touring poles. The reason: These materials are lightweight and, at the same time, offer the necessary stability that you need both during the uphill and the downhill. In comparison to carbon, aluminium has a longer lifespan and offers slightly better stability, however, it is heavier. When using the lighter carbon, small cracks can form in the material over time, which may cause the pole to break at some point.
Now you are probably wondering whether you should opt for a touring pole made of aluminium or carbon. Many manufacturers offer hybrid solutions, combining the best of both worlds. The upper part of the ski touring poles is usually made of carbon, while the rest is made of aluminium.
The result: lightweight poles that are very robust and durable.
When it comes to stability, the touring pole's basket plays an important role as well. In many models, it can be swapped out – which is especially helpful when you are skiing in a variety of snow conditions. In deep powder, larger baskets prevent the pole from sinking into the snow too much, while in harder snow or ice, smaller baskets or no baskets at all are the better choice.
A diameter of eight to nine centimetres has become the standard size. Baskets that are too large may impede you in moving forward if they are not flexible enough. For this reason, baskets made of hard plastic with a joint are available, as well as softer, more flexible baskets. Some baskets also come with additional features that make it easier for you to activate the heel raisers or to de-ice the skins. Screw-in, insert or stripper systems allow you to quickly exchange the baskets as needed.
Another advantage of baskets that can be removed is that you can also use your touring poles for hiking in summer.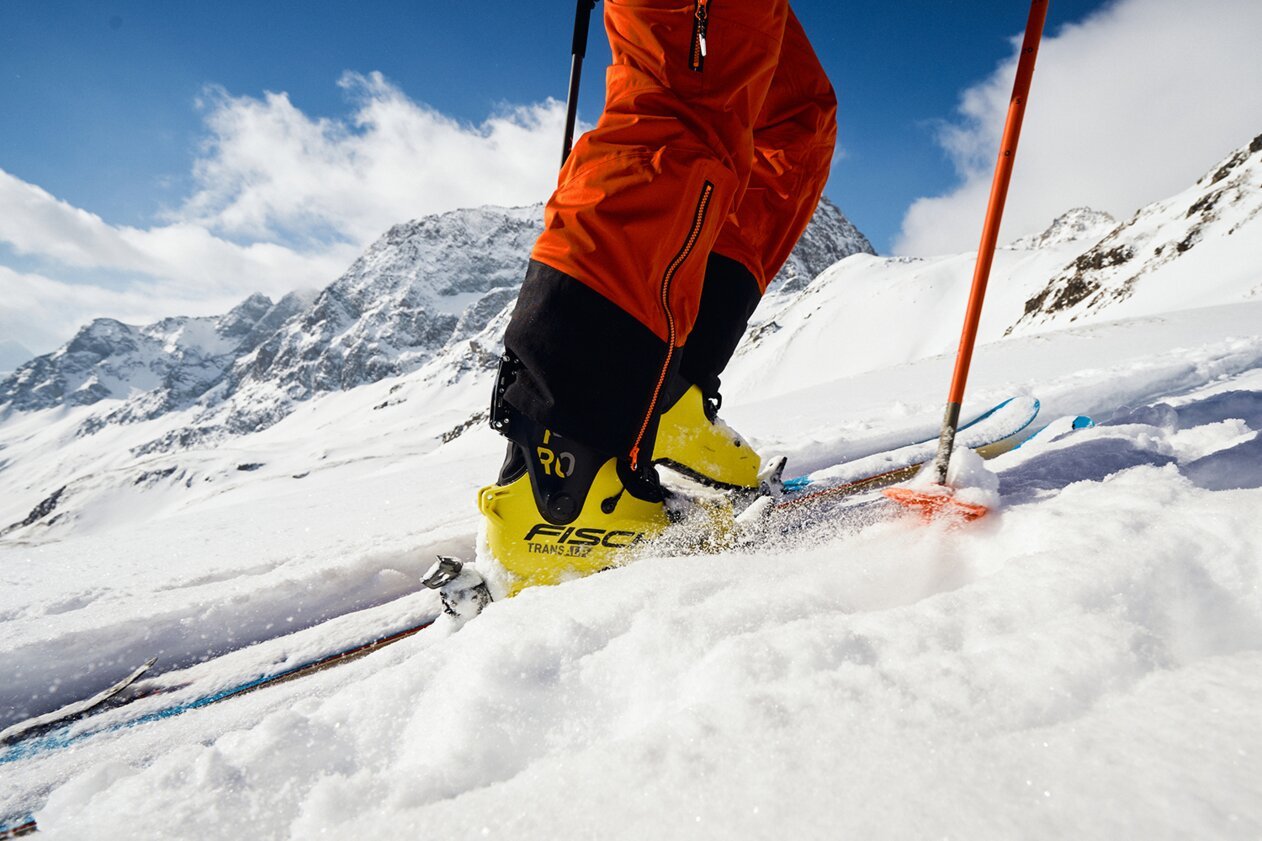 The tips at the lower end of the touring poles are usually eight centimetres long, measured from the basket. The length is crucial to ensure that the tip provides sufficient grip, does not break off and that the pole cannot get stuck. The hard and robust material carbide (commonly known as widia), of which the rounded ferrules are made, does not wear out and offers plenty of grip even on icy surfaces.
Manufacturers are relatively unanimous when it comes to the shape of the grips. However, the choice of materials is all the more diverse: Rubber, foam, cork and plastic are all possible options. Of all the materials, plastic is the least suitable because it offers very little grip. Ergonomics are key when it comes to the grips because they need to feel good in your hands.
Tip for ski tours in spring: Grips made of cork are perfect for tours in warmer temperatures. They feel very comfortable, even without gloves on.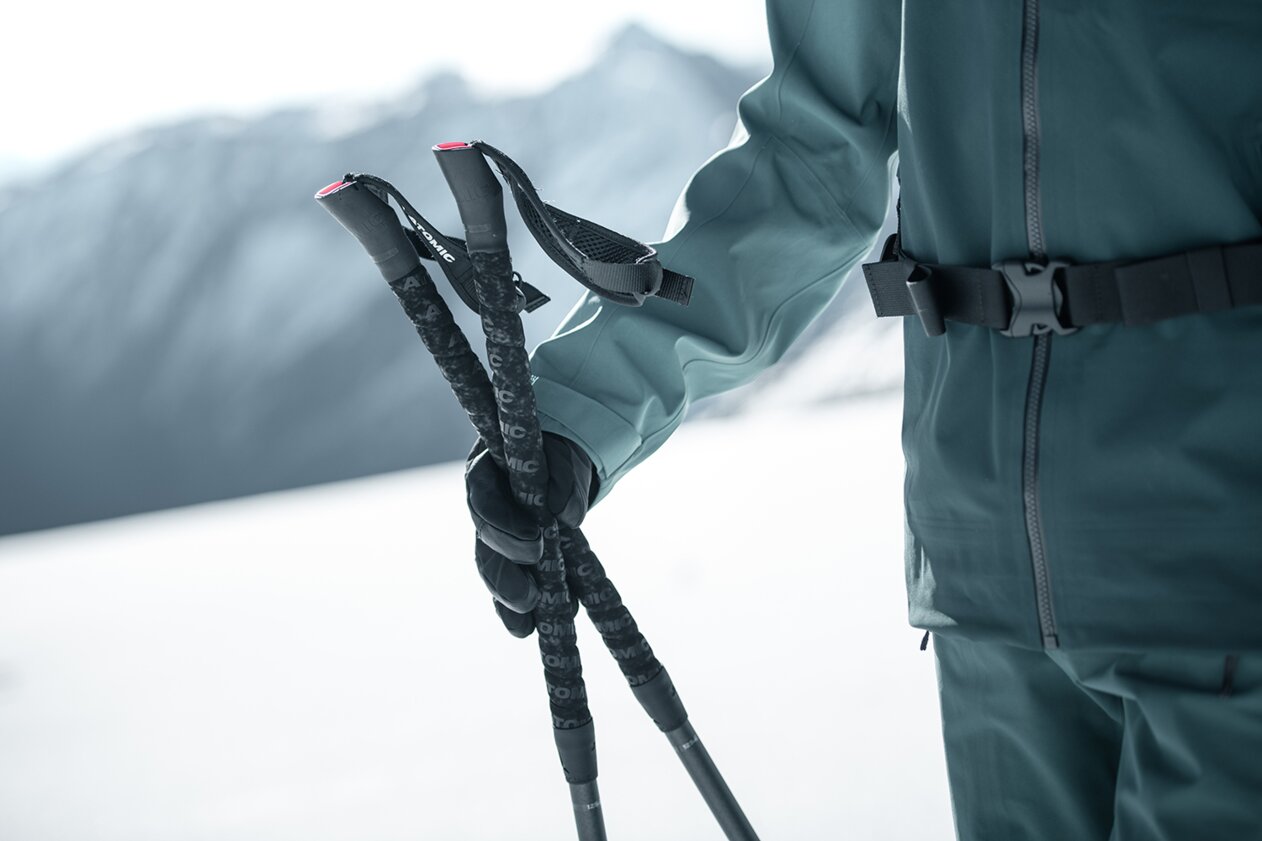 Length of the touring poles
Once the question of the material has been answered, the length of the touring poles plays a crucial role. You can find out how long your poles should be in a few easy steps:
First, stand up straight.
Then turn the touring pole around, hold it just below the basket so that the other end touches the ground.
Now check whether your elbows are at a 90-degree angle in this position. If this is the case, the length is correct.
Calculate the right length
You don't have a touring pole at hand? Then use the following formula as a rough guideline: your height in centimetres times 0.7 = suitable touring pole length.
An example: If you are 163 centimetres tall, then a touring pole length of around 114 centimetres is perfect.
However, there is another factor that influences the ideal length of your touring poles, and that is the terrain in which you will go ski touring. Freeriders usually choose shorter options to save weight. In deep powder snow, however, longer models also make sense.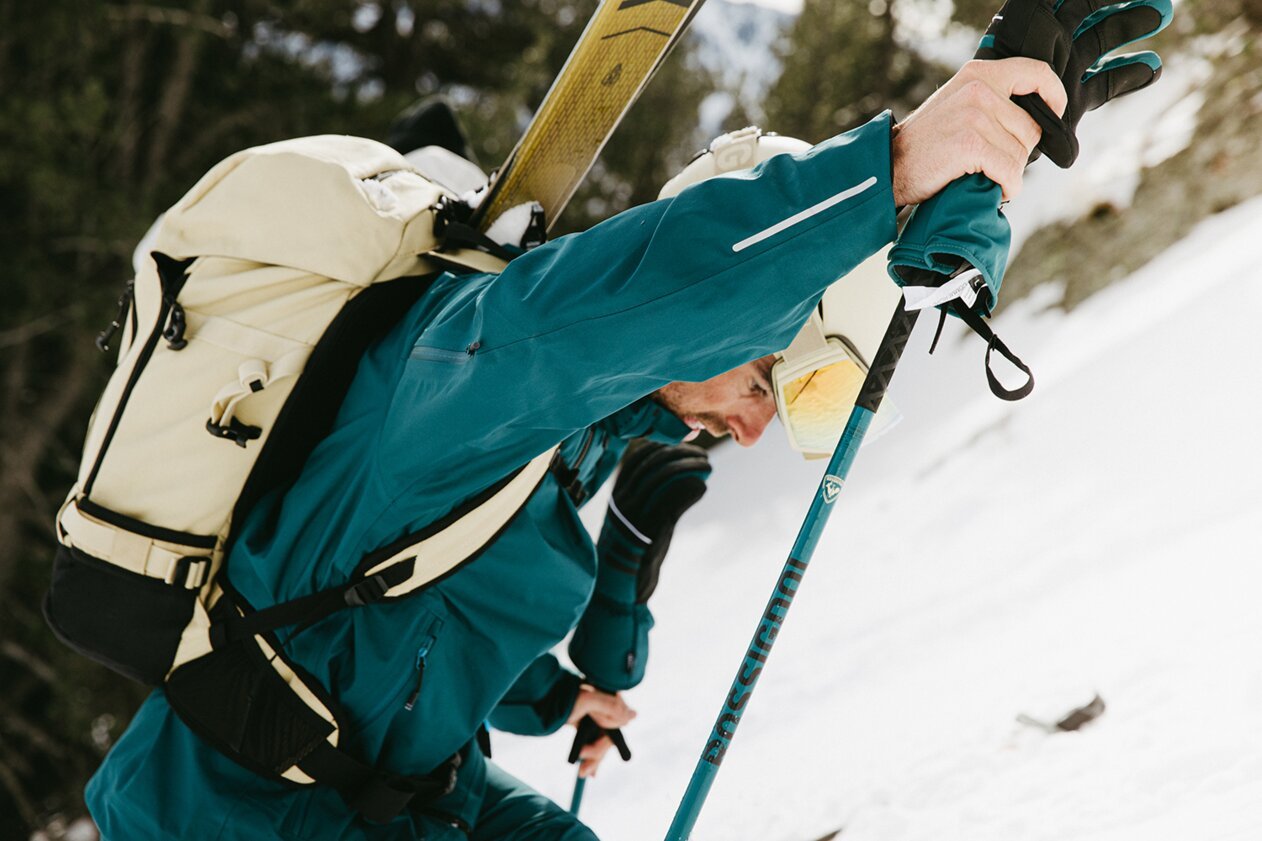 Length-adjustable touring poles
The length of most models is not set in stone.
There is a difference between:
telescopic poles
folding poles
fixed-length poles
With telescopic poles, the individual segments can be moved inside each other. Models with Speedlock or screw systems are among the most common. Speedlock systems use clamps, which make it easy to adjust the length of your poles, even with gloves on. Adjusting your poles can be a little more challenging when screw fastening is required. Compared to collapsible models, telescopic poles boast a larger adjustment range.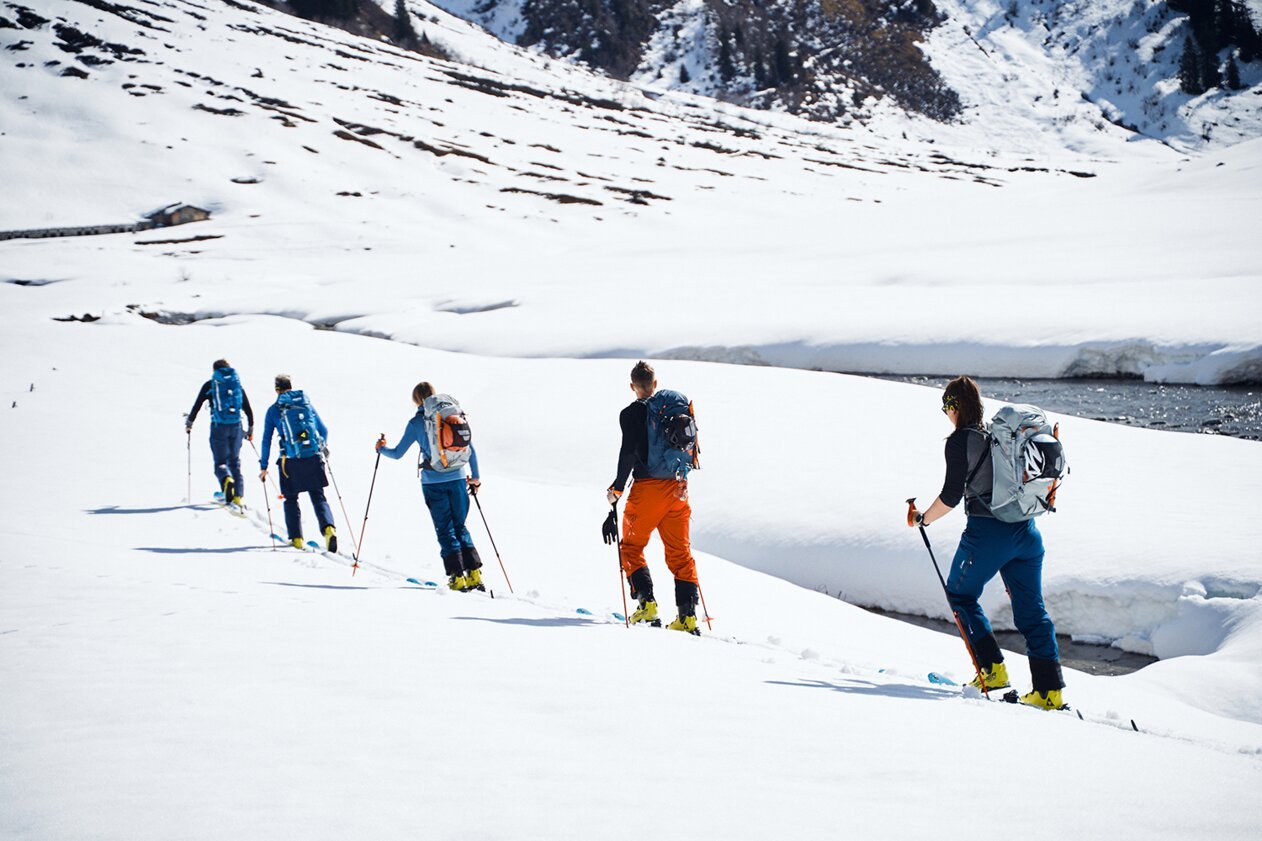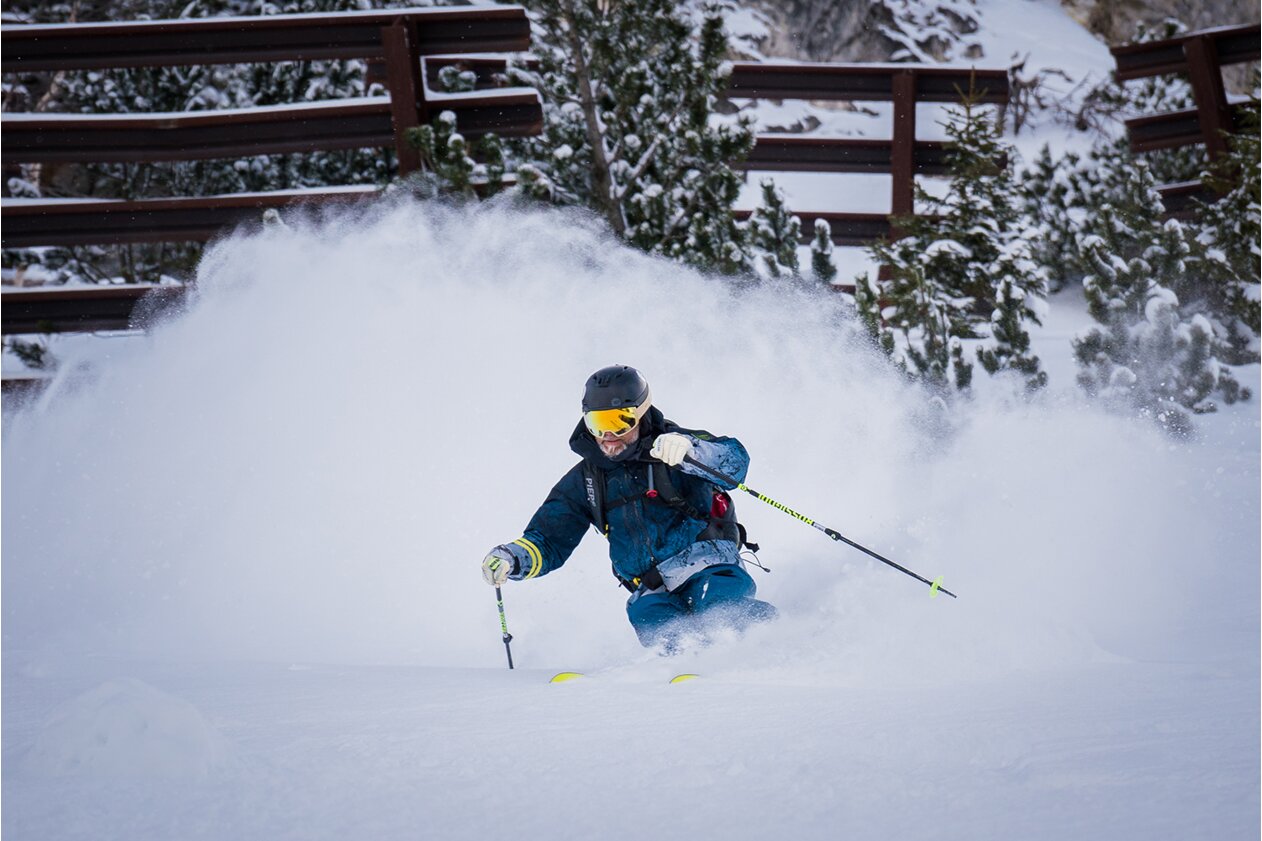 Collapsible poles are usually made up of three parts that are connected by a wire rope. Their clear advantage is their compactness. They are great for carrying in a rucksack.
The disadvantage: Compared to telescopic poles, they break more quickly and have a smaller adjustment range.
The third option are fixed-length poles, where the length cannot be adjusted at all. Adjustable poles are usually shortened for the uphill and lengthened for the downhill but with fixed-length poles, that's not possible. So you might have to hold them in a different part of the pole. The advantages are lower weight and greater stability. This type of touring pole is mostly used in ski touring races.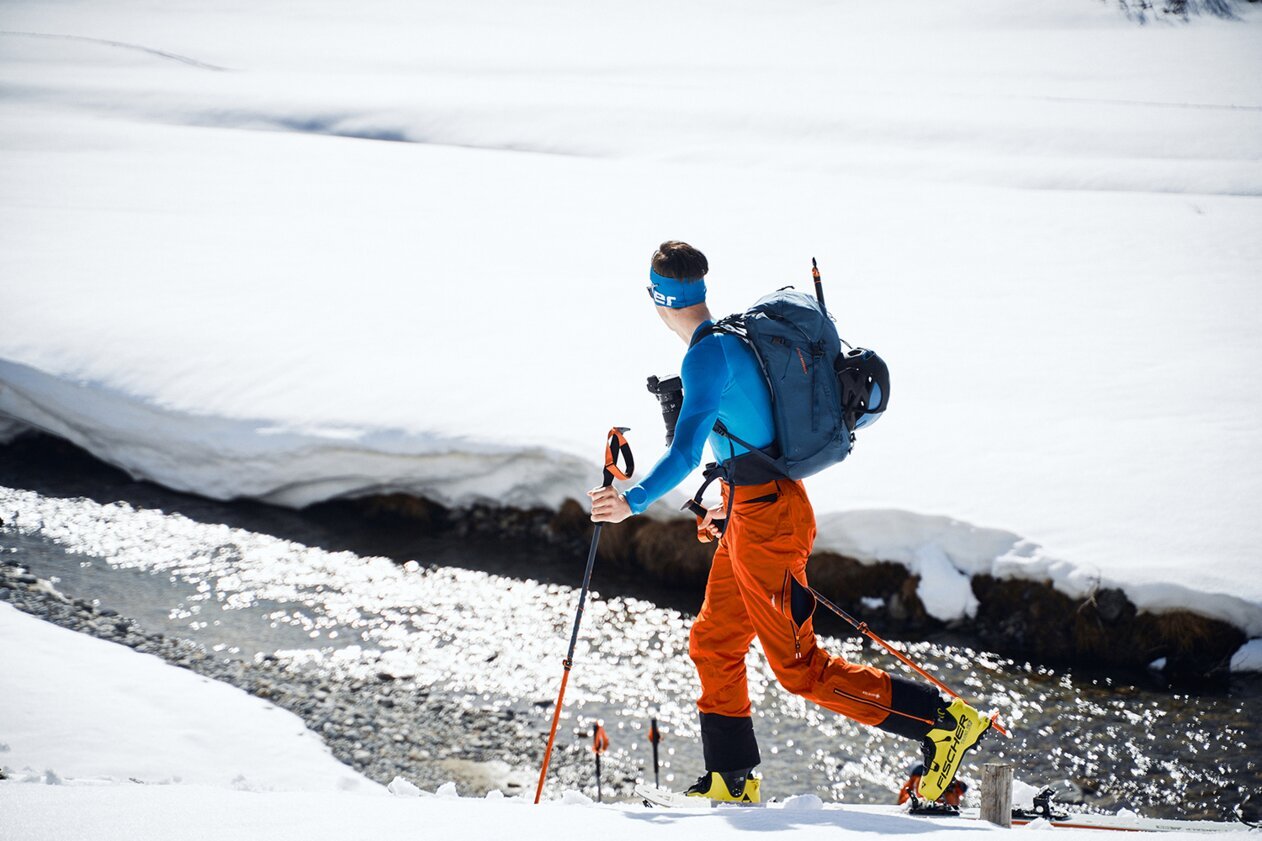 Our RENTertainers know which ski touring poles suit you best
As with touring skis, touring boots and touring bindings, the terrain and what you primarily use the poles for is crucial. However, the most important criteria are that the length fits your height and that the ski touring pole provides you with sufficient support.
If you don't want to worry about the right length or worn-out baskets, then simply rent touring poles at INTERSPORT Rent. At more than 800 INTERSPORT Rent locations worldwide, our RENTertainers will help you pick the right poles. What's more, you'll always get first-rate models from leading manufacturers.
Telescopic or collapsible poles, aluminium or carbon:
The RENTertainers know which touring poles you should get.