Touring skis
INTERSPORT Rent has the right models for you.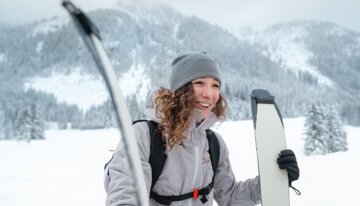 Ski touring equipment at INTERSPORT Rent
*Advertisement
Are you in the mood for some fun away from the hustle and bustle of the groomed slopes? Do you want to experience fresh powder on wonderful descents? Do you like to leave the lift station in the valley behind and prefer to climb the mountain on skis? Then ski touring is the right winter sport for you!
How much fun you have on a tour is not only a question of fitness. It also depends on the right choice of equipment: From touring skis to touring boots, touring bindings and poles to skins and crampons, everything should fit you and your preferred terrain and ski touring style. To be safe, you need a helmet and avalanche equipment. And with the right sports outfit, you will not only stay warm but also stylish.
Can you just put skins on your alpine skis and head out on a ski tour? No, it's not quite that simple! Special bindings are used in ski touring, and touring skis also differ from their alpine counterparts in certain other respects.
INTERSPORT Rent explains the five main differences between alpine skis and touring skis: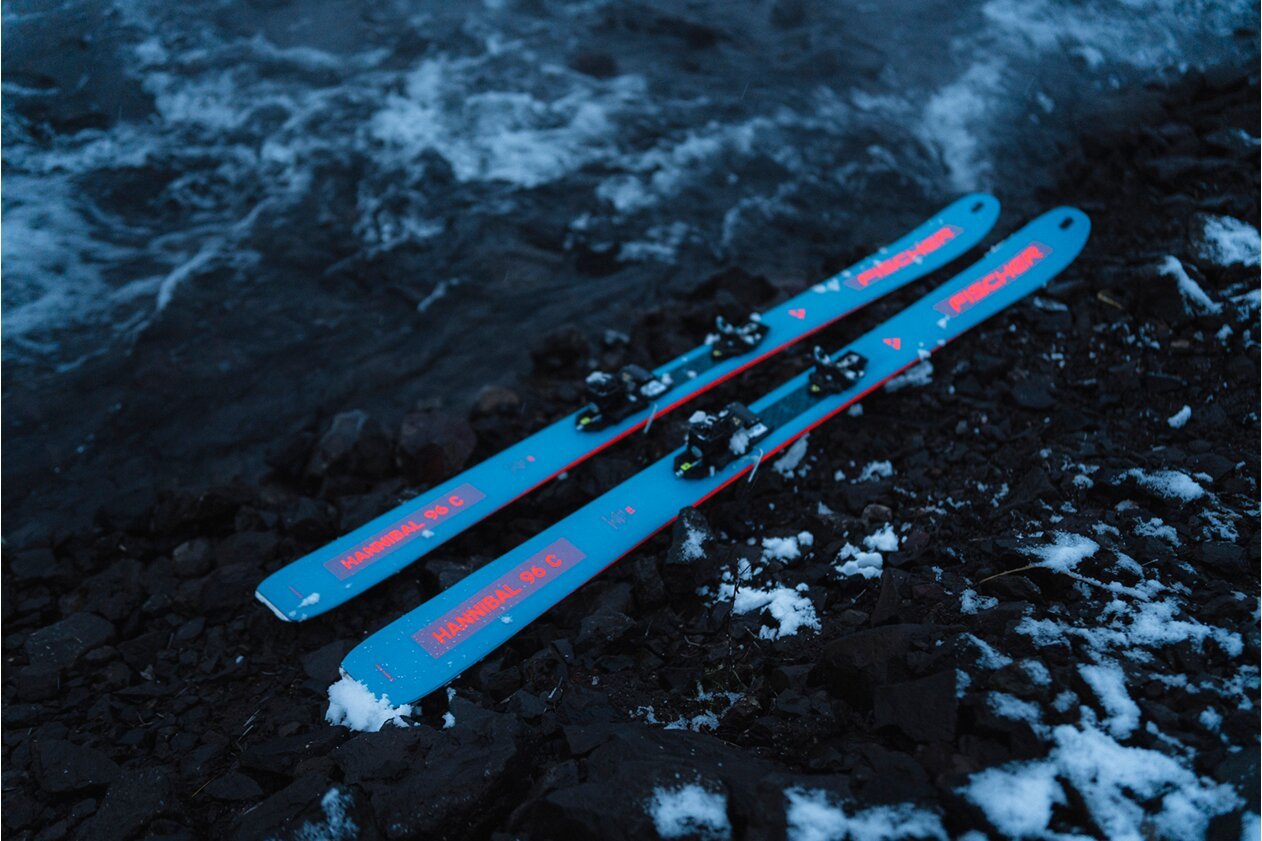 Difference no. 1: the weight
When you hold an alpine ski in one hand and a touring ski in the other, you'll immediately notice: one of them is heavier. Alpine skis easily weigh twice as much as touring skis. Due to their higher weight, they offer more stability, which is especially helpful on hard-packed snow and icy surfaces.
There are also differences in weight between various types of touring skis. Ascent-oriented models should be as light as possible and are available from around 750 grams per ski. All-round models, which are downhill-oriented but still boast good performance on the uphill, usually weigh between 1,250 and 1,500 grams.
Difference no. 2: the material
The materials used are responsible for the differences in weight. At their heart, alpine and touring skis are the same: They have wooden cores. In the alpine version, this wooden core is much stronger and offers greater torsional stiffness. In other words, the skis are more resistant to twisting. To achieve these properties in touring skis and still save weight, special carbon components are used.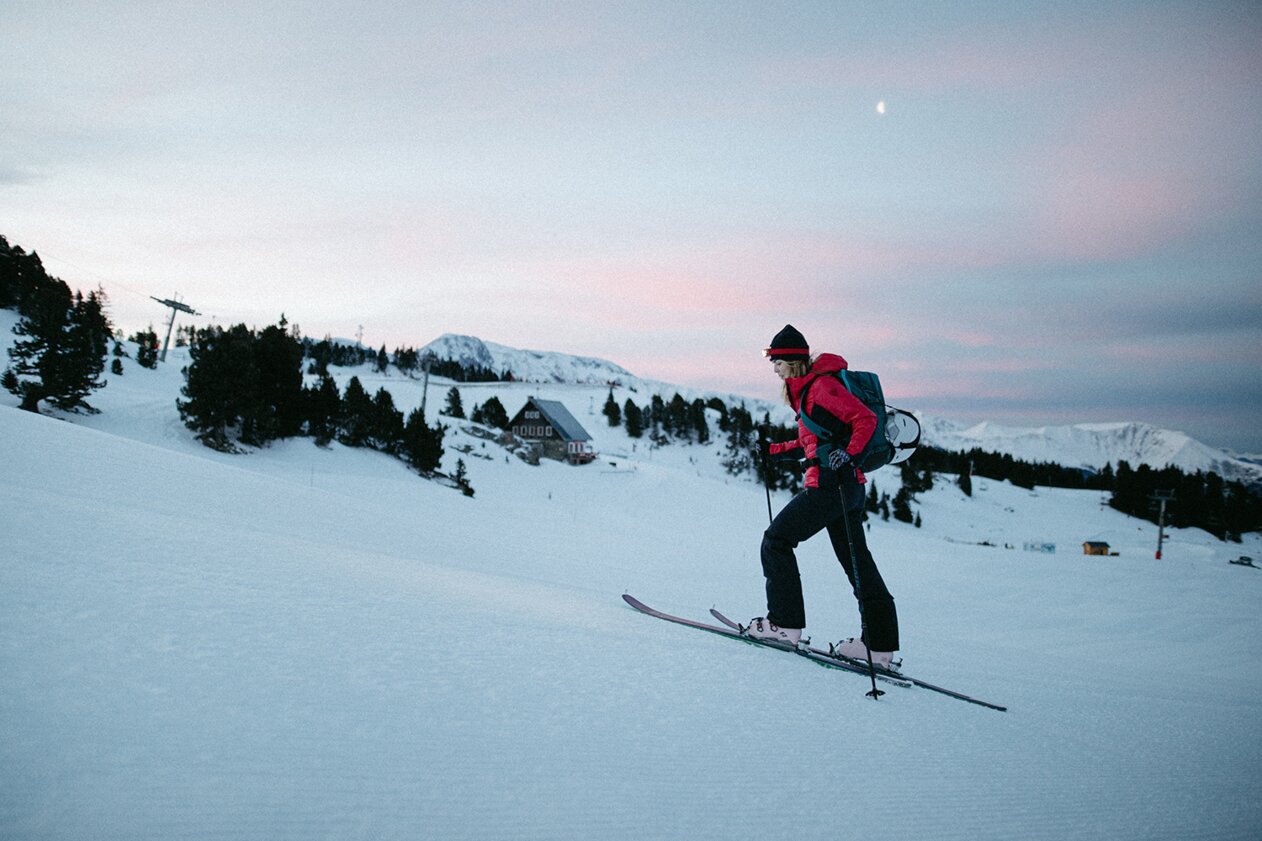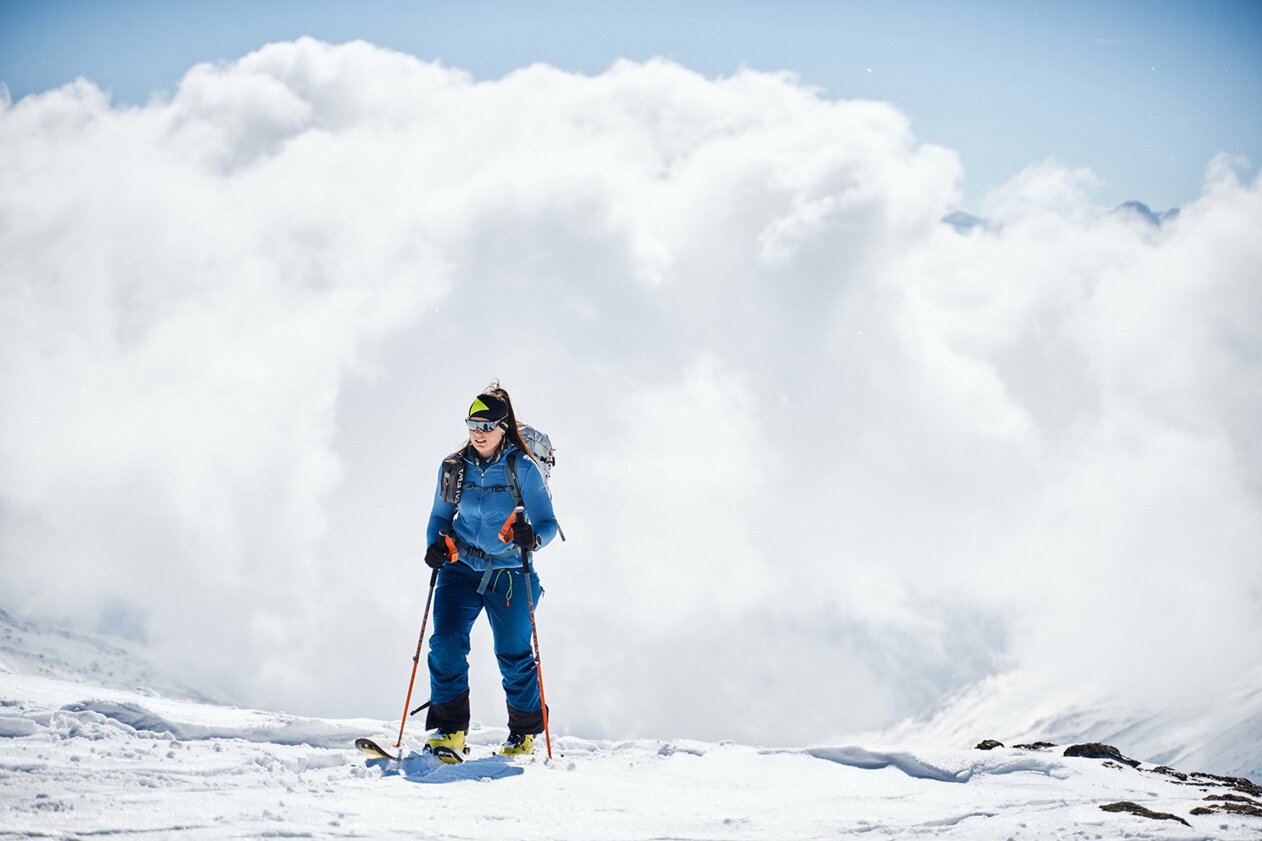 Difference No. 3: flex and torsion
Due to the differences in weight and material, skis also differ in the way they bend.
The bending behaviour results from the ski's flex (flexibility in longitudinal direction) and its torsion (rotatability around the longitudinal axis).
Soft flex and high torsional stiffness – this combination makes for touring skis that turn easily and are good for off-piste skiing. On alpine skis, on the other hand, the flex is hard and the torsional stiffness comparatively higher. This means the skis don't flutter even on fast descents and provide better grip on ice.
So if you're a downhill-oriented ski tourer, opt for touring skis with more weight!
Difference no. 4: the waist
The waist refers to the centre width directly under the binding. Basically, narrower skis are more comfortable on the uphill and more manoeuvrable on the downhill. The wider they are, the more fun they are in deep powder snow. Today, alpine skis and touring skis hardly differ from each other in terms of centre width. Alpine skis and freetouring skis are almost identical in their waist.
When choosing suitable touring skis, the following rough guidelines for the centre width are helpful:
up to 82 mm = ascent-oriented
between 84 and 95 mm = all-round touring ski
more than 95 mm = freetouring ski or downhill ski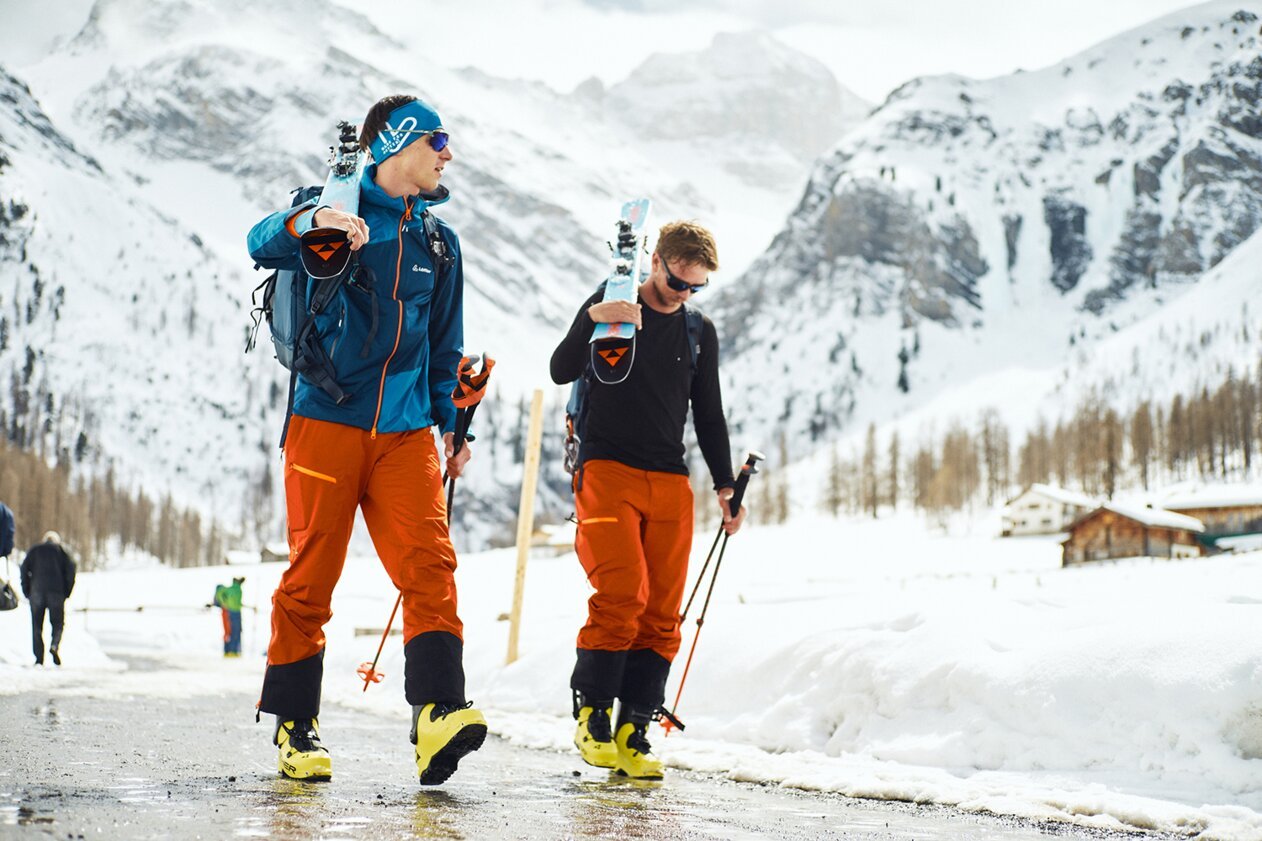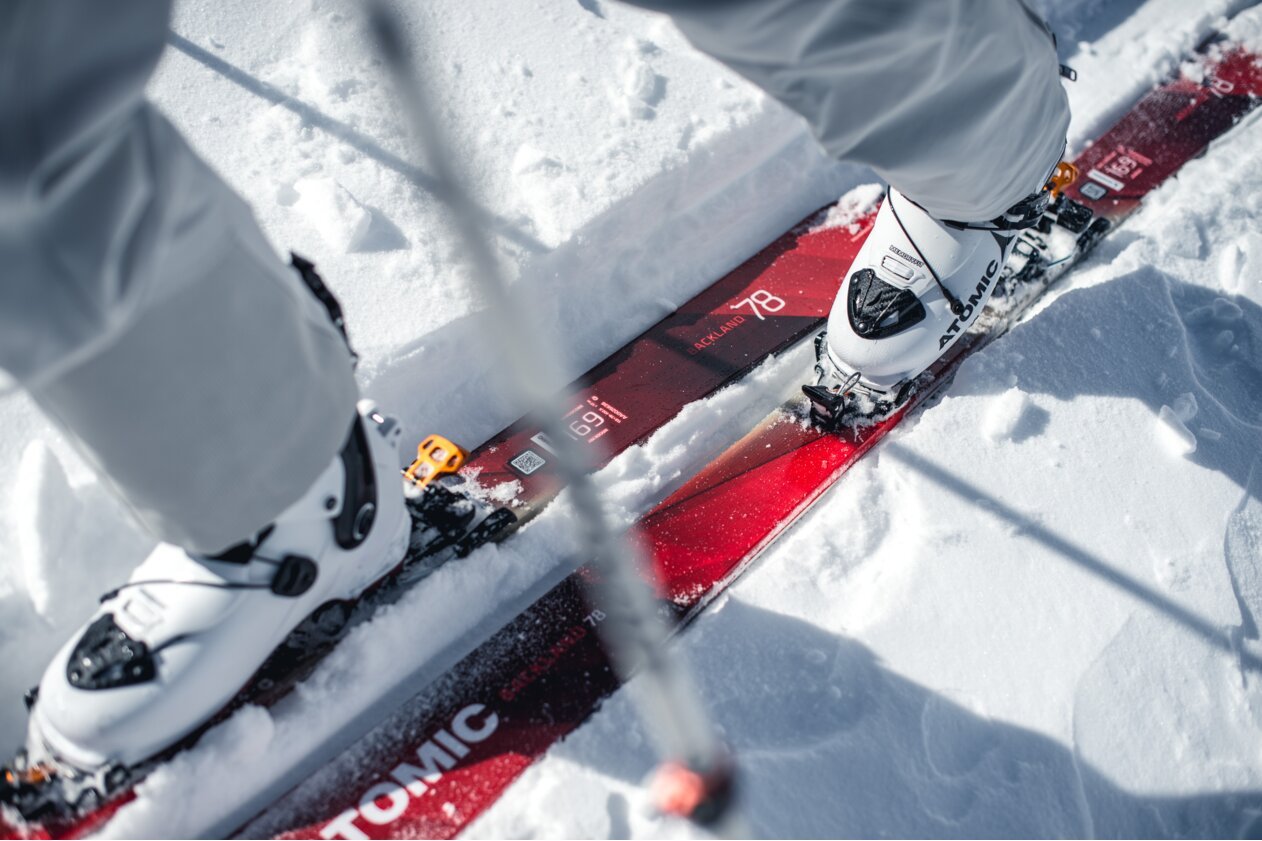 Difference no. 5: the radius
As with the waist, the radii between the tip and tail of alpine skis and touring skis are similar. The radius indicates how much the ski widens towards the front and the back. A smaller radius has a positive effect on turning ability.
Choosing the right touring skis
Bearing in mind the distinctions between alpine skis and touring skis, it has already become clear that there are also differences between the various models for ski touring. As there are different types of ski tourers, the following list should help you determine which one you are and choose the ski model that suits you best:
Ski tourer type 1: the all-rounder
Do you want to climb the summit with as little weight as possible and still have fun on the downhill? Then all-round touring skis are the model of choice for you. Pay attention to the following numbers:
centre width between 82 and 85 mm
weight between 1,200 and 1,400 g per ski
If your heart beats faster for fun descents, it's best to accept an additional weight of about 200 grams on the ascent. Because with somewhat heavier touring skis (1,400 to 1,600 grams) and a greater centre width (95 mm), you'll benefit from considerably more buoyancy.
The right equipment for the all-rounder: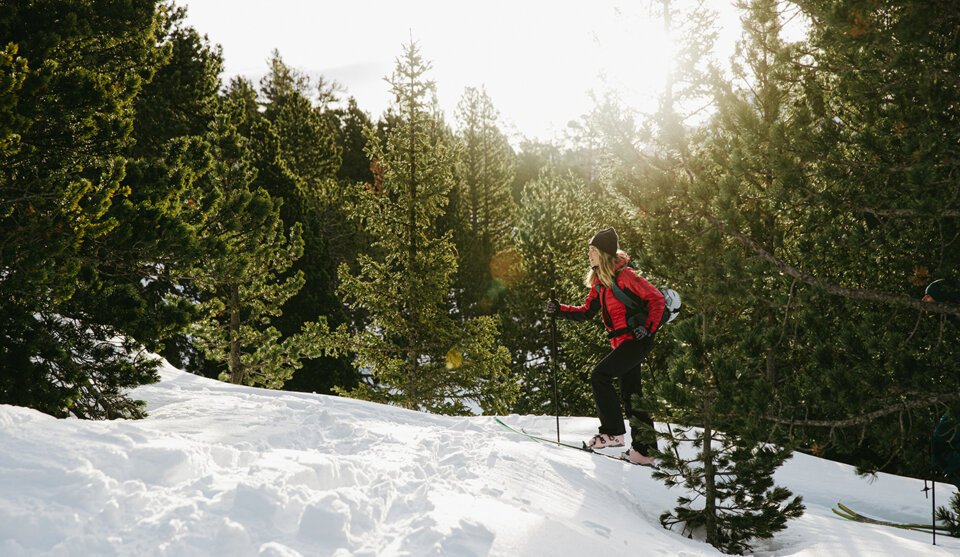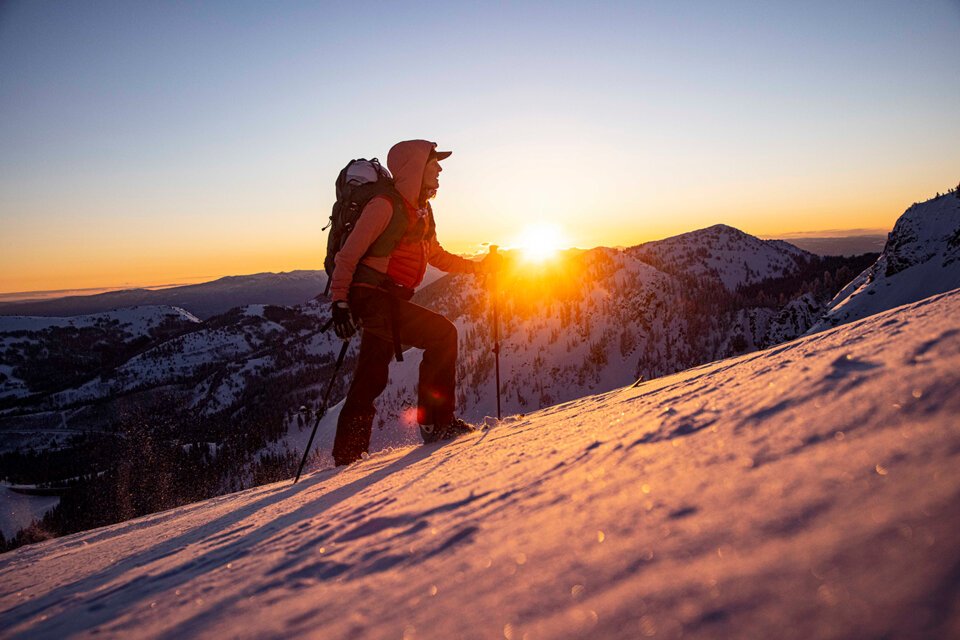 Ski tourer type 2: the ascent-oriented type
For you, everything revolves around the ascent, and you want to reach the summit as quickly as possible? Then light, agile and relatively narrow touring skis are perfect for you. For optimal ascent performance, use the following numbers as a rough guideline when choosing your skis:
centre width between 72 and 82 mm
weight between 800 and 1,100 g per ski
However, if you also want to experience solid performance on the descent, it's best to add up to 13 millimetres to the width and around 200 grams to the weight.
The following equipment goes well with these skis:
lightweight pintech bindings with an adjustable Z-value and possibly with a stopper and safety strap to prevent losing your skis (at the expense of a bit of extra weight)
ascent-oriented touring ski boots with two or three buckles and max. 1,300 g per boot
Ski tourer type 3: the freeride tourer
Do you want to enjoy action-packed descents far away from the groomed slopes, and you're more than happy to put up with demanding ascents for this? Then you should work on your strength and stamina because excellent downhill performance is only possible in combination with more weight.
The following numbers ensure maximum freeride pleasure:
centre width of at least 95 mm
weight between 1,300 and 1,700 g per ski
In the mood for even more adventure? Then choose models with a centre width of 110 to 120 millimetres! The extra width is reflected in the weight (1,600 to 2,200 grams per ski), but heavier touring skis also provide more stability and stiffness.
When it comes to equipment, you should opt for:
downhill-oriented pintech bindings or more stable frame bindings (NB: Certain touring ski boots are not compatible with frame bindings.)
stable and rigid touring ski boots with 3 or 4 buckles, with optimal power transfer to the touring skis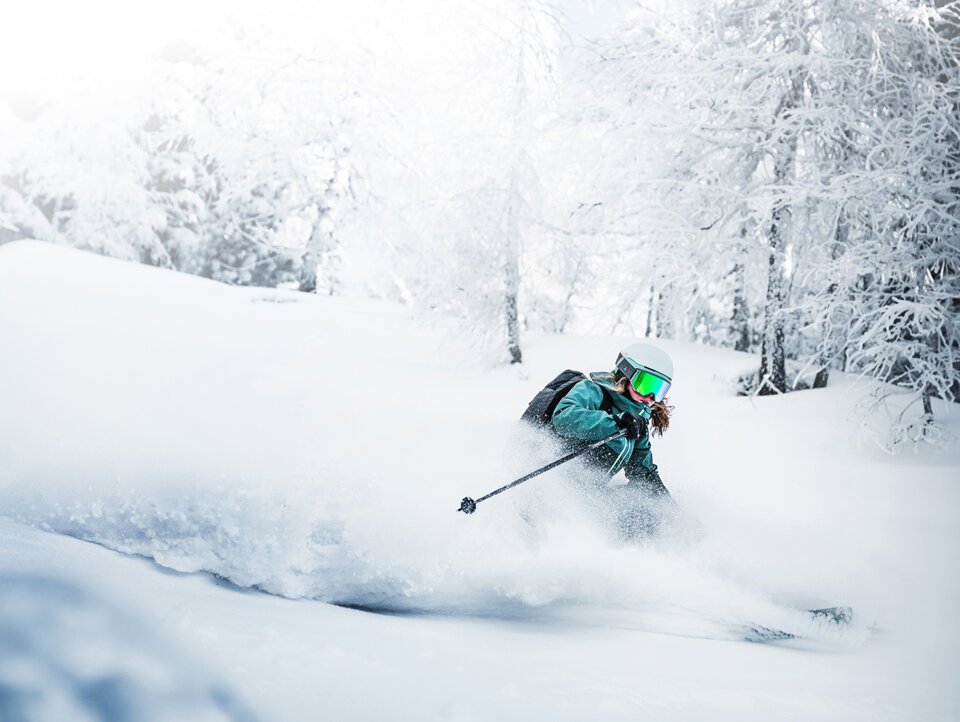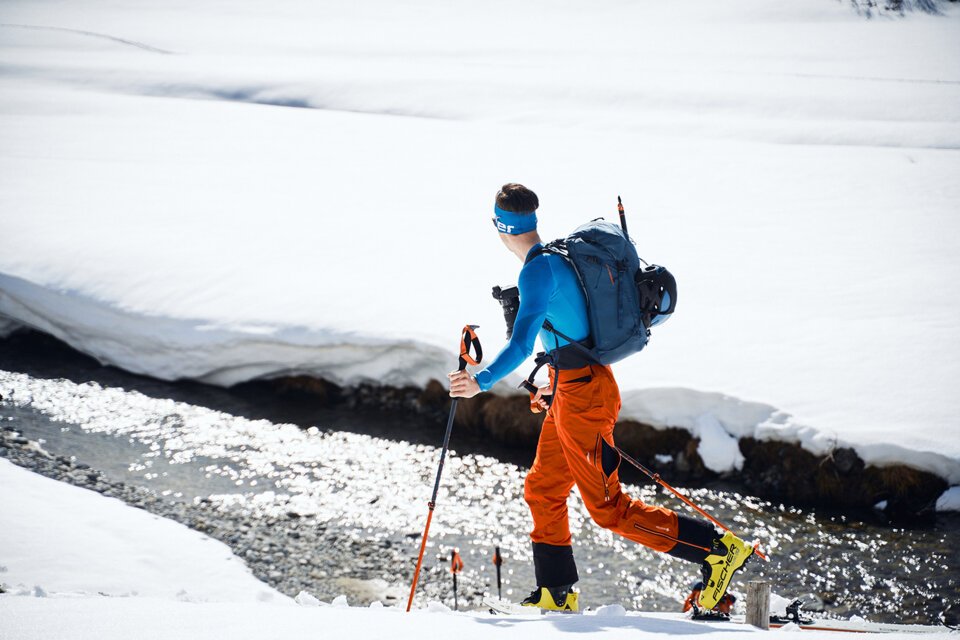 Ski tourer type 4: the racer
Fast is not fast enough for you. Every minute counts, and saving weight is your top priority? As a racer, you should choose touring skis that do not exceed the following numbers, because only then can you also participate in official races with them:
centre width of 65 mm
length of 151 or 161 cm
weight between 650 and 800 g per ski
The rest of the equipment should be as light as possible too:
lightweight pin race bindings weighing less than 130 g, without adjustable release mechanism and stopper
weight-optimised touring ski boots with a maximum of 850 g per boot
The easy way: ski touring sets from INTERSPORT Rent
As you can see, there is suitable equipment for every type of ski tourer. However, finding the right gear can sometimes be a challenge, especially for beginners. If you don't want to choose all the components individually, then you might want to go for a ski touring set. Complete sets usually include touring skis, poles, skins, touring ski boots and perhaps also crampons.
Your advantage: All pieces of equipment go together, and you don't have to worry about whether the skins and bindings will fit your touring skis.
It's a match: You'll find the right ski touring set at over 800 INTERSPORT Rent locations worldwide. What's more, our RENTertainers are happy to help you pick a ski touring outfit that will allow you to enjoy winter to the fullest.
ski touring backpack including safety equipment such as an avalanche transceiver, probe, shovel, first aid kit and bivy sack
sunglasses (and ski goggles)
headlamp
sunscreen
drinking bottle and snacks
ski touring outfit consisting of functional underwear, socks, touring trousers, softshell jacket, fleece vest, hardshell jacket or windbreaker, gloves, a spare set of clothes, hat or headband, scarf or neck warmer
Just touring skis or the entire equipment?
With INTERSPORT Rent, you'll head out on your ski touring adventure perfectly geared up!