Ski clothing
Discover useful outfit tips for women & men with INTERSPORT Rent!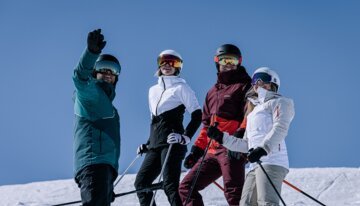 ©
IIC - INTERSPORT International Corporation GmbH
Find your favourite ski outfit
*Advertisement
For many of us, skiing stands for fun, enjoyment and freedom. However, all of the above can quickly be cut short if you wear the wrong ski outfit. After all, we all know the feeling of being too hot, too cold or too wet under our ski clothing.
So how do you avoid these unpleasant sensations? The winter sports experts of INTERSPORT Rent have put together a list of useful tips regarding ski clothing. Because it takes the right outfit to make the most of your day in the snow!
Three boxes your ski clothing should tick
When it comes to choosing your ski wear, you should always stick to the principle of "form follows function". This doesn't mean you have to aim lower in terms of design though. Nowadays, the choice in ski wear is so vast that it's easy to find the perfect outfit for every taste.
Whether it's a ski jacket, a pair of ski trousers or gloves: Winter sports clothing has two jobs to do – keep you warm and keep you dry. That's why your ski wear should check the following three boxes:
It's snowing, you had a fall or are riding in deep powder? Then it's vital that your ski clothing keeps out moisture. Because as soon as your clothes get wet, you will start to feel cold. What's more, your ski wear should protect you from the wind, making taped seams and waterproof zips an absolute necessity. Wrist and leg gaiters and trousers with suspenders or a bib are also nice to have.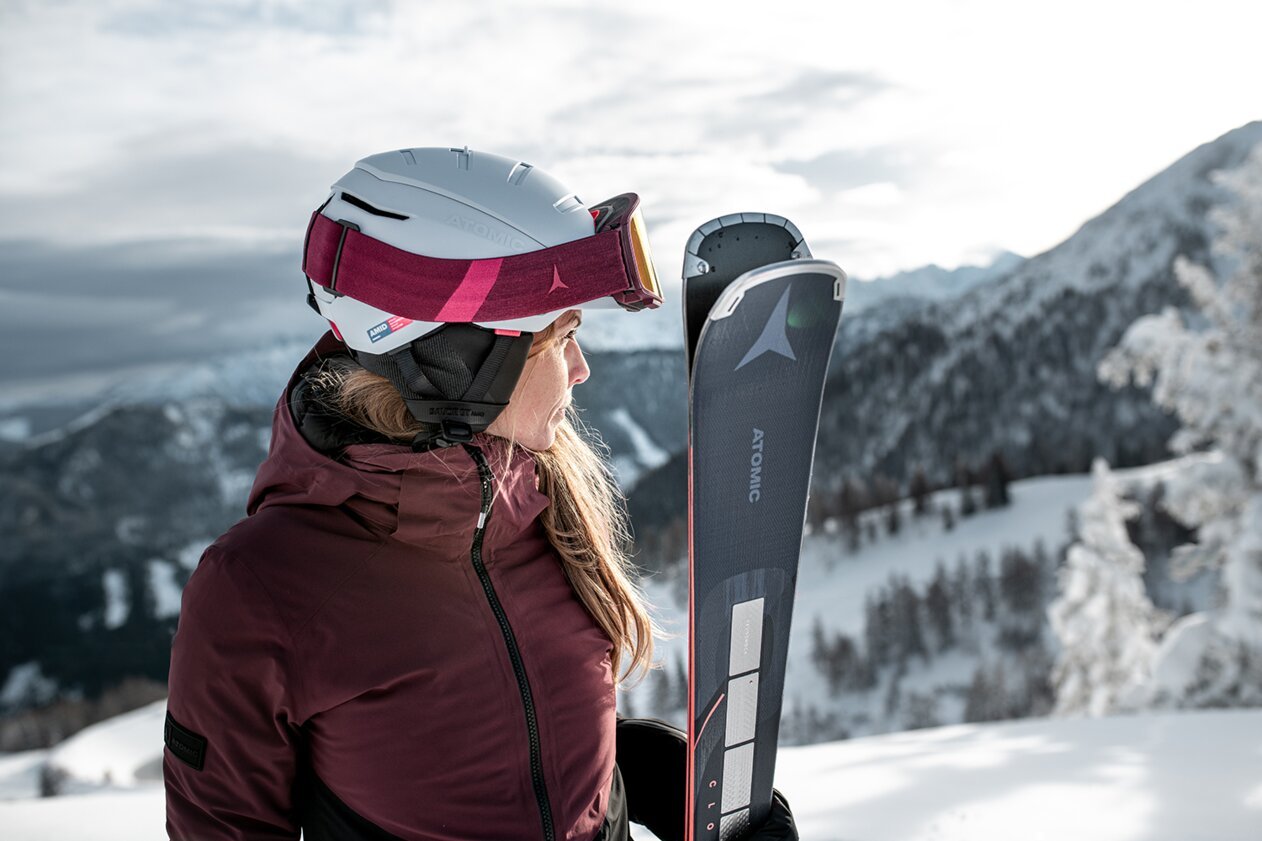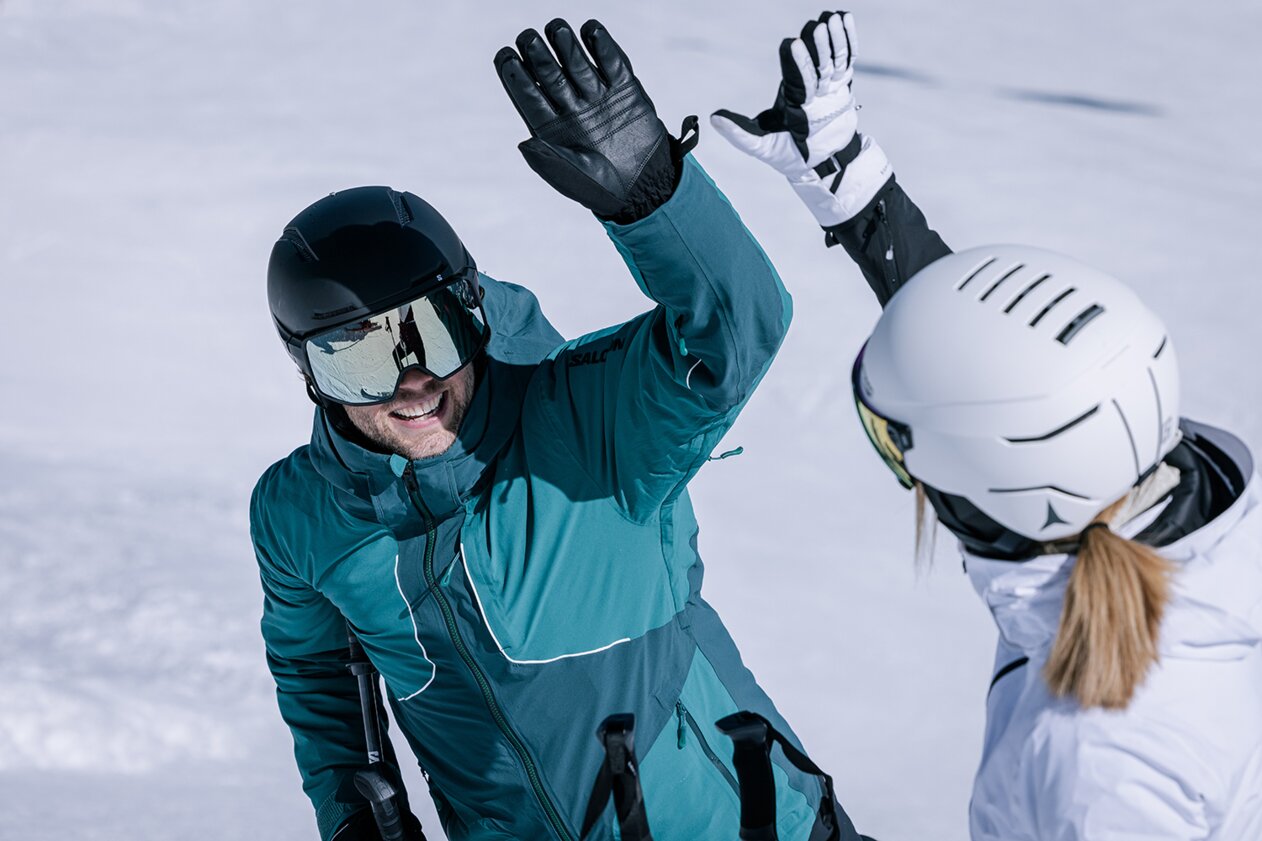 A breathable garment allows air to pass through and vapour or moisture to escape. Sweat is wicked away, leaving your skin dry. This quality is particularly important for ski underwear. Being soaked in sweat on the slopes should definitely be a thing of the past!
Insulating materials such as down protect you from getting too cold. That's why a good insulation is particularly important when you go skiing in sub-zero temperatures. You can also wear several (thinner) layers of clothing on top of each other, as this keeps you warmer than wearing one single thick layer. Plus, you can take off or put on individual layers as needed – another benefit of the three-layer principle.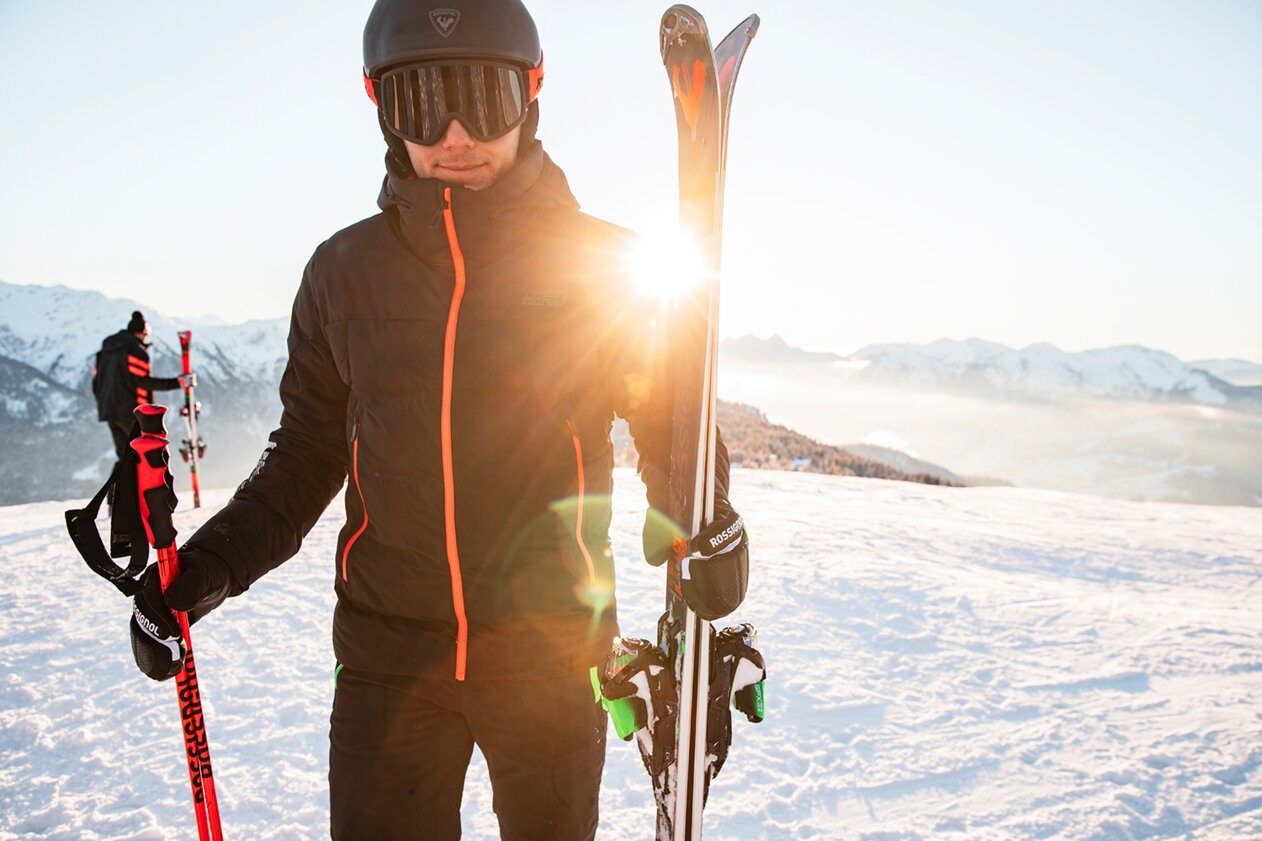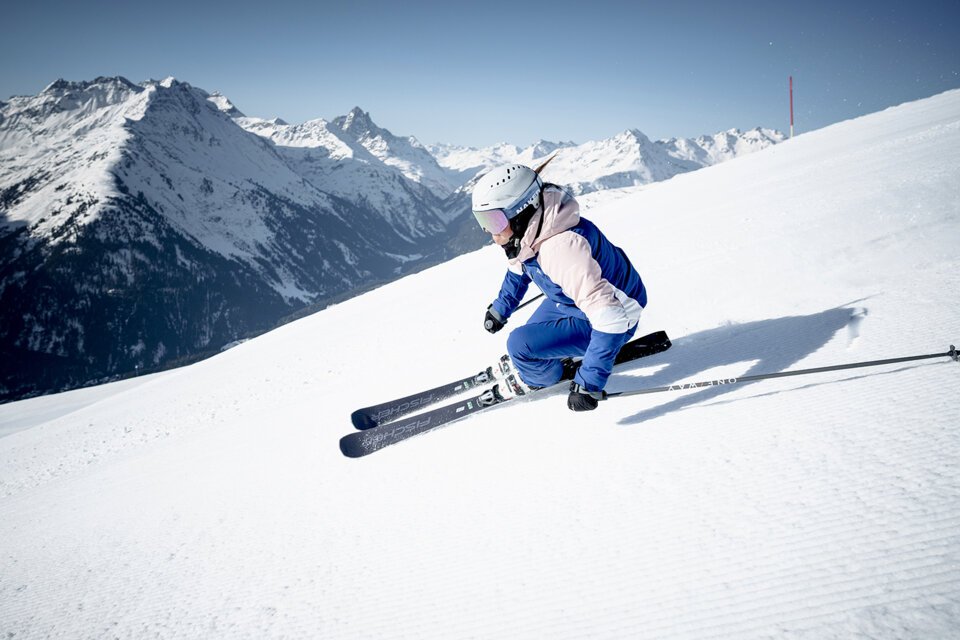 Layering: How to dress in layers
A good layering outfit consists of at least three different layers. Underwear, sweater, jacket – that's it? Well, almost. Make sure that your layers have the right fit and functionality, because the point of the three-layer principle is to ensure optimum air circulation and moisture management.
If you do it right, you should neither get too hot nor too cold during skiing. If you get warm, you simply remove one layer. If you start to feel cold, put on an additional layer. This helps you to feel comfortable at all times and lets you make the most of your day in the snow.
Your first layer – also called base layer – refers to your functional or ski underwear. Its main job is to wick away sweat from your skin. That's why it's important that your underwear is tight-fitting.
Your base layer should be made from polyester or other synthetic fibres. Merino wool is also an excellent choice for functional underwear as it is particularly soft to the touch.
The mid layer, or insulation layer, protects you from the cold and regulates moisture management. It can consist of several garments, for instance a long-sleeve top and a fleece jacket.
Apart from fleece, wool also has great insulating properties. Alternatively, Primaloft® synthetic down is an environmentally friendly choice based on an innovative recycling technology.
Your outer layer protects you from the wind and weather and other elements. It should be breathable and allow for moisture and excess warmth to escape.
The most wide-known material for weatherproof clothing is the Gore-Tex® membrane. Sympatex and Primaloft® are also great third-layer materials for mountain sports. Waterproofing it on a regular basis helps to maximise the performance of your shell layer.
Other interesting facts about ski clothing
Water head: This value refers to a material's water permeability. For skiing, it should be at least 10,000 mm. The higher the value, the better protected you will be from the rain and snow. Gore-Tex® or other 2- to 3-layer materials are among the best choices to keep you dry.
Women's or men's? Ski wear for women and men usually only differs in terms of design and cuts. Keeping in mind the abovementioned qualities, you should mainly feel comfortable in your clothes and have enough freedom of movement.
For mountain rescue services: If ski jackets or ski trousers carry the Recco® label, they feature a special technology that helps mountain rescue services locate your position in case of an emergency. This type of clothing is particularly useful if you prefer off-piste riding. However, it's no substitute for a good avalanche transceiver!
Have you got everything with you? Make sure that your ski clothing has plenty of pockets for your ski pass, your mobile phone, your sunglasses, tissues, snacks and more.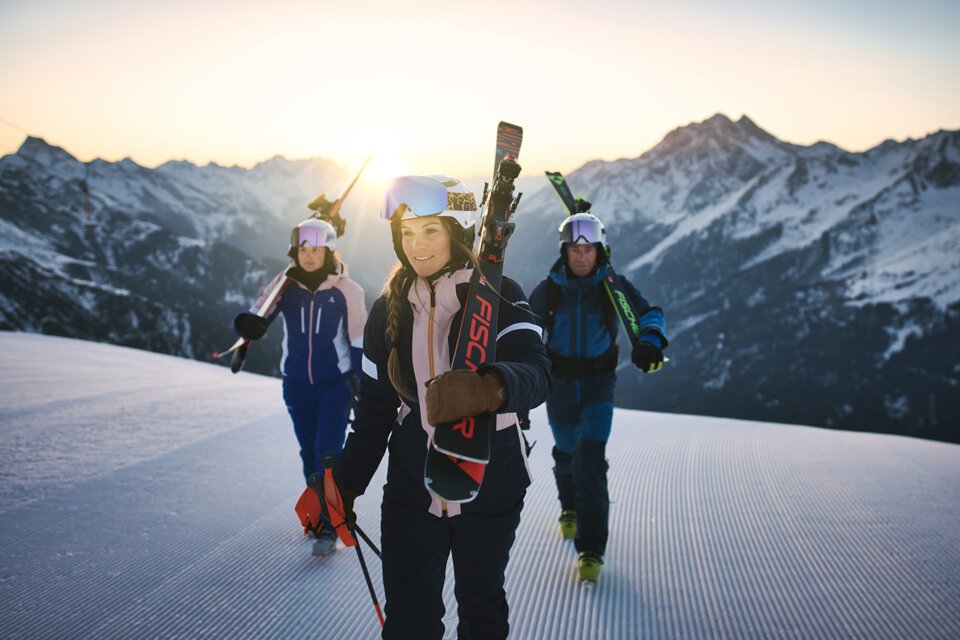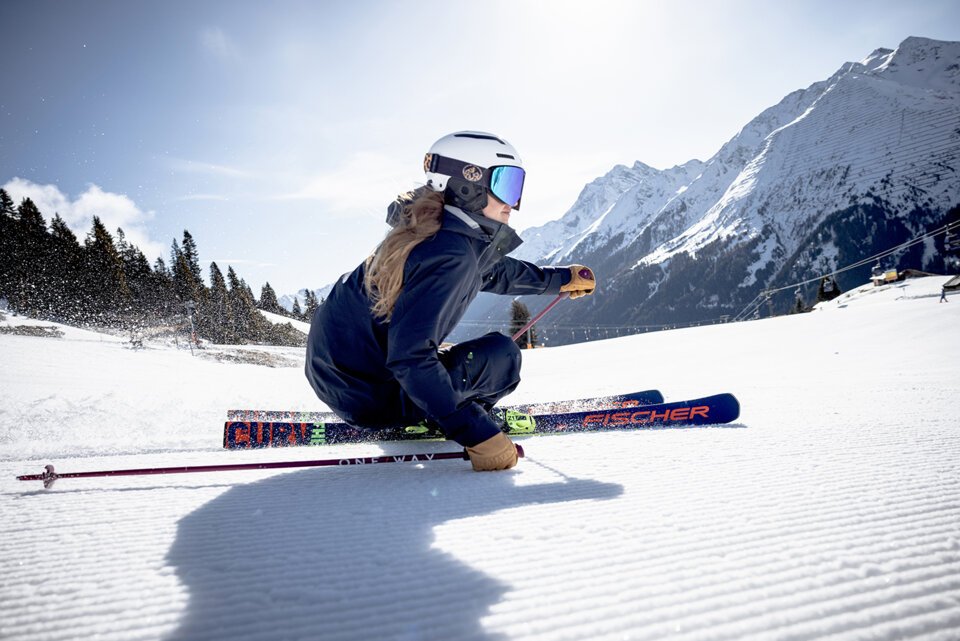 Ski jacket: Combine a hardshell jacket with a down jacket! This keeps you from sweating in mild temperatures. Alternatively, ventilation zips allow for some fresh air on warm ski days.
Ski trousers: Don't buy trousers that sit too tightly! Plus, powder heads should get leg guards to keep snow from getting into their ski boots.
Gloves: What's better: gloves or mittens? It's mainly a matter of personal preference. Check out our blog to find out what makes good ski gloves, and which advantages heated gloves have.
Hat: If you would like to wear a thin hat under your helmet, you should try both in advance to avoid pressure points. Alternatively, you can use a jacket with a hood in rough conditions.
Ski goggles: The most important thing: Your goggles and helmet have to be compatible! Learn more about finding the perfect goggles for your needs ...
Ski boots: Find out all there is to know about properly fitting ski boots!
Ski helmet: Discover lots of useful information on ski helmets!
Back protectors: A back protector protects your torso and spine during falls and crashes – make sure to get a tight and properly fitting one!
Simply drop by a rental shop near you ...
... and we'll kit you out for your next day of skiing!