Ski touring boots
Suitable models for men and women at INTERSPORT Rent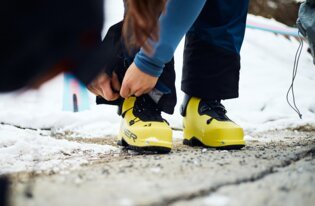 INTERSPORT Rent helps you find the right ski touring boots
*Advertisement
Touring skis come in different styles and designs, and ski boots can be similarly different. What's more, there are clear differences in terms of weight, flexibility and downhill performance. All-round models offer an ideal middle ground between comfortable uphill and solid downhill performance. Freeriders go for more stable versions with good power transmission. And all those who want to climb the mountain peak in no time at all choose models with reduced weight and a low shaft height.
On this page, you'll find out what features ski touring boots have and how to choose the right size – including practical care tips!
What makes ski touring boots different from alpine boots?
One look – and your search begins. But one look is not enough to see the differences between a ski touring boot and a standard alpine ski boot. When you look at them more closely or even touch them, you'll quickly notice: Ski tourers have significantly less weight on their feet than alpine skiers – an important factor in terms of uphill comfort. Equally important: the increased flexibility that ski touring boots offer.
The soles are different as well – they're much grippier. This is especially important for ski mountaineering. On high alpine tours, it may well be the case that rocky passages are part of the route, and they have to be mastered without skis.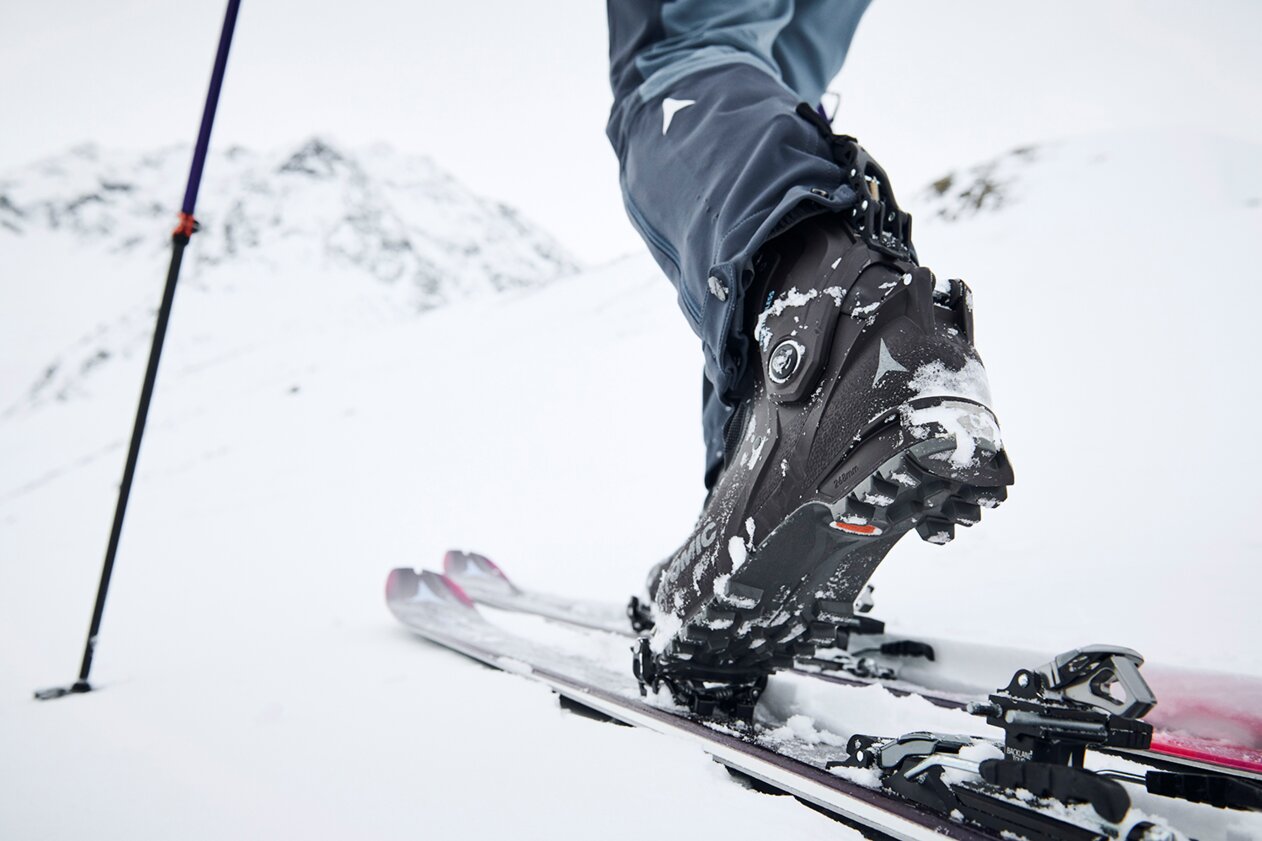 Ski touring boots: a two-piece affair
Ski touring boots usually consist of two parts: More specifically, the liners can be removed from the outer shells, which is advantageous for ventilation.
Small details matter
High-quality ski touring boots are characterised by the following features, among others:
ergonomic supports
simple closure systems
flexible joints
The right ski touring boot for every type of tourer
Ski touring boot models can be divided into three categories. The deciding factor is the type of tours you're planning to go on and whether your focus is more on the ascent or the descent.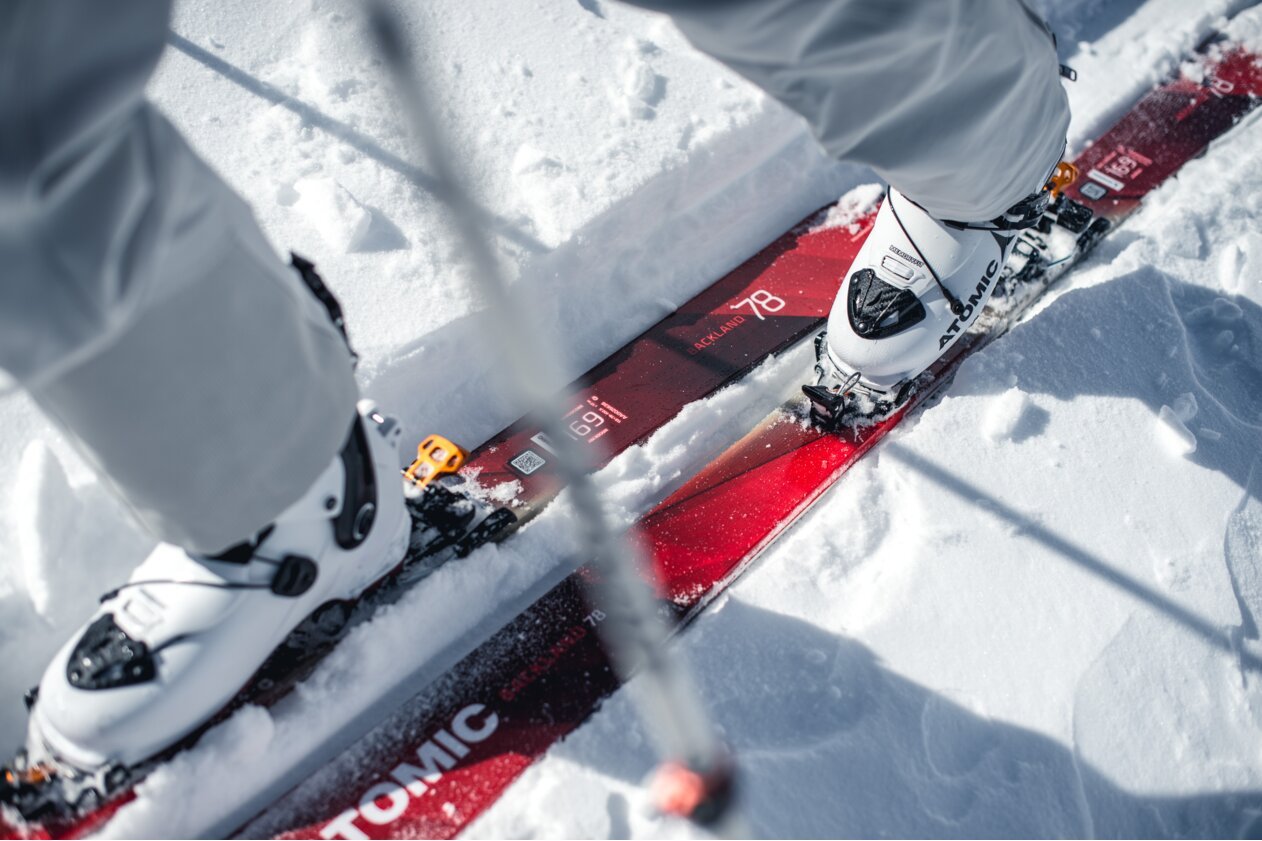 Boot type 1: the all-rounders
With a light weight, high shaft rotation and optimal power transmission, all-round models make touring a rewarding experience on most routes. The use of the BOA system (dial with steel cable in the forefoot area) saves weight without reducing the necessary hold.
Boot type 2: freetouring boots
Freetouring boots are the boots of choice when it comes to downhill skiing. Steep slopes with jumps require stable footwear with a high degree of power transmission. Compared to the all-rounders, these models are significantly heavier and thus require more strength and stamina, especially on long ascents.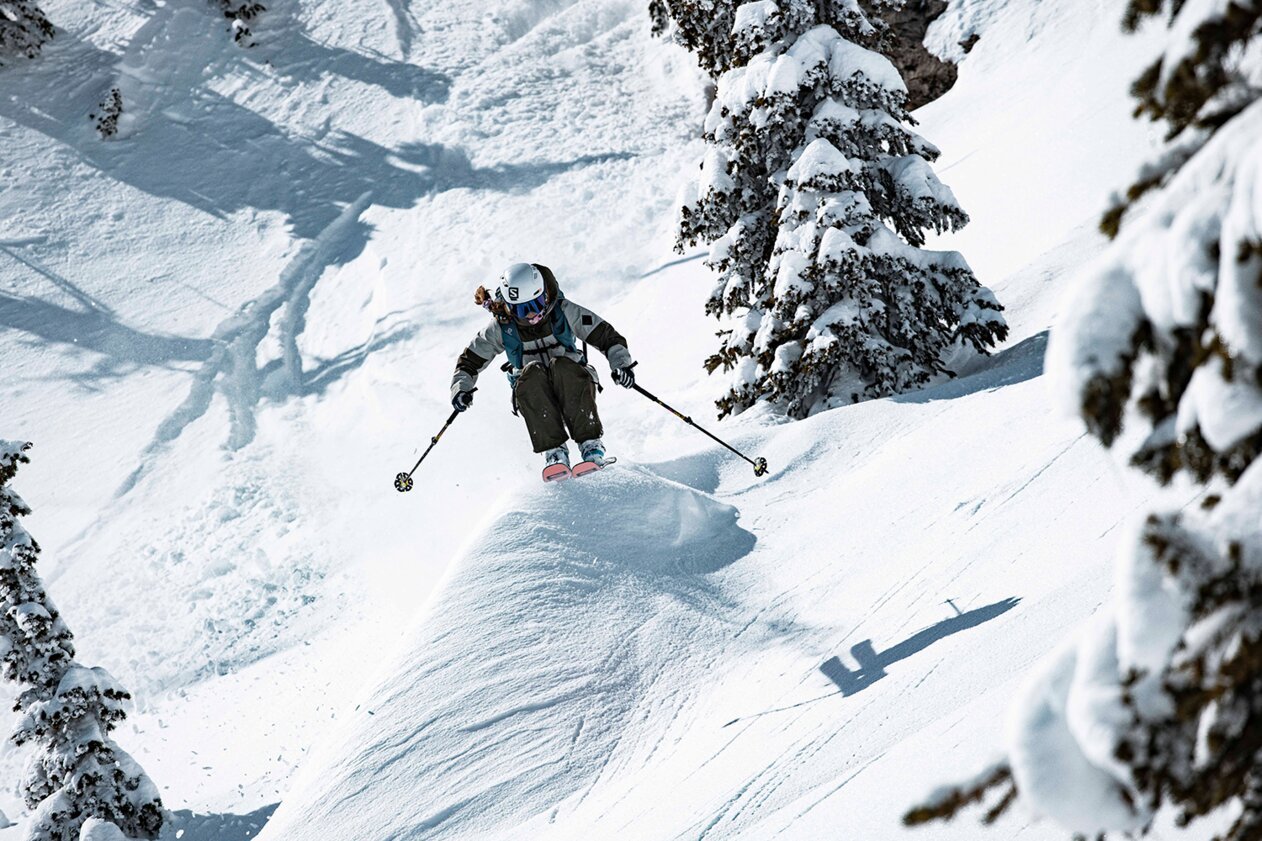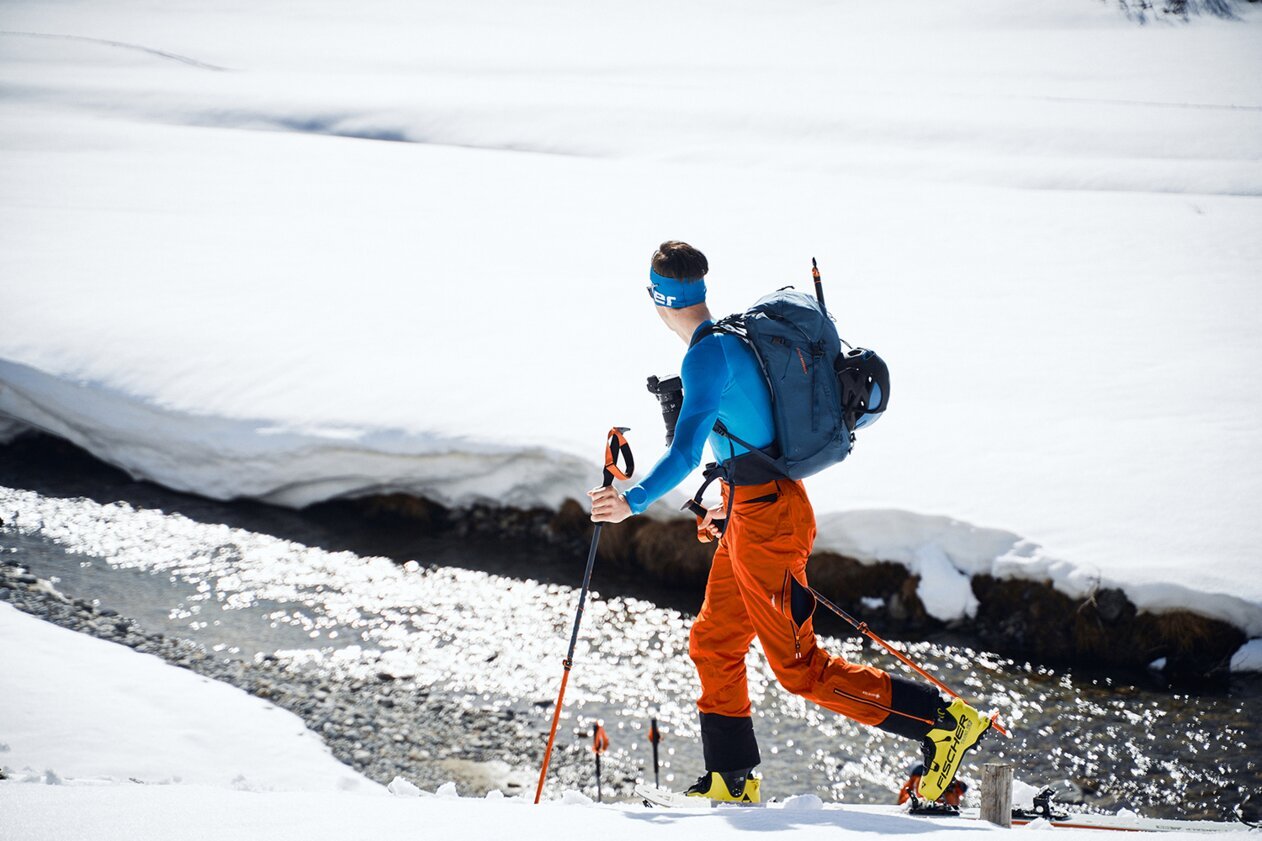 Boot type 3: speed touring ski boots
Those who want to reach the summit as quickly as possible opt for the speed version. Thanks to their low weight and low shaft height with only one or two buckles, these boot models are designed for maximum comfort on the uphill. The use of carbon components helps to save weight.
The right size for ski touring boots
Where does the shoe pinch? Hopefully nowhere when it comes to your ski touring boots. With the help of the Mondopoint system, you can quickly find the right size. This shoe size system is used especially in the ski boot sector. Foot length is measured in centimetres. In other words: a touring ski boot with 27.5 Mondopoint fits feet with a length of 27.5 centimetres.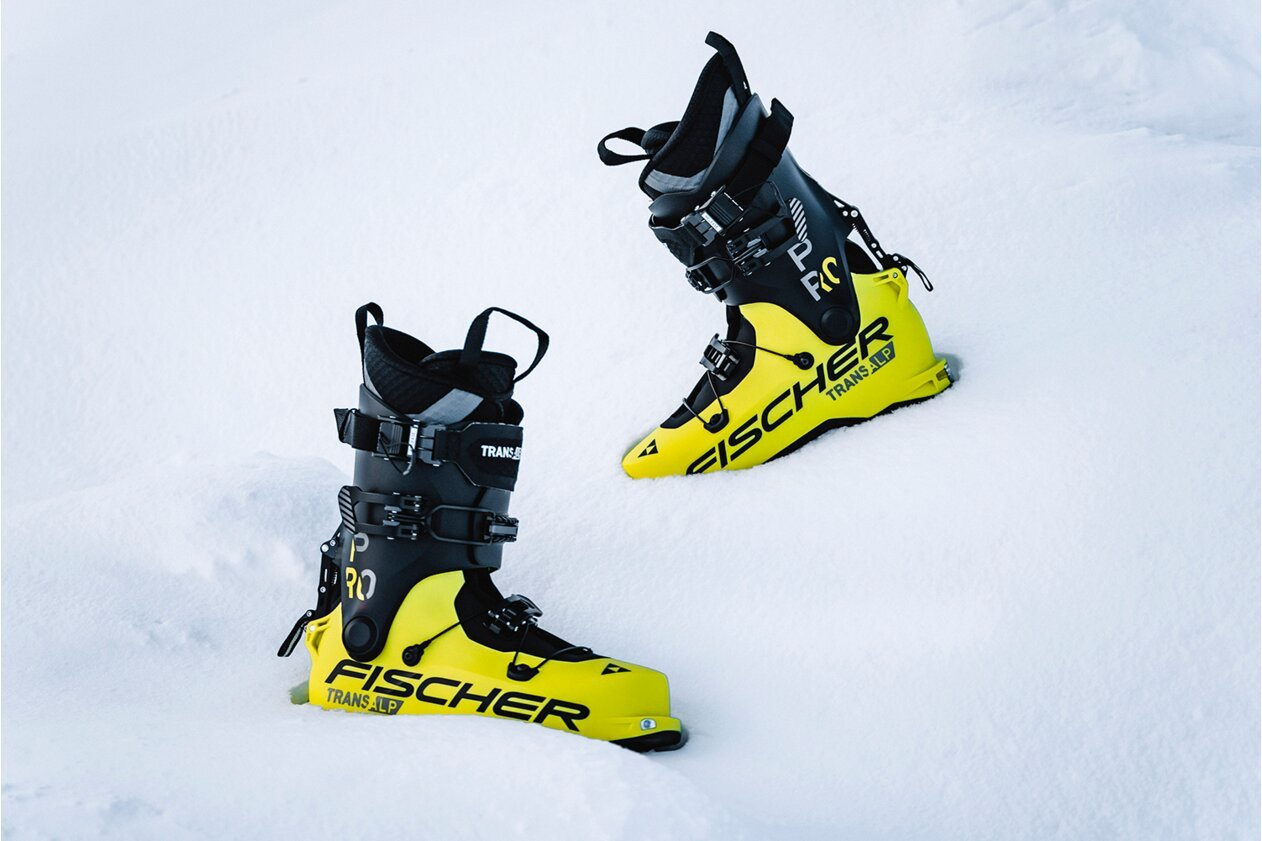 How to determine your ski boot size
All you have to do is measure your foot length, and you can find out your boot size. To do this, place your foot on a piece of paper and run a pencil around it. Use a ruler to measure the distance between the heel and the longest toe and add 1.5 centimetres. NB: The allowance for toe clearance can vary depending on the boots' intended use (mountain, running or climbing shoe)
If you're between sizes, opt for the slightly larger Mondopoint size. Ski touring boots are usually offered in increments of 0.5. For instance, if your foot length is 25.3 centimetres (including toe clearance), you should choose a size 25.5.
Size chart for ski touring boots
In contrast to Mondopoint, Euro and UK shoe sizes are not standardised. Conversion tables offer a rough guideline to choose the right size. To be on the safe side, you should always check the specifications of the manufacturer.
| Mondopoint | Euro size | UK size |
| --- | --- | --- |
| 22 | 34,7 | 2–2,5 |
| 22,5 | 35,7 | 2,5–3 |
| 23 | 36,3 | 3,5 |
| 23,5 | 37,0 | 4 |
| 24 | 38,0 | 4,5 |
| 24,5 | 38,7 | 5 |
| 25 | 39,0 | 5,5–6 |
| 25,5 | 40,3 | 6–6,5 |
| 26 | 41,0 | 7 |
| 26,5 | 41,7 | 7,5 |
| 27 | 42,3 | 8 |
| 27,5 | 43,0 | 8,5–9 |
| 28 | 44,0 | 9–9,5 |
| 28,5 | 44,7 | 10 |
| 29 | 45,3 | 10,5 |
| 30,5 | 46,3 | 11 |
| 30 | 47,0 | 11,5–12 |
| 31,5 | 47,7 | 12–12,5 |
| 31 | 48,0 | 13 |
| 32,5 | 49,3 | 13,5 |
| 32 | 49,7 | 14 |
Care tips for ski touring boots
Regular care is important to keep your boots in tip-top shape for as long as possible. Just follow these tips:
Cleaning: Ski touring boots should be cleaned of dirt and stones after every tour. If particles have become embedded in the sole, they can impair the release function of the binding and thus have an impact on safety.
Drying: To keep your ski touring boots free of unpleasant odours, it's important to keep them dry. The best thing to do is to remove any snow residue immediately after the tour and dry them with a cloth. For the actual drying process, the liners can be removed, but they mustn't be placed directly on a heater!
Assembly: When assembling the liner and shell, you need to make sure that there are no creases anywhere. Otherwise, this could affect the boots' fit. Tip: Stuff the top of the boot with newspaper before drying and spray the shell with a silicone or cockpit spray! This will make it easier for you to put the two components back together again.
Storage: During the summer months, ski touring boots get to take a break. When storing them, the buckles should not be closed completely. Otherwise, the shape of the boot may change, and it may become so tight that it no longer fits.
How to wash ski touring boots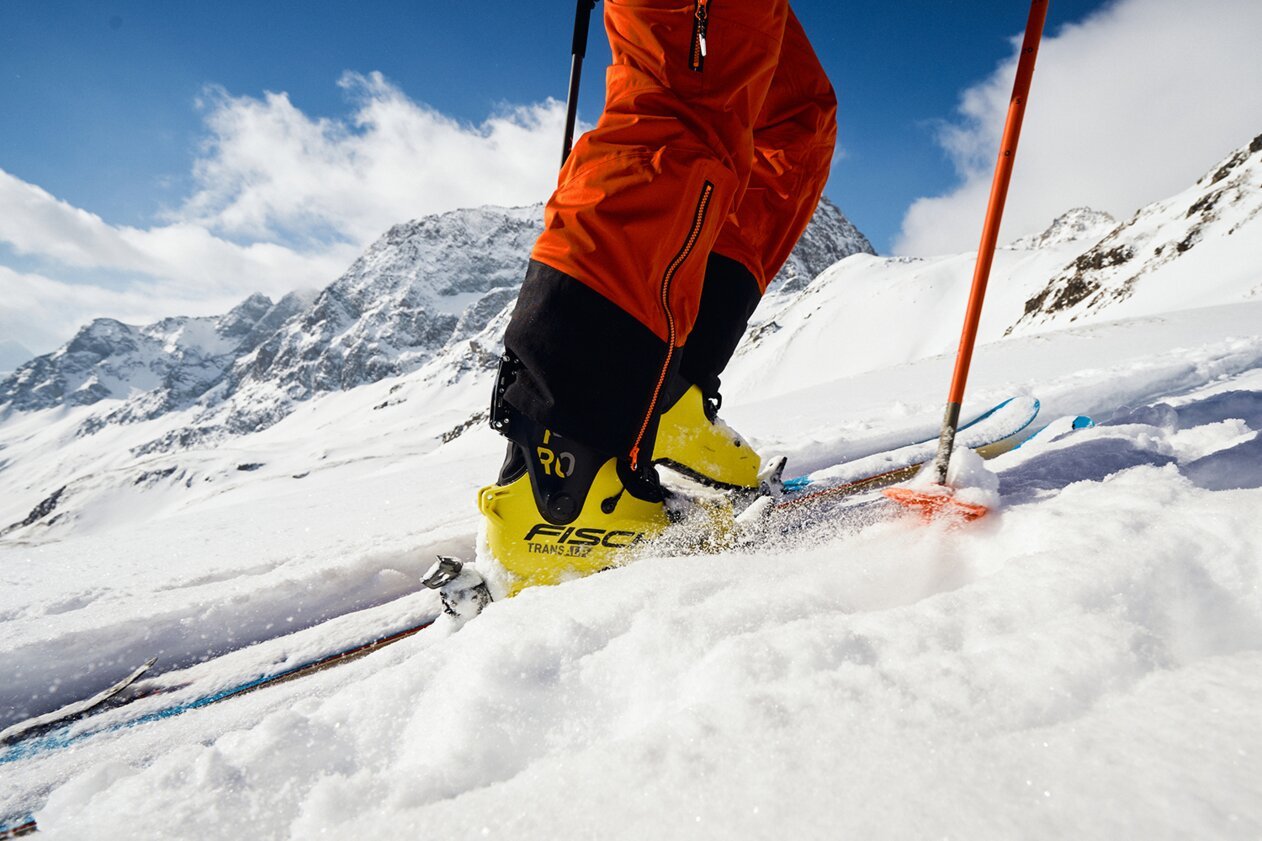 Once or twice a season, it can be a good idea to wash the liners. Important: Check the manufacturer's instructions on whether you're supposed to wash the liners. Even if the answer is yes, do not put them in the washing machine, otherwise they may shrink or lose their shape. Instead, wash them carefully by hand – with functional detergent and water at a maximum temperature of 40 degrees Celsius.
Use a mild detergent and water with a maximum temperature of 40 degrees.
First lather the liner, knead in the detergent, and then rinse until no more foam develops.
Then squeeze the liner, but do not wring it out! To make it dry faster, stuff it with newspaper and let it dry with the opening facing down. Change the paper every now and again.
The insole can be put in the washing machine – this also applies to the boots' laces. However, these parts can also be cleaned with warm water, a hand brush and some mild detergent or soap.
INTERSPORT Rent – the experts for ski touring boots
Do you want to see for yourself how the various models differ from each other and try them on at the shop? You're more than welcome to! At INTERSPORT Rent, you can rent and test a variety of high-quality ski touring boots. The best part: Our more than 800 INTERSPORT Rent shops are located directly in the most beautiful ski resorts in Europe and Canada.
Reserve your equipment online ...
... and test it right on site!