Freeride skis
Find the right powder skis – with INTERSPORT Rent!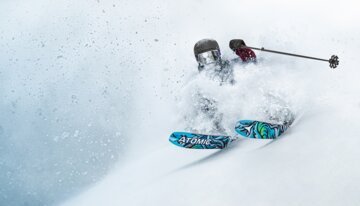 With the right powder ski, you'll be safer and have more fun in the pow!
*Advertisement
Have you ever glided through fresh powder snow and felt like you were literally surfing down the mountain? If not, you should definitely give it a try. How? The best way is on freeride skis!
As a beginner, you probably don't want to buy a pair of powder skis right away. The solution: Simply rent a suitable model at INTERSPORT Rent! You will benefit from the professional support of our freeride experts: Our RENTertainers will adjust the powder skis exactly to your needs.
You can test as many models as you want – preferably a new one every day! The prices? Attractive! The selection? Versatile! The quality? Top! And all this at the world's most popular freeride ski resorts. If you can't wait to learn all about freeride skis, this page will give you the most important info at a glance.
Simply put, a freeride ski is a type of ski designed for use in the backcountry. In order to have the necessary flotation in powder instead of sinking into it, freeride skis are extra wide and also relatively long. For these very reasons, skiing with these skis on groomed slopes tends to be less fun.
Ideally suited for: experienced off-piste and powder skiers.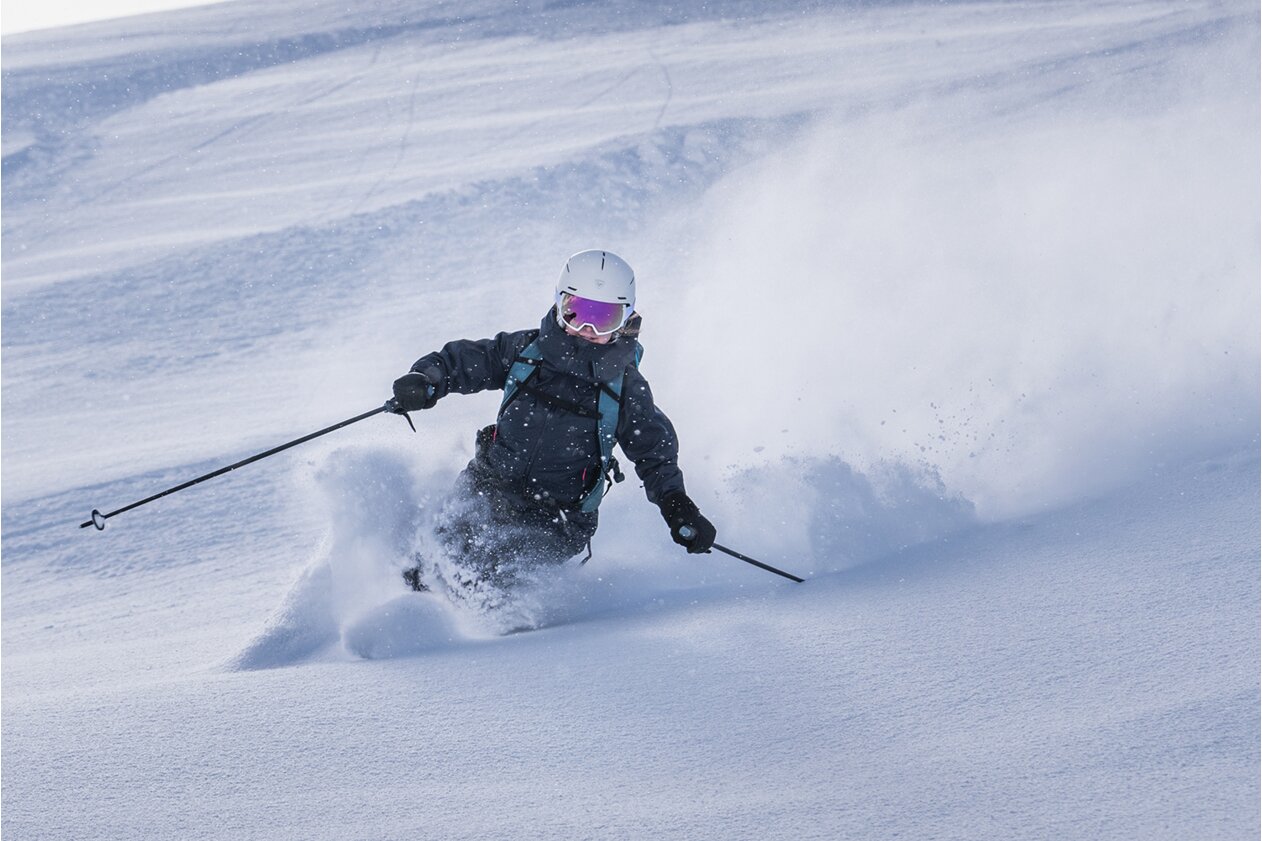 Checklist: How to find the right freeride ski
Which freeride ski you choose depends, of course, on your skills. Basically, you should already be a good skier when you venture into the backcountry for the first time. The following criteria should be considered when choosing skis for off-piste skiing.
All criteria at a glance:
type
women's or men's ski
ski length
ski weight
centre width and radius
profile
hardness
Depending on your preferred terrain, how often and in what way you hit the backcountry, we recommend different types of freeride skis:
All-mountain freeride skis
With an average width between 90 and 110 millimetres, they are just as suitable for groomed slopes as they are for the backcountry. Their radius is 18 to 25 metres. Consequently, all-mountain freeride skis are more manoeuvrable and easier to control. These characteristics make the "all-rounders" increasingly popular.
Fat skis / powder skis / big mountain skis
Whatever you call them – these freeride skis are extra-wide, i.e. 110 to 130 millimetres. This results in extreme radii of up to 30 metres. The effect: first-class flotation in powder snow and a feeling not much different from surfing. A real treat for freeride beginners and pros.
But beware: Fat skis are also heavier and require a lot of leg strength. In return, they provide added stability. This type of ski boasts the best prerequisites for fast, extensive descents in deep snow – but not so much for fun on regular, groomed slopes. True to the motto "freeride only", you get the most out of your day in the backcountry.
Backcountry freeride skis
Agile and nimble like an all-mountain ski but made for powder power – like a big mountain ski. Plus a pronounced rocker profile. A backcountry ski combines all these characteristics in its design. This makes it the perfect ski for tricks and jumps in powder snow and playful terrain, as well as for tree skiing. Perfect for powder snow pros!
Tip: You're not quite sure what kind of freeride ski suits you best? Then have our RENTertainers advise you on the various models and test them right on site!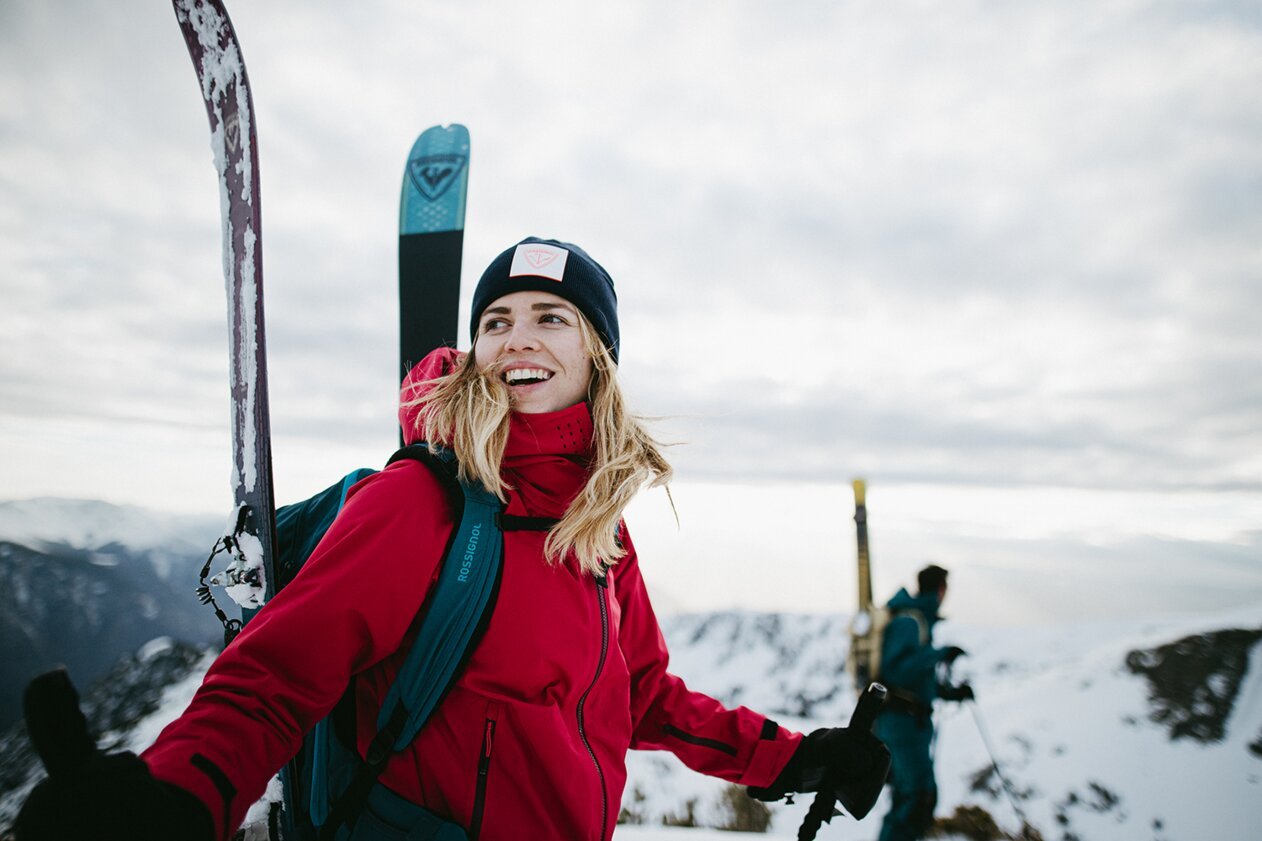 Freeride skis for women and men
Even though women's skis are usually a bit shorter, softer and lighter than men's skis and frequently differ in design: By their very nature, freeride skis will be freeride skis and have the same powder-friendly characteristics, regardless of whether they say "for women" or "for men."
The advantage: Due to the binding being mounted further towards the front of the ski and slightly adapted characteristics, women's skis can be controlled with less effort.
Powder skis are generally longer than ordinary on-piste skis. That's because added length provides increased stability, which is particularly important in soft terrain and at high speeds. The rule of thumb for determining the appropriate ski length for freeride skis is: Add five to 15 centimetres to your height!
As a freeride beginner, you are better off with shorter freeride skis. The more experience you have in powder, the longer your skis can be. While short skis are generally easier to manoeuvre, "long slats" require more effort. Skiing on long skis also feels smoother, and they're made for larger turn radii.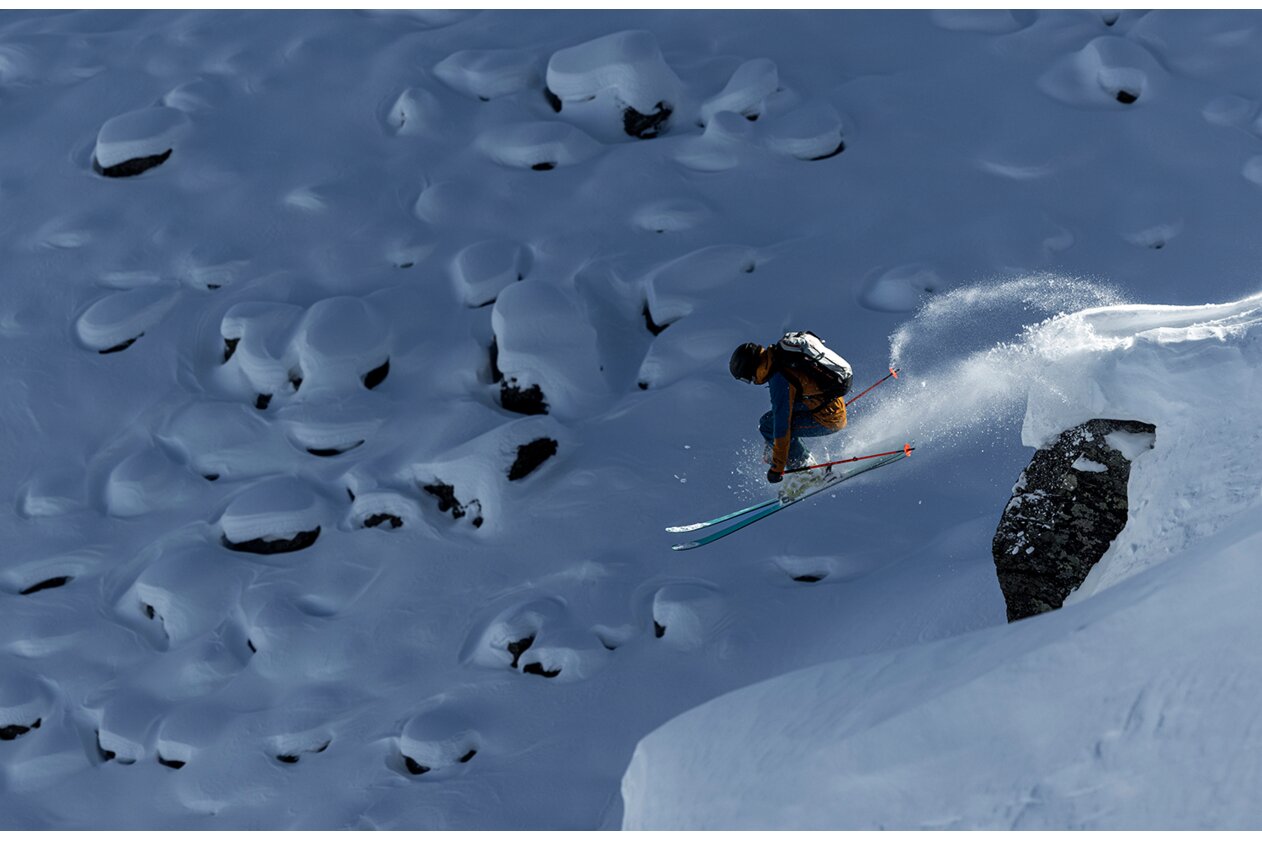 When you look at a ski from the side, you see its profile. You can see the contact points with which it rests on the snow. In general, there are two types of ski profiles: rocker and camber, as well as hybrids of the two.
Rocker profiles dominate in powder skis. This means that there is a negative preload on the ski and the ends are slightly bent up. This also serves to ensure better flotation in powder. With a so-called twin tip (both ends are bent up, the profile is symmetrical), you can "ride" both forward and backward.Rocker shapes vary in how pronounced they are:
subtle rocker: suitable for higher speeds and advanced off-piste enthusiasts
distinctive rocker: better flotation and turning ability, perfect for laid-back freeriding
The weight of a freeride ski is especially important for those wanting to go ski touring with them. After all, you have to carry them uphill before shredding the pow on your descent. That's why lightweight freeride skis with centre widths of around 110 millimetres are ideal for ski touring.
Nowadays, more and more skis of this type can be found in the touring ski range – also at INTERSPORT Rent. A lower weight has another decisive advantage: The lighter your freeride skis are, the better they float in powder snow.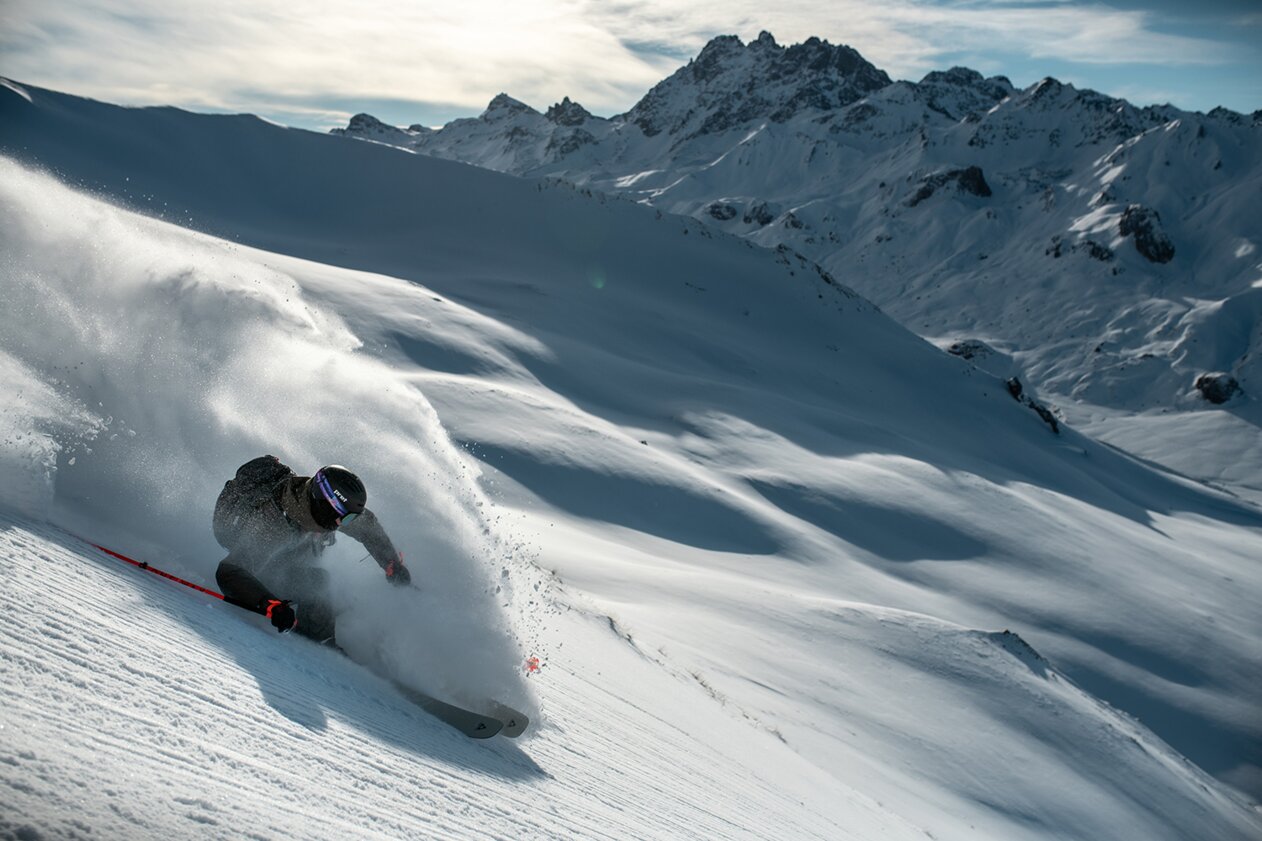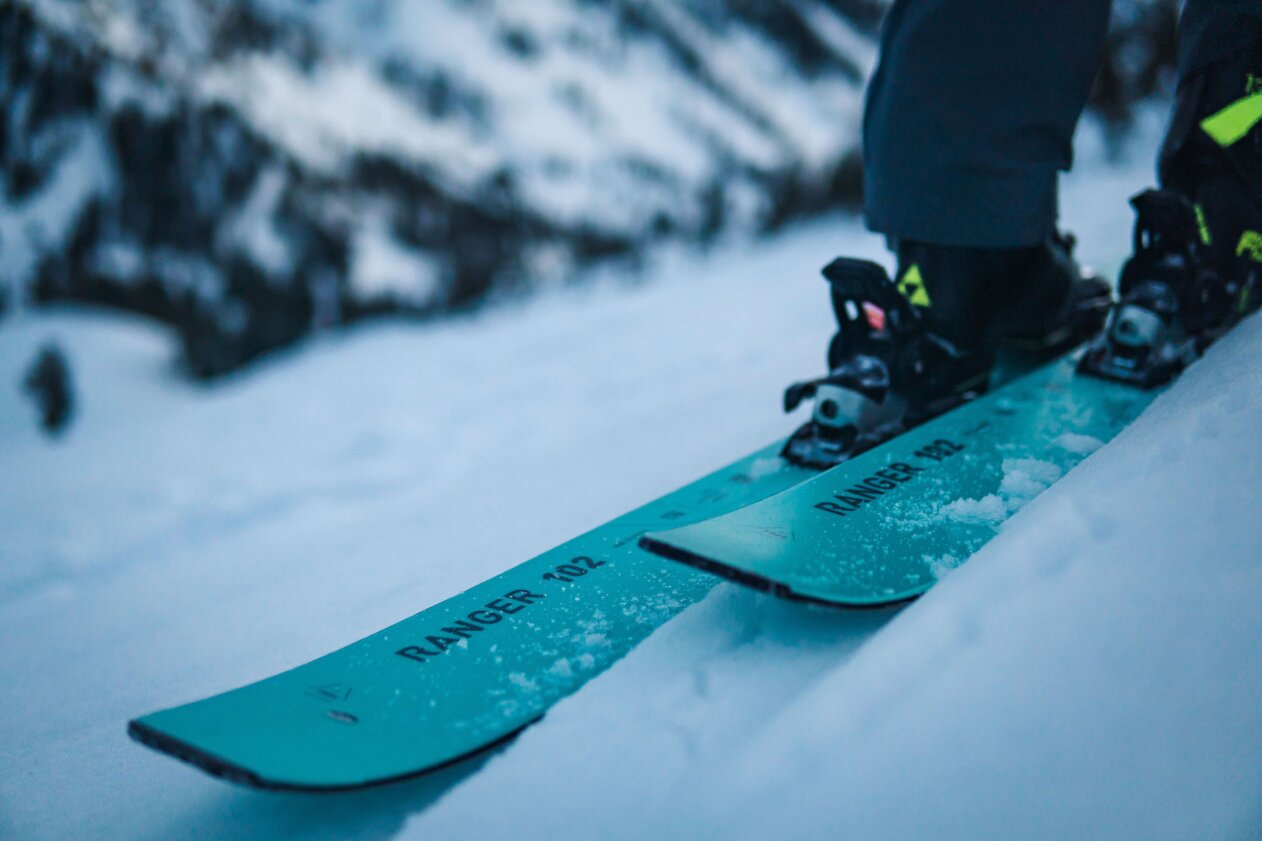 Speaking of flotation: To make sure you don't sink into the snow, freeride skis are very wide. Their centre width – also called the waist – starts at around 95 millimetres and can go up to 140 millimetres. All-mountain freeride skis, for instance, tend to be on the narrow side (starting at about 90 mm). Fat skis, however, represent the other extreme in terms of centre width.
So what difference does centre width make? It has a direct effect on the turn radius when skiing. Freeride skis are usually less waisted, meaning the centre width and the widths at the tip and tail of the ski do not differ significantly. Combined with their wide design, they allow for wonderfully long turns with large radii.
Two values are decisive for the skis' hardness:
flex: bending hardness, affects turnability, smoothness and stability
torsional stiffness: hardness along the longitudinal axis, determines grip and responsiveness of the ski
Softer skis are generally easier to control and better suited for beginners. Freeride skis also tend to be on the soft side. If speed is your goal, it's best to choose slightly harder models. These require more effort and good technical skills. The ideal hardness of a ski also depends on the weight of the freerider. This is one reason why women's models are usually softer.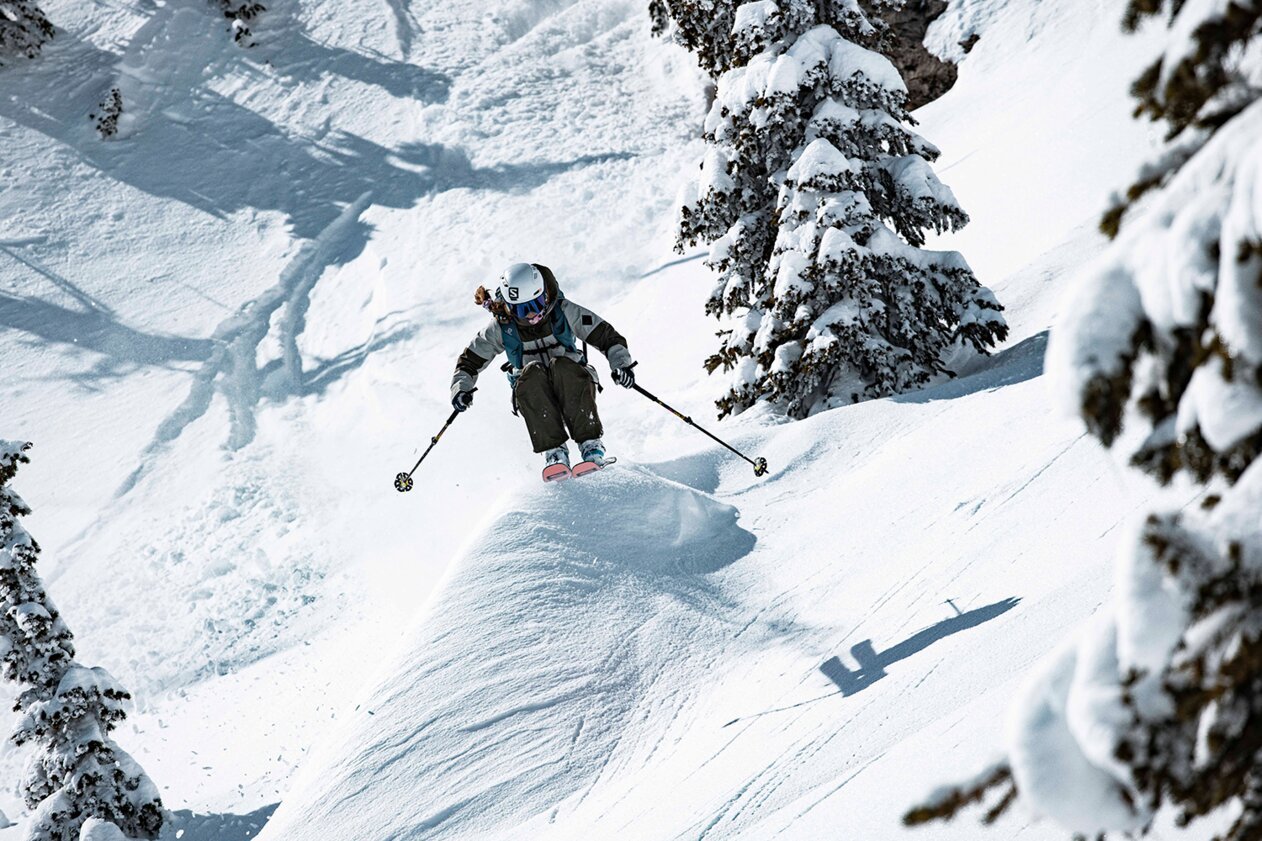 So which freeride ski is the right one for me?
As you have just learned, this depends on many different factors. Our recommendation: Get help from experts when choosing skis – for example, from our RENTertainers! They are happy to advise you at more than 800 INTERSPORT Rent shops in Europe and Canada. Best of all: We are on call for you in the world's most popular freeride ski resorts.
Book your preferred powder skis right now!
Give our easy online reservation system a try!