Ski touring clothing
From base layers to shell layers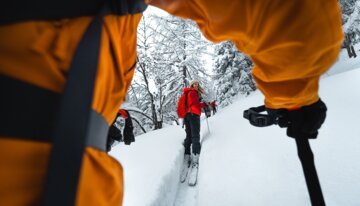 Functional outfits for women and men at INTERSPORT Rent
*Advertisement
While you may break a sweat on the uphill, the cold temperatures and alpine winds might make you shiver at the summit or on the downhill. There's only one way to combat this problem: the onion principle, also known as layering.
With INTERSPORT Rent, you can brush up on your knowledge of layering. We'll tell you what to look for when getting ski touring clothing, and you'll be perfectly dressed in any weather.
The onion principle: Layering done right!
Old but gold: The onion principle has proven itself many times over in the past and in various different sports, including ski touring.
With the following three layers of clothing, you'll be optimally dressed for both the uphill and the downhill: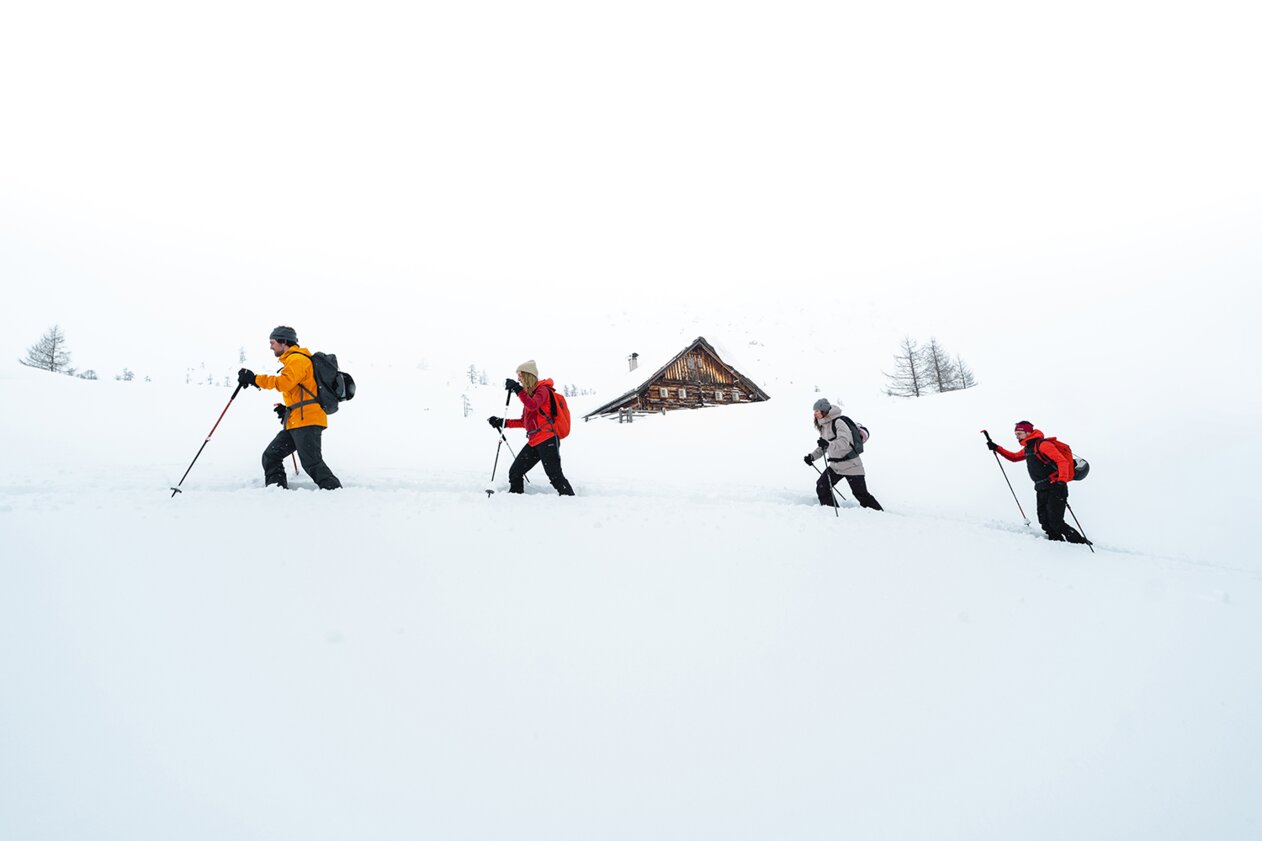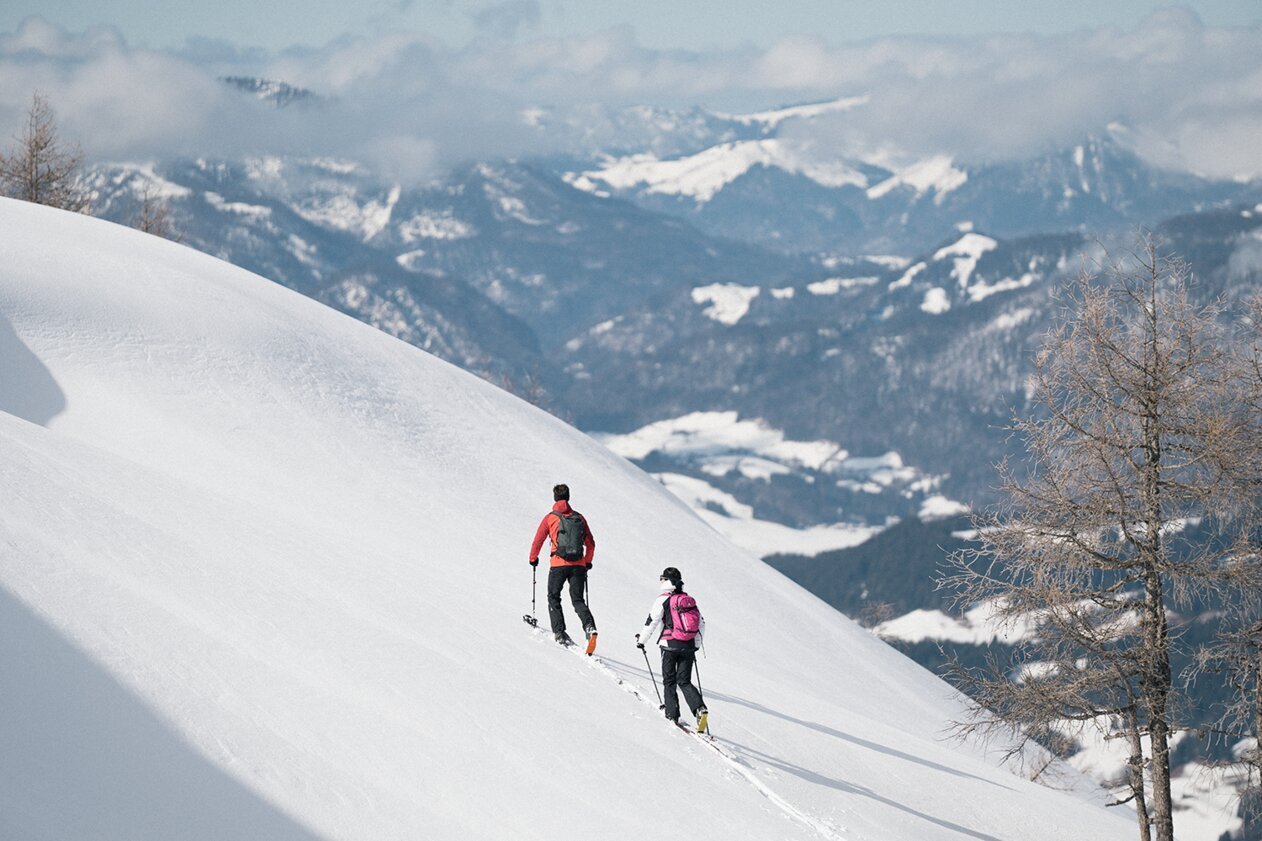 1st layer: base layer – the functional layer
The first layer is in direct contact with your skin, so you need a base layer that is breathable, sweat- or moisture-wicking and quick-drying. Ski touring underwear made from functional fabrics such as merino wool ensures that you won't be drenched in sweat after a strenuous ascent.
RENTertainer tip: Make sure that the base layer is tight-fitting because that's how it best fulfils its purpose.
2nd layer: mid layer – the insulating layer
The main purpose of the mid layer is insulation. Garments worn as mid layers should be light, wick away moisture, and offer plenty of freedom of movement. Lightweight fleece jackets as well as pullovers or long-sleeved functional shirts are all great options.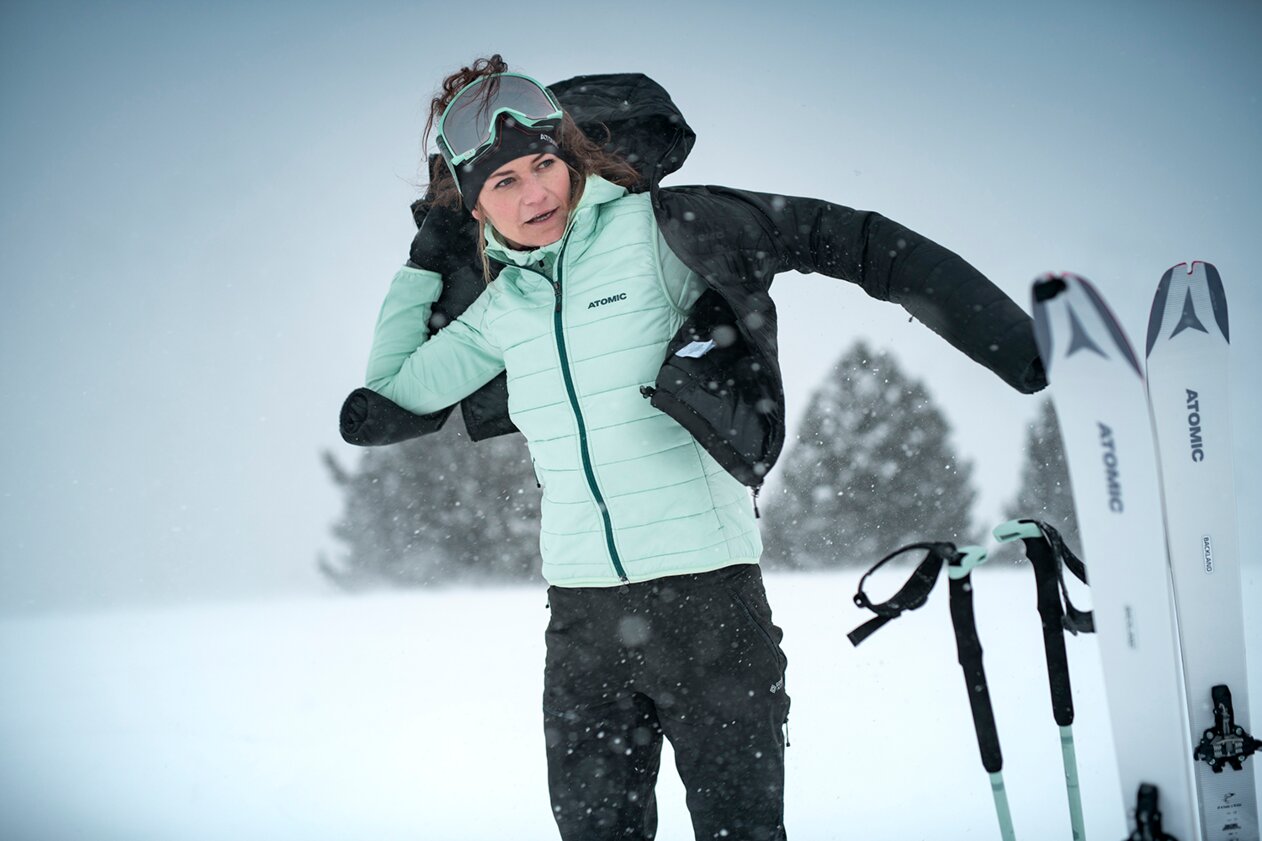 3rd layer: shell layer – the protective layer
The third and final layer has the task of protecting you from the wind and harsh weather conditions. When deciding which ski touring jacket to wear, the weather plays a decisive role.
There are hardshell and softshell jackets. If you are frequently out in the rain or snow, you should opt for a hardshell jacket. Softshell jackets are the best choice in terms of breathability and the better option for dry conditions. You can also wear a down jacket instead of a softshell jacket.
Ski touring trousers keep your legs warm without restricting your mobility. Thermal skirts are convenient and stylish leg warmers for women. They are an optimal extension of the jacket and offer additional protection for the sensitive areas around the thighs, bottom and hips.
What to look for in high-quality ski touring clothing
Depending on the layer of ski touring clothing, different design aspects play a role. While base layer garments should be tight-fitting, mid or shell layer jackets and trousers should give you plenty of freedom of movement.
Apart from that, you should consider the following when choosing your ski touring clothing:
On ski tours in spring, layering often ends after putting on the base layer, which can, however, consist of several garments. For optimal protection even in sunny weather, make sure that your first-layer garments are also UV-resistant.
Smart features make your ski touring clothing particularly efficient and practical. These include pockets on jackets and trousers as well as sufficient ventilation options or, in the case of ski touring trousers, the GORE Windstopper® fabric.
Just like any other type of sportswear, ski touring clothing can also be categorised in terms of their cut: Models for women are tighter around the waist and wider around the hips. Ski touring clothing for men, on the other hand, is wider at the shoulders and narrower at the hips.
Our RENTertainers also know that it's not just the layers of clothing that matter but also what type of winter sports enthusiast you are. They'll advise you on the right equipment for your preferred activities and terrain: from touring skis with matching skins and bindings to touring boots, touring poles and ski touring helmets.
Important: Don't forget to pack avalanche equipment before you head out on your off-piste ski touring adventures. Our experts at the INTERSPORT Rent shops know what you should pack in your ski touring backpack.
Find a suitable ski touring outfit!
INTERSPORT Rent helps you with the selection of your gear