Freeride ski boots
We'll tell you what types of ski boots there are and how to choose the right size.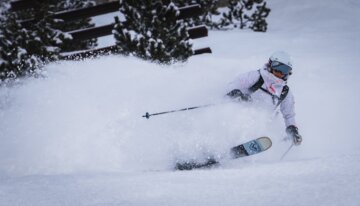 ©
Mirko_Paoloni / ROSSIGNOL
Find the perfect ski boots for the backcountry with INTERSPORT Rent
*Advertisement
If you're planning to hit the backcountry, you need ski boots that are able to handle the rugged conditions away from the groomed slopes. That's why it's important that you can fully rely on your freeride ski boots.
However, different types of freeriders have different needs: While some of them are always looking for the next crazy jump or cliff drop, others are more focused on the ascent and laid-back powder rides.
No matter your freeride preferences – with our tips, you will find the right ski boot for your needs in no time at all. Two things are important when buying freeride ski boots: They have to ensure optimum power transfer. And secondly, they should be comfortable to wear. Read on to find out even more about choosing the right type of ski boot!
A real benefit: At our more than 800 INTERSPORT Rent shops across Europe and Canada, you'll enjoy excellent professional advice on finding the best ski boots for your needs.
What are the most important qualities of freeride ski boots?
Freeride ski boots are designed to provide maximum safety during the descent. Backcountry rides usually involve steep lines, jumps and high speeds – all of which require excellent damping and overall stability. In addition to the downhill part, freeriding is also about the ascent. That's why freeride ski boots should ideally tick even more boxes.
Basically, it's all about finding the perfect mixture between alpine and touring ski boots for your needs. On the one hand, the outer shell needs to be robust enough to withstand rugged backcountry conditions. On the other hand, your boots should be as lightweight and flexible as possible to ensure optimum freedom of movement during the ascent.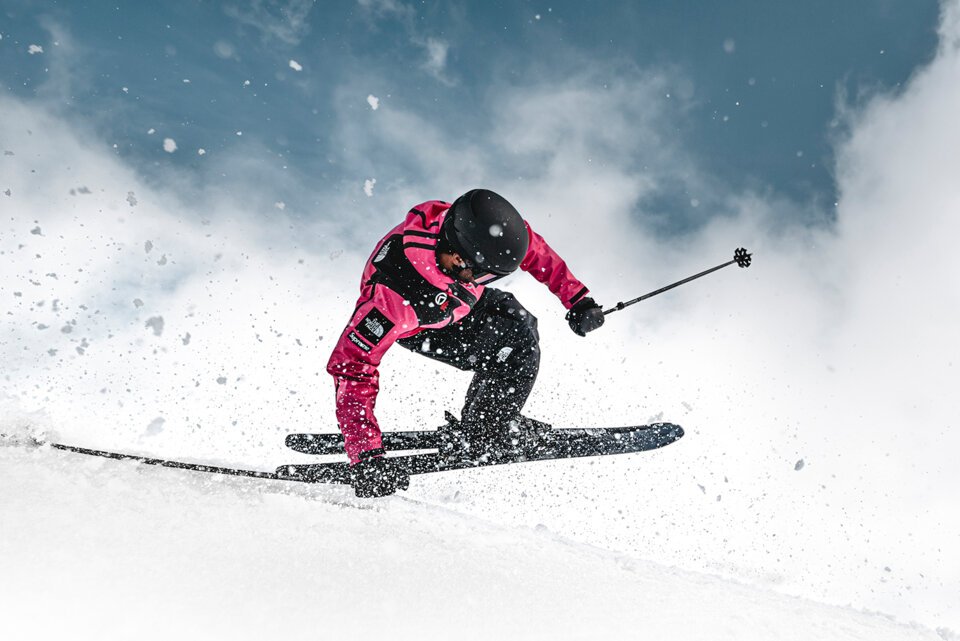 Different features of freeride ski boots at a glance
Walk mode: This feature is really handy when it comes to hiking from the cable car mountain station to the start of a perfect freeride line. It makes it easier to walk in the snow (without skis) thanks to flexible, non-slip rubber soles or movable shafts in hike or walk mode.
GripWalk technology: This technology features specially shaped sole pads, which ensure natural rolling properties and make walking in your ski boots more comfortable. The ribbed, non-slip rubber profile gives you excellent grip even on slippery surfaces. What's more, it ensures perfect power transfer and a precise release – provided that your GripWalk binding is compatible with your freeride ski boots.
Weight: Long backcountry ascents (on foot or on skis) are more comfortable with lightweight ski boots. Usually, less weight means a poorer performance during the descent. However, there is a growing number of touring ski boots focused on downhill action and of lightweight freeride ski boots that also work well uphill – with borders between them becoming increasingly blurred.
Touring capability: Free touring is seriously trending. Would you like to combine ski touring with freeriding as well? Then we recommend getting ski boots that are compatible with pin or hybrid bindings, making them suitable for uphill climbs. Today, this is true for most freeride ski boots. Find out more about the right equipment for ski touring!
Shape: With an average width of around 100 millimetres, freeride ski boots are a bit wider than standard ski boots. If your ski boots are equipped with thermoformable liners, your freeriding experience will be even more comfortable.
Flex rating: The flex value refers to the stiffness of your ski boot's shaft. Special freeride ski boots are usually a bit stiffer, with a flex of up to 130. This gives you good control away from the groomed slopes. If you're looking for a perfect balance between lightness and stability, we recommend a flex rating between 100 and 120.
Which size freeride ski boots are right for me?
When it comes to choosing the right size, start out by measuring your foot length following these simple steps:
Put on ski socks,
place a sheet of paper on the floor against a wall,
put one foot on the piece of paper, with your heel touching the wall,
draw a line where your big toe ends,
measure the distance between the wall/edge of the sheet and the line you have drawn and
repeat the same process for the second foot.
Now you can refer to the size chart provided by the respective ski boot manufacturer to find the right size for you. As every foot is different, it also pays to have an additional boot fitting done, during which your freeride ski boots are moulded to fit your foot shape.
Boot fitting at INTERSPORT Rent – why should I get one?
If your ski boots are fine-tuned to your individual foot shape, you benefit from optimum power transfer and maximum comfort during freeriding. The results: improved performance and increased safety in the backcountry. During a professional boot fitting, your ski boots are customised to your foot. At INTERSPORT Rent, we use state-of-the-art boot fitting technologies.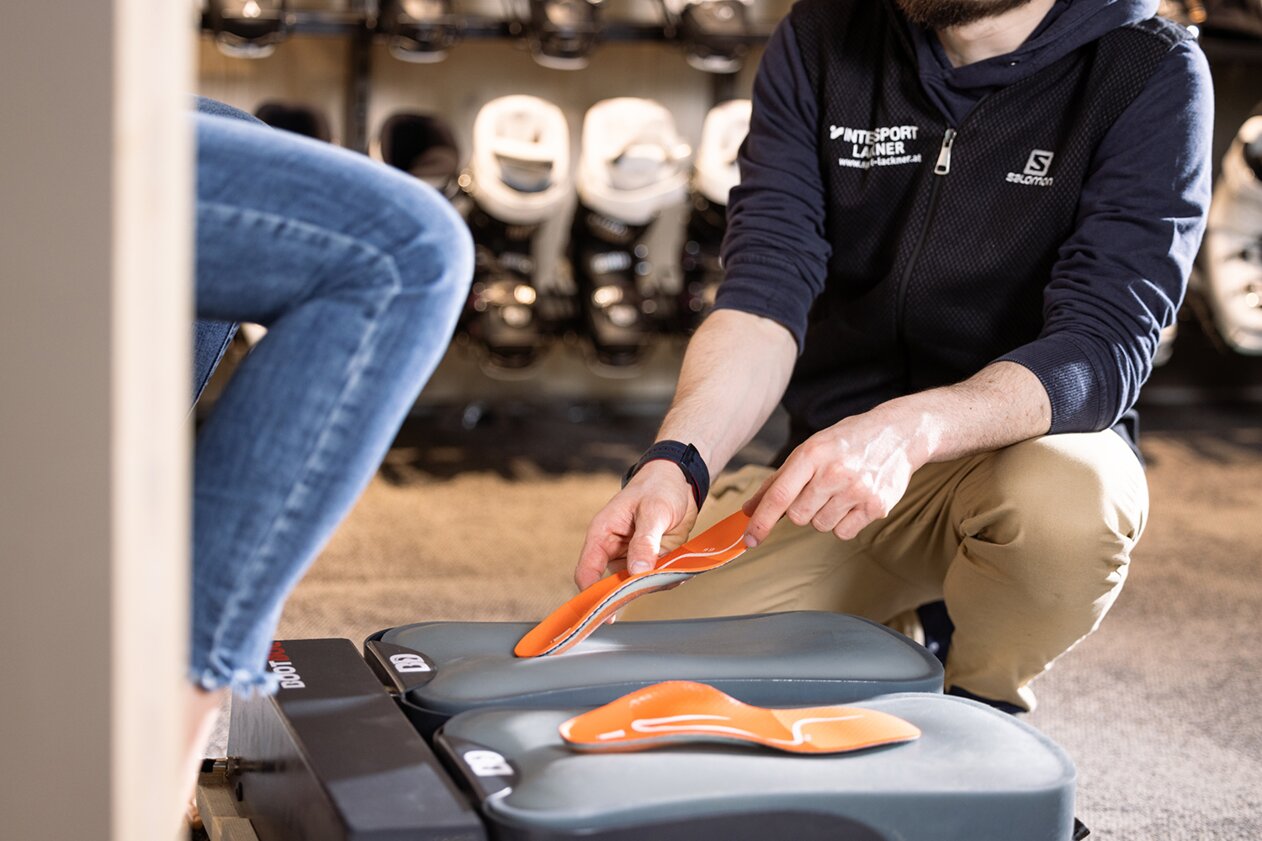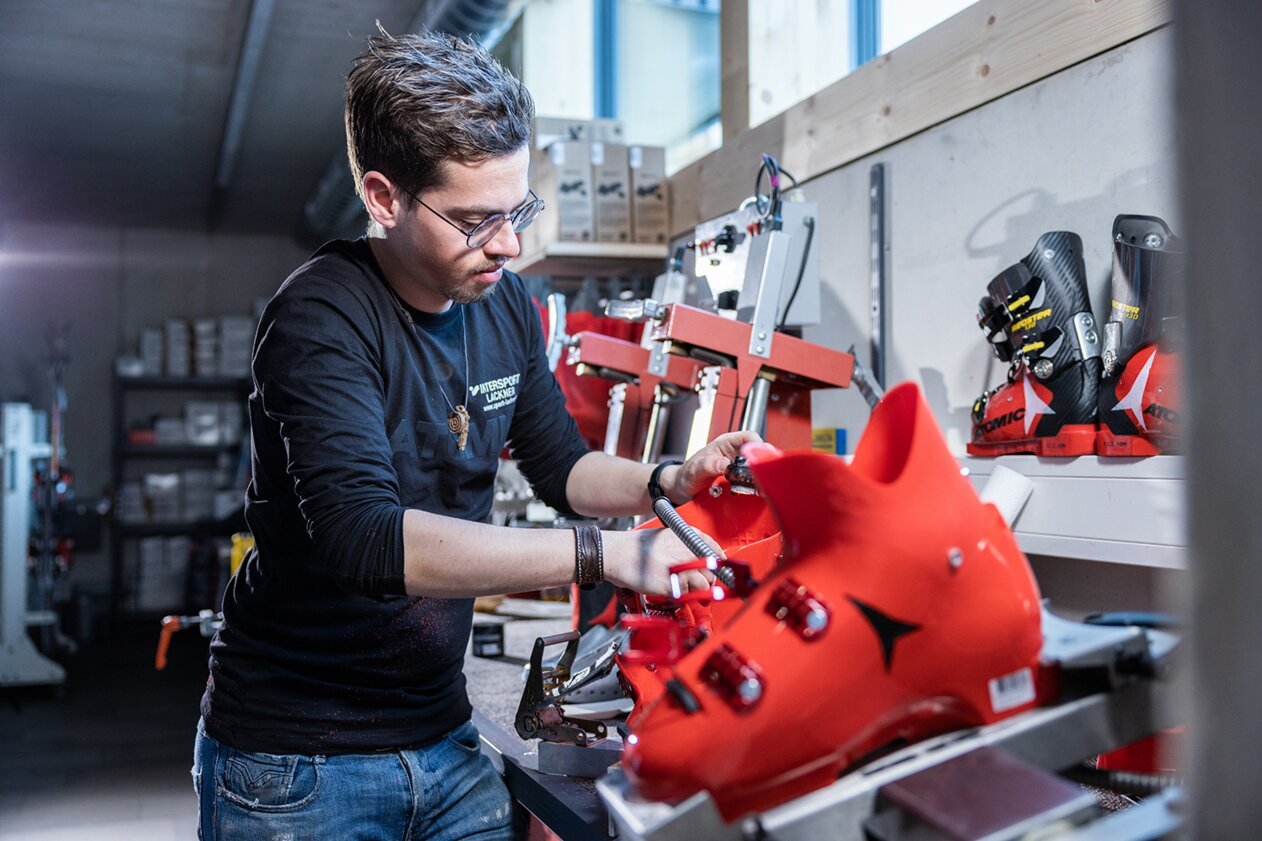 The process involves three steps:
Adapt … the liner to your foot shape and size.
Heat up … the outer shell in a special oven so that it can be moulded.
Let it cool down … while you stand inside the liner so that the boot can adjust to your foot.
After cooling down, your freeride ski boots will retain this shape, giving you maximum comfort during powder shreds. Fine-tuning your ski boots during a professional boot fitting can be especially helpful in case of foot malposition. Do you have any more questions? Then check out our ultimate boot fitting guide!
Warm feet during freeriding – with heated insoles
Are you one of those freeriders who tend to get cold feet? Then heated insoles might be the perfect solution for you! After all, if you feel cold during skiing you can lose up to 75 per cent of muscle strength and endurance. The result: an increased risk of injury. That's why heated insoles not only give you more comfort – they also lead to increased safety and better performance in the powder.
You absolutely have to have these insoles? Then check out our buyer's guide for heated insoles!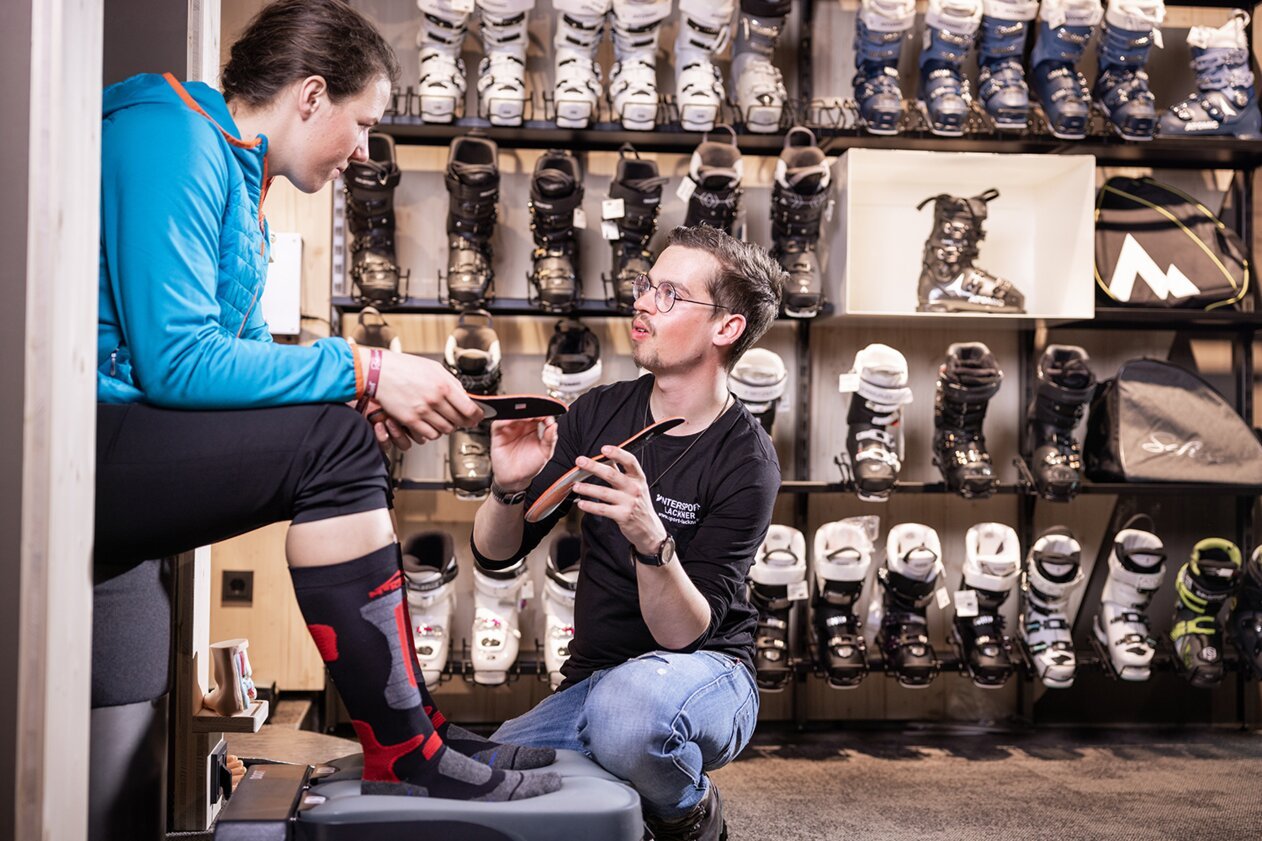 All you need for freeriding at INTERSPORT Rent
Still missing some equipment for your next powder day?
At INTERSPORT Rent, you can find all the gear you need for freeriding.