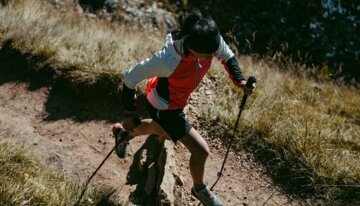 This website is operated by IIC-INTERSPORT International Corporation GmbH, hereinafter referred to as "we", "us" and "INTERSPORT", with registered office at Wölflistrasse 2, 3006 Bern, Switzerland. We are the head office of the INTERSPORT Group providing services to our national INTERSPORT organisations, which are our licensees / franchisees. However, all our national INTERSPORT Organisations are independent companies.
As Data Controller in accordance with Art. 4 (7) of the GDPR, we describe in this Data Privacy Notice which data we collect from you when you visit our website and for which purposes we process such data.
As the protection of your personal data is very important to us, we strictly adhere to the statutory provisions as set forth in the GDPR when collecting and processing your personal data.
In the following, we inform you in detail about the scope and purpose of our data processing as well as your rights as data subject. Therefore, please read our Data Privacy Notice thoroughly before you continue using our website and provide your consent to data processing if applicable.
www.intersportrent.com only serves as a landing page forwarding you to the national booking platform of your choice. You can use our website without disclosing any personal data. However, the use of individual services can be subject to deviating provisions which we will point out to you separately. If you wish to use our booking and lending services, it will, in particular, be necessary to provide us with certain data for this purpose. However, for this you will be forwarded to the respective national booking website, which has its own privacy policy, which we ask you to read carefully.
Thus - apart from the cookies described in detail hereinafter - we only collect and store such data which you provide to us yourself by contacting us via e-mail.
Personal data means any information relating to an identified or identifiable natural person. This includes, for example, your name, your address, telephone number or date of birth, but also any items and services that you book through our booking platform.
a. In case of a merely informative use of our website, i.e. if you do not use any of our services or transfer information in any other way to us, we will only collect personal data that your browser transfers to our server. If you wish to visit our website, we will collect the following data, which are technically necessary for us to display our website to you and to ensure its stability and security based on our legitimate interest in accordance with Art. 6 (1) sentence 1 point (f) of the GDPR:
IP address
date and time of the request
time zone difference to Greenwich Mean Time (GMT)
content of the request
access status / http status code
the transferred data volume
website from which the request originates
browser used
operating system and its interface
language and version of the browser software
b. In addition to the above-mentioned data, cookies will be stored on your computer when you use our website; these are small text files that are stored on your hard disk as assigned by the browser that you use and which allow the entity placing the cookies (in this case, us), to transfer certain information. We need these cookies to recognise you as a user of the website.
c. Our website(s) use(s) the following types of cookies, the scope and functionality of which are explained below:
Transient cookies
Transient cookies will automatically be deleted when you close your browser. This includes, in particular, session cookies that store a so-called session ID with which various requests from your browser can be assigned to the common session. This will allow your computer to be recognised if you return to our website, and these session cookies will be deleted when you log out or close the browser.
Persistent cookies
Persistent cookies will be deleted automatically after a pre-defined period, which can be different depending on the cookie. However, you may delete the cookies in your browser settings at any time.
d. You have the option to either accept all cookies or to individually adapt your cookie settings in a way in which you will, for example, be able to reject the acceptance of third party cookies or of all not strictly necessary cookies. However, we have to notify you that in such a case, you may no longer be able to use all functions of our website.
e. We use the marketing tool Google Analytics on our website. For this purpose, we store the following third party cookies:
_gat (Storage Period 1 minute)
_ga (Storage Period 2 years)
_gid (Storage Period 24 hours)
Google Analytics is a web analysis service provided by Google Inc., 1600 Amphitheatre Parkway, Mountain View, CA 94043, USA. The cookies used for that purpose generate information about your use of this website and will normally be transferred to a Google server and stored there.
Google uses this information on our behalf to analyse your use of our website, to compile reports about the website activities and to provide further services that are connected with the use of this website and of the internet for the website operator. IP addresses that Google Analytics transmits from your browser will not be combined with other data from Google.
When individually adapting your cookie settings, you may reject Google Analytics; however please note that you may not be able to fully use all functions of this website in this case. You may also prevent any data generated by the cookie and relating to your use of the website (incl. your IP address) from being collected and transferred to and processed by Google by downloading and installing the browser plug-in that is available under the following link: http://tools.google.com/dlpage/gaoptout?hl=de.
If you wish to obtain more information on type, scope and purpose of the data collected by Google, we recommend reading their data privacy provisions.
Via our booking platform www.intersportrent.com you can search and select numerous possible locations to rent winter and summer sports equipment.
This will take you to the national booking platforms of our license/franchise partners in Germany, Austria, France or Switzerland.
However, in any case, when reserving sports items on one of the national booking platforms, please check their privacy policy for details on how your data will be processed.
4. Tools and applications used
a. Our website also includes links to other websites such as those of our National Organisations, their locations and other cooperation partners; this is solely done for information purposes, unless a joint responsibility applies for the reservation portal. These websites are not under our control and are therefore not covered by the provisions of this data privacy notice. If you activate a link, the operator of such website may collect data on you and process them in accordance with their data privacy notice, which may deviate from ours.
b. We use the offers of Google Maps on our website to display the locations of our shops and contract partners and to allow for their fast selection. Using this tool allows us to show you interactive maps directly on the website and enables the convenient use of the map function.
When you visit our website, Google receives the information that you accessed the respective sub-page of our website and the personal data set forth under No. 2. This is done regardless of whether you are logged into a Google account or not. In the case that you are logged in to Google, your data will directly be assigned to your account. If you do not agree with this, you have to log out from Google before using this service.
For more information on the purpose and scope of the data collection, please refer to the privacy notice of Google, which is available at http://www.google.de/intl/de/policies/privacy. Google may process your data also in the USA.
We employ numerous technical and organisational security measures in order to protect your personal data against manipulation, loss, destruction and access by unauthorised third parties. Our security measures are subject to ongoing improvements in accordance with technological developments on the internet.
In accordance with the General Data Protection Regulation and the Data Protection Act, you as data subject have the following rights and remedies:
Right to Access (Art. 15 of the GDPR)
As data subject affected by the data processing activities, you are entitled to request information as to whether and, if so, which personal data relating to you is processed. For your own protection – to prevent unauthorised parties from obtaining information on your data – we will verify your identity in an appropriate manner.
Right to Rectification (Art. 16) and Erasure (Art. 17 of the GDPR)
You are entitled to request immediate rectification of inaccurate personal data relating to you or – taking into account the purposes of data processing – completion of incomplete personal data as well as erasure of your data to the extent the criteria under Art. 17 of the GDPR have been fulfilled.
Right to Restriction of Processing (Art 18 of the GDPR)
Under the applicable statutory conditions, you are entitled to restriction of processing of all personal data collected. From the date of the request for restriction, such data will only be processed subject to your individual consent or for the establishment and exercise of legal claims.
Right to Data Portability (Art. 20 of the GDPR)
You can request unhindered and unrestricted transfer of collected personal data to you or a third party.
Right to Object (Art. 21 of the GDPR)
You have the right to object, on grounds relating to your particular situation, at any time, to any processing of the personal data relating to you which is necessary to safeguard our or a third party's legitimate interests. After such objection, your data will no longer be processed, unless there are compelling legitimate grounds for the processing which override your interests, rights and freedoms or the processing is made for the establishment, exercise or defence of legal claims. You can object to data processing for the purpose of direct marketing with effect for the future at any time.
Withdrawal of Consent
Should you have provided us with a separate consent to the processing of your personal data, you may withdraw that consent at any time. Such withdrawal applies to the lawfulness of the processing of your personal data after you declared it towards us.
If you take a measure to assert your rights under the GDPR set forth above, Intersport shall provide a statement on the measure requested or comply therewith without undue delay, however no later than within one month after receipt thereof.
We will react to all reasonable requests free of charge and as fast as possible, subject to the statutory provisions.
The data protection supervisory authority is competent for requests regarding a breach of the right to access, breach of the right to secrecy, rectification or erasure.
7. Contact Information / Contact Person / Data Protection Officer