Skiing & ski rental in Lötschental
All INTERSPORT Rent locations at a glance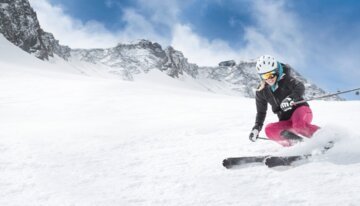 Ski rental in the Lötschental valley
INTERSPORT Rent shops in Lauchernalp
At the INTERSPORT Rent shop in Lauchernalp, you will find the right winter sports equipment for your stay in the Lötschental valley – from the latest touring or freeride skis to the right ski helmet and well-fitting ski boots.
One thing's for sure: Our RENTertainers will give it their all to make your visit to the Lötschental a wonderful experience. If you've already written your INTERSPORT Rent wishlist at home, you can also reserve your equipment online. The staff on site will have everything ready for you to pick up.
INTERSPORT Sporthaus Lauchernalp
INTERSPORT Sporthaus
Bergbahnstrasse 5, 3918 Wiler (Lötschen) / Lauchernalp
Skiing in Lötschental
More about the ski resort
Lauchernalp ski resort in the Lötschental valley is a picturesque winter sports paradise that combines tranquillity and adventure. Off-piste fun, downhill thrills or cross-country skiing pleasure with a view of 40 four-thousand-meter peaks: The sunny ski resort on Hockenhorn boasts a variety of winter activities for all types of mountain lovers!
A special highlight is the high-altitude panorama trail on Lauchernalp at 3,111 meters above sea level. The mountain station of the glacier cable car marks the starting point of your one-hour winter hike. The reward for your efforts? Impressive scenic views of the surrounding peaks. Good to know: The high-altitude hiking trail is also suitable for inexperienced hikers.
What's waiting for you in Lötschental?
55 kilometres of ski runs
6 lift and cable car facilities
the highest winter hiking trail in Europe, at 3,111 meters above sea level
views of more than 40 four-thousand-metre peaks
24 kilometres of cross-country ski trails
freeride slopes amidst fantastic mountain scenery
varied winter sports activities for the whole family – for instance, ice skating and sledging
Skiing in Lötschental is right for you if ...
… you would like to explore a fascinating winter landscape on your next ski tour.
… you are looking for a ski resort with diverse freeride slopes, away from the hustle and bustle of major ski areas.
… you want to discover over 50 kilometres of winter hiking trails in the Lötschental valley.
… you feel like giving cross-country skiing a try this winter. Numerous cross-country ski trails are already groomed and waiting for you.
… you want to go sledging with your friends and family.
Webcams
A look into the ski resort
INTERSPORT Rent tip
Our RENTertainers recommend
Whether you're a seasoned cross-country expert or an ambitious novice, you're sure to find the right trails at Lauchernalp ski resort. There are a total of 24 kilometres of classic trails and just as many for the skating technique.
You'd like to hit the slopes during the day and still not miss out on going cross-country skiing? Your wish will be granted in Blatten! That's where you can find a floodlit night cross-country ski trail – open daily from 18:00 to 21:00.
INTERSPORT Rent shops in the regions
Cities with INTERSPORT Rent shops in the region