Your first stop for ski rental in Fiesch
Fair prices and great quality at the INTERSPORT Rent in Fiesch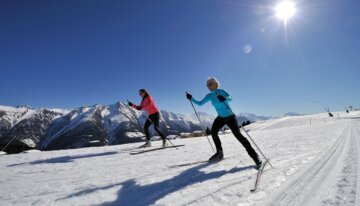 ©
https://www.flickr.com/photos/aletscharena/
Fiesch ist he right place to be for snowboarders, skiers, winter hikers and ice skaters of all ages or skill levels, all in front of an amazing panorama. To experience all these activities the qualified INTERSPORT Rent team will supply you with everything you need.
Besides winter sports like skiing and snowboarding, the Swiss town of Fiesch offers much more. Visitors of all ages will enjoy this snowy paradise with a breathtaking view at the four thousand meters high mountains called Mönch, Eiger and Jungfrau.
INTERSPORT Volken Sport Fiesch
INTERSPORT Volken Sport
Fieschertalstrasse 1, 3984 Fiesch
INTERSPORT Volken Sport Fiescheralp
INTERSPORT Volken Sport
Fiescheralp 13, 3984 Fiescheralp
Webcams
A look into the ski resort
Fiesch: Ski renal with family friendly deals
The region of Fiesch is specialized in being a great destination for a family vacation. With the many exciting activities offered Fiesch is a unique winter sports paradise for all ages. Children will not only learn but discover their passion for skiing. At INTERSPORT Rent you will get expert advice on buying or renting skis for your kids. Before actually arriving in Fiesch you can make a reservation for the skis or snowboards you would like to have. From day one of your vacation you can expect great service at our rental station.
Pre-order your favorite skis or snowboards for your upcoming vacation at INTERSPORT Rent and enjoy the great service offered at our professional sporting goods store from day one of your arrival.
INTERSPORT Rent shops in the regions
Cities with INTERSPORT Rent shops in the region