Ski rental in the Wallis region
Ski and snowboard rental at INTERSPORT Rent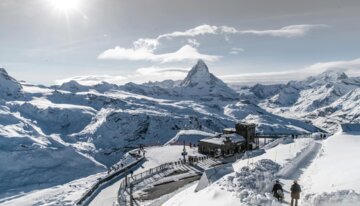 Wallis offers unlimited skiing against the breathtaking backdrop of the highest mountains in Switzerland. Why the Valais is one of the best places for skiing in Switzerland? That's easy: It offers a diverse range of winter sports and leisure facilities, hospitality and a variety of convenient services, such as the ski rental of INTERSPORT Rent.
Bigger, higher and rich in variety – in the true sense of the word superlative: Wallis offers skiers and snowboarders superbe ski runs on Switzerland's highest mountains and the largest and most snowy glaciers in the Alps. INTERSPORT Rent ensures that you receive excellent service in Wallis: You can receive first-class ski and safety equipment as well as comprehensive guidance in terms of rental skis - at numerous shops.
You are an experienced skier and you are looking for an adrenaline rush on the most impressive ski run in Wallis? Then dare to dash down "The Swiss Wall" from Le Pas de Chavanette. It covers only one kilometer, but boasts a 400-meter drop in altitude. Obtain professional equipment at one of the 41 ski rental shops of INTERSPORT Rent in Wallis and conquer this challenging ski run!
For more informationin terms of ski rental in Wallis and the optimal equipment for your winter holiday, feel free to ask one of our qualified staff members of INTERSPORT Rent at one of our several shops.
Cities with INTERSPORT Rent shops in the region