Your partner for ski rental in Grächen
Ski rental for a fair price at INTERSPORT Rent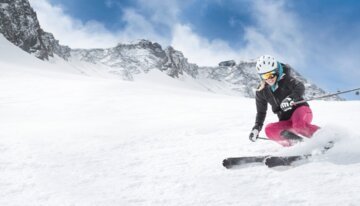 Sunny ski-pistes, guaranteed snow and a variety of activities for the whole family is what you will find in the town of Grächen in the Kanton of Wallis. The right equipment for adults and children is supplied by the ski rental of INTERSPORT Rent. The rental station in Grächen offers you the newest ski models and qualified advice.
In Grächen you can discover 40 kilometers of ski-pistes. Grächen in the Kanton of Wallis is known for its sunny weather and good snow conditions at a height between 1.617 and 2.868 meters above sea level. The ski rental station of INTERSPORT Rent supplies only the best ski and snowboard models with which you can enjoy your ski vacation to the fullest.
INTERSPORT Glacier-Sport Grächen
INTERSPORT Glacier Sport Grächen
Wildi 423, 3925 Grächen
A variety of sports and recreational activities can be enjoyed when visiting Grächen
In Grächen you will not only experience the best conditions for standard skiing but you are also able to choose between hiking, snowshoe-hiking, sledding or fun sports like snow-biking. Therefore you can find a total of 38 kilometers of hiking trails, one sledging track and one ice-skating rink. By the way: Also in the field of supplying fun sports equipment INTERSPORT Rent is a real expert. At our ski rental you can rent anything a winter sports aficionada could want.
Do you need ski equipment for your ski vacation in Grächen? At the rental station of INTERSPORT Rent you can get the best equipment and safety equipment for adults or children with the best advice from our winter sports experts.
INTERSPORT Rent shops in the regions
Cities with INTERSPORT Rent shops in the region