Skiing & ski rental in the Jungfrau region
All INTERSPORT Rent locations at a glance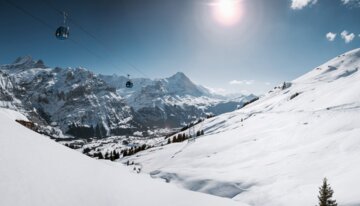 Ski rental in the Jungfrau region
Your INTERSPORT Rent shops in the Swiss ski resort
Renting winter sports equipment online? Check! Personal expert advice on site? Check! Ski equipment that's perfectly adjusted to your individual needs? Check! Testing the latest products by renowned brands? Check! Attractive offers for families and children? Check!
Didn't we tell you a visit to INTERSPORT Rent in the Jungfrau region was well worth it? Drop by and see for yourself!
Skiing in the Jungfrau region
More about the ski resort
The Jungfrau region comprises the three ski resorts of Grindelwald-Wengen, Grindelwald-First and Mürren-Schilthorn. Each of them offers numerous winter sports highlights, among them the famous Lauberhorn run in Wengen.
Another one-of-a-kind experience is heliskiing in Grindelwald. Flying up to the summit in a helicopter and powdering down the snow-covered mountain face is something you will remember for a long time.
If you're looking for a fun-filled activity away from the ski slopes, why not try sledging? With more than 15 kilometres, the "Big Pintenfritz" from Faulhorn down to Grindelwald is Europe's longest sledging run.
Or how about feeling the magic of the Jungfrau region during freeriding, cross-country skiing or ski touring? Find out more about the region's best winter sports activities …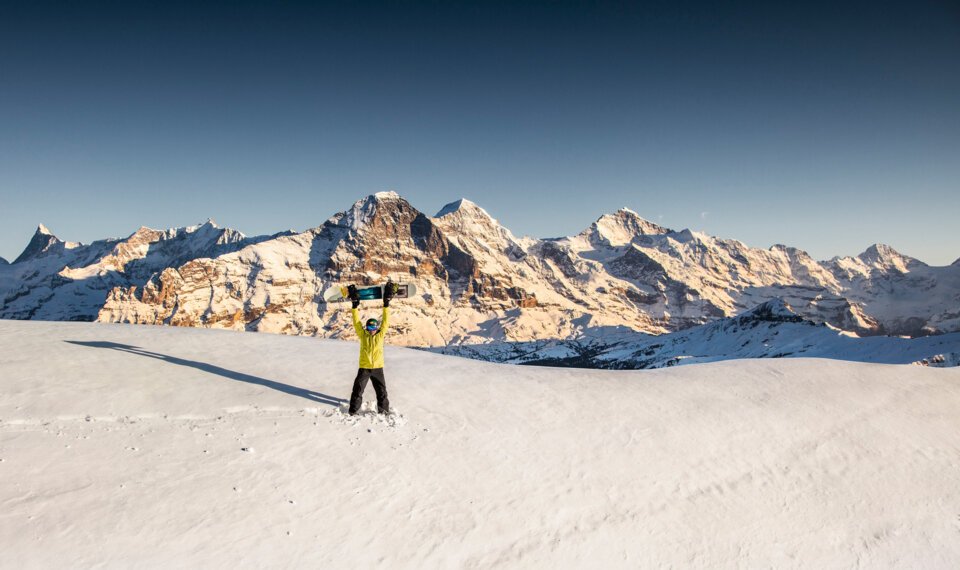 The Jungfrau region in a nutshell:
260 kilometres of slopes at altitudes between 720 and 3,454 metres
40 % of slopes covered by artificial snow-making systems
100 kilometres of winter hiking trails
Ride up to Jungfraujoch with the Jungfrau railway and discover the "Top of Europe", Europe's highest railway station (3,454 m).
Skiing in the Jungfrau region is right for you if …
... you always wanted to visit an UNESCO world heritage site.
... you want to race down the famous Lauberhorn run.
… you would like to visit Europe's longest sledging run and highest railway station.
… you want to feel the magic of the Jungfrau region during skiing or other delightful snow experiences.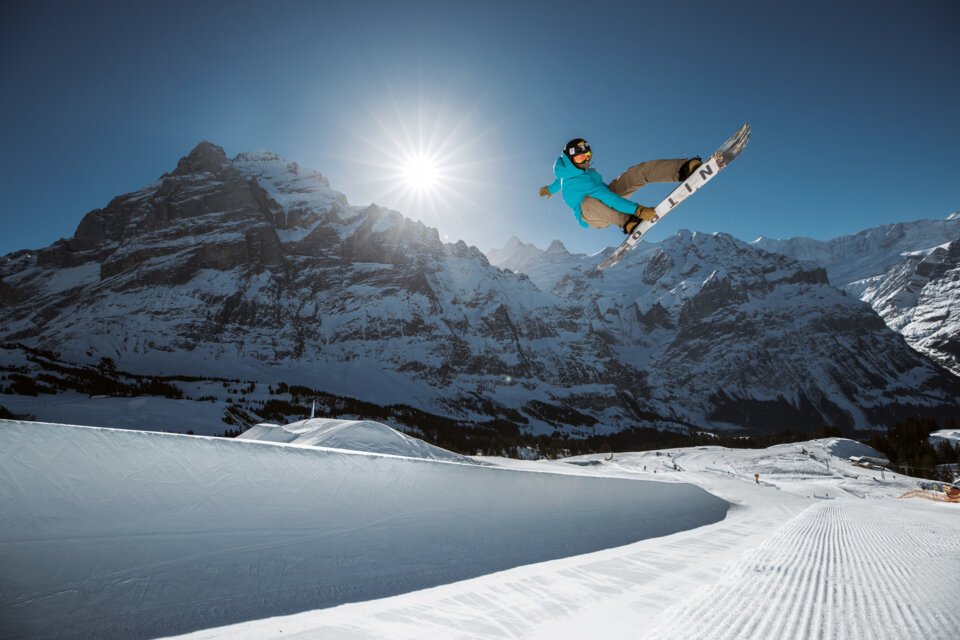 INTERSPORT Rent tip
Our RENTertainers recommend
Do you dare to follow in the footsteps of the world's best alpine ski racers and whoosh down Lauberhorn run? The slope that extends from Lauberhorn down to Innerwegen is the longest run of the FIS Alpine Skiing World Cup.
Due to preparation works, the run is closed until the race in January. From then on, it's all systems go! Power out of the start house and race down the original World Cup run – but beware of notorious sections like the "Traversenschuss", the "Hundschopf", the "Unterführung" and the "Haneggschuss"! And once you've made it to the finish line – will you want to do it all again?
Do you have the perfect racing skis to feel like a World Cup athlete? If not then you should drop by at INTERSPORT Rent in the Jungfrau region and get some expert tips from our RENTertainers!
Cities with INTERSPORT Rent shops in the region