Skiing & ski rental in Grindelwald at Jungfraujoch
All INTERSPORT Rent locations at a glance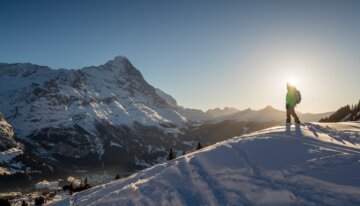 Ski rental in Grindelwald
INTERSPORT Rent shops in Grindelwald
At the INTERSPORT Rent shops in Grindelwald, you can treat yourself to expert advice from our RENTertainers – for instance, on the latest gear of leading equipment manufacturers. Even better: You can rent it straight away. The advantage? You can travel light and don't have to worry about lugging your equipment around.
What's more, the skis, snowboards and ski boots there are always in tip-top shape – so you can head out on your winter adventures straight away.
Skiing in Grindelwald
More about the ski resort
Stunning Alpine landscapes, a charming mountain village, and beautiful ski runs: A stay in Grindelwald is a uniquely wonderful experience for every type of skier and snowboarder. Whether you're a freerider, beginner skier or aspiring World Cup champion – you're sure to get your money's worth at Grindelwald ski resort.
At the foot of Eiger North Face, a ski paradise opens up to you – with 103 kilometres of slopes and numerous diverse runs and other highlights. In Grindelwald, opposites attract, as the saying goes. On the resort's speed runs, you can chase one personal best after another. And on the "Tempo 30" run, you can switch to "relax mode", delight in scenic mountain views, and enjoy each and every turn as you approach the bottom of the valley.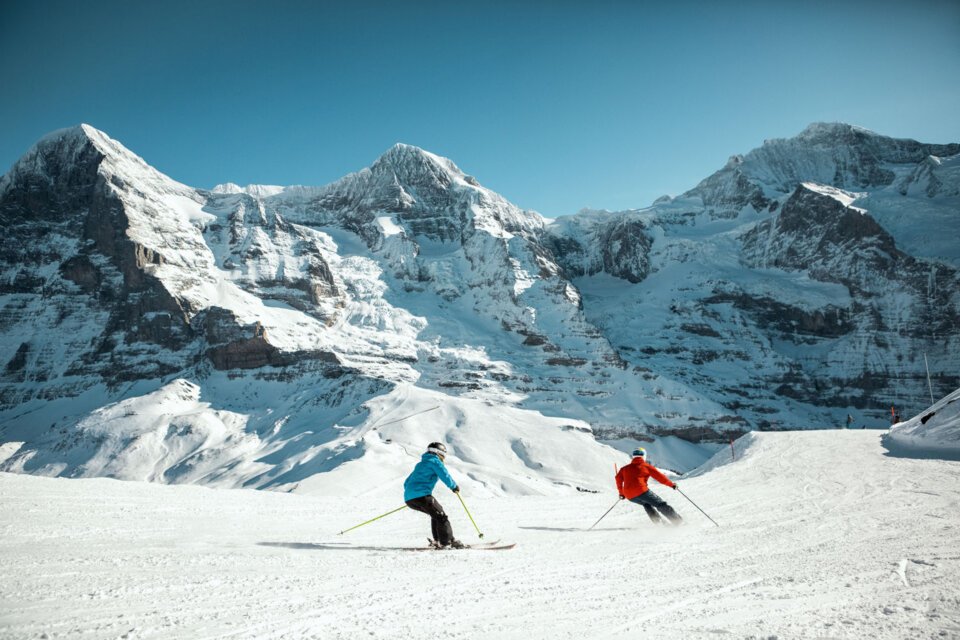 What's waiting for you in Grindelwald?
103 kilometres of ski runs
22 lift and cable car facilities
2 speed runs – one on slope no. 21 and another one on slope no. 45
2 SkiMovie runs (slope no. 3 and no. 4)
one World Cup run: Are you ready for LauberhornLive?
non-stop sledging, even at night
an 800-metre skicross course
Skiing in Grindelwald is right for you if ...
… you are looking for diverse winter adventures off the groomed ski runs and appreciate beautiful powder-snow descents.
… you want to put your skiing skills to the test on the resort's extra steep slopes.
… you would like to give one of the world's longest sledging runs (25 kilometres) a try.
… you can't wait to showcase your freestyle skills at Grindelwald First. Special highlight: the bag jump, where you'll land on a huge air cushion. You can get the back protector for this one-of-a-kind thrill at the INTERSPORT Rent shop in Grindelwald.
… you want to tackle the giant 130-metre halfpipe in Grindelwald.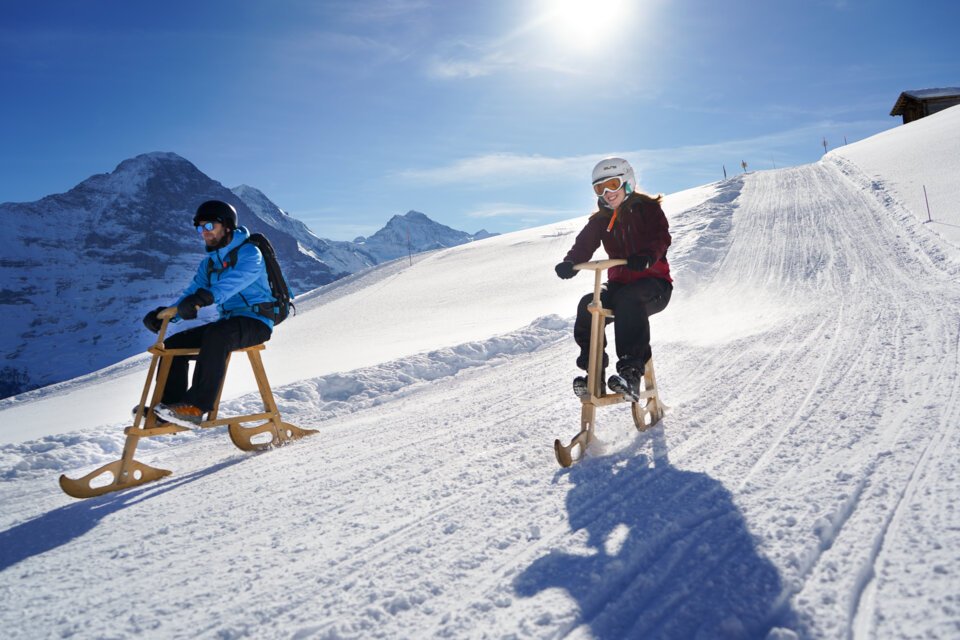 Webcams
A look into the ski resort
INTERSPORT Rent tip
Our RENTertainers recommend
Flying fox in Grindelwald: Hovering over the ski runs but not in a cable car or on the chairlift – that sounds like a lot of fun to you? Get ready to fly towards the bottom of the valley at up to 85 km/h! How? On the "First Flyer" or "First Glider", up to four people can swoosh down the mountain at the same time – secured by a rope and harness. The "flight" is 800-metres long and leads from First to Schreckfeld.
INTERSPORT Rent shops in the regions
Cities with INTERSPORT Rent shops in the region