Your first stop for ski rentals in Interlaken
Hire skis and snowboards at INTERSPORT Rent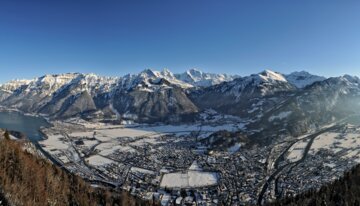 Interlaken provides you with access to the top ski destinations in the Bernese Oberland. From the Jungfrau Ski Region, the Beatenberg to the expansive cross-country ski trails in the Lombachtal valley – here, no wishes remain unfulfilled. Comfort and convenience are top priority in Interlaken. Modern transport systems, a free ski shuttle bus and service facilities, such as the INTERSPORT Rent ski rental shop, allow you to enjoy your winter holiday, worry free.
Located at the heart of the Bernese Oberland, Interlaken offers you then chance to choose between the Switzerland's top winter sports regions: explore the Jungfrau Ski Region, the family-friendly Beatenberg resort, the Brienz-Axalp or Habkern – you'll be anything but bored in Interlaken. Of course, the INTERSPORT Rent ski rental branch in Interlaken has your ski equipment in stock. Hire top-quality professional equipment at low prices.
INTERSPORT Eiger Sport Unterseen
INTERSPORT Eiger Sport
Bahnhofstrasse 2, 3800 Unterseen
Cross-country skiing in and around Interlaken with equipment from the ski rental-experts at INTERSPORT Rent
Would you like to spend a few relaxing off-piste hours during your ski holiday? Cross-country skiing provides you with the proper balance. In the natural paradise that is the Lombachalp you have the opportunity to develop your technique with cross-country ski lessons. Whether the athletic skating style or the liesurly classic style: you'll be enchanted by the tranquil landscape.
Are you looking for a competent partner for ski rentals? INTERSPORT Rent takes care of everything surrounding your rental equipment, while providing top servicing options and excellent advice. The team at INTERSPORT Oberland is looking forward to your visit!
INTERSPORT Rent shops in the regions
Cities with INTERSPORT Rent shops in the region