Ski rental in St. Johann im Pongau
Rent top ski & snowboards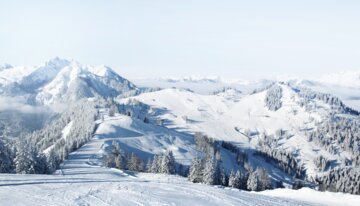 ©
© Snow Space Salzburg | www.snow-space.com3
St. Johann convinces families with beginners, professionals and connoisseurs by a variety of winter sports. Whether skiing in the Alpine village or on the 895 km of slopes of Ski Amade, boarding in cool fun parks, cross-country skiing or ski touring - the sporting opportunities on and off the slopes in St. Johann are as varied as the selection at the ski rental of INTERSPORT Rent.
Only 55 km in the south of the famous city of Salzburg lies St. Johann im Pongau. The traditional resort offers summer and winter holidaymakers everything their heart desires: Beautiful mountains for hiking, skiing or snowboarding, touring or cross country skiing, tobogganing or simply enjoyment. You can rent the equipment for outdoor adventures locally in the ski rental of INTERSPORT Rent - a huge selection, great service and fair prices are waiting for you.
Alpendorf - at Haven Mountain Retreat
INTERSPORT Kerschbaumer
Alpendorf 10, 5600 St. Johann im Pongau (Alpendorf)
Alpendorf Alpina - at Sporthotel Alpina
INTERSPORT Kerschbaumer
Alpendorf 8, 5600 St. Johann im Pongau (Alpendorf)
Webcams
A look into the ski resort
All-round service at INTERSPORT Rent from depot to rental skis
St. Johann-Alpendorf impresses not only by its varied slopes - the place has also a lot to offer in terms of aprés-ski. End your day of skiing in one of the cozy cabins or well-attended outdoor bars - you can just bring the equipment to the depot of INTERSPORT Rent, where it is securely stored until the next morning. The small but exquisite special: your boots are dried overnight by using most modern technologies.

Experience a wonderful ski holiday in St. Johann and rent the ski equipment on the spot. In the INTERSPORT Rent locations in Alpendorf and the nearby Altenmarkt, the trained staff is on your side with words and deeds.
INTERSPORT Rent shops in the federal states
INTERSPORT Rent shops in the regions
Cities with INTERSPORT Rent shops in the region