Skiing & ski rental Lower Austria
All INTERSPORT Rent locations at a glance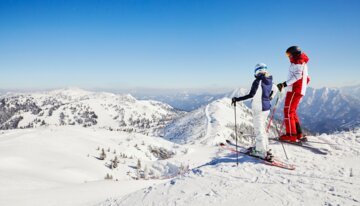 ©
Niederösterreich-Werbung / Andreas Jakwerth
If you're looking for a change from skiing, you can choose from a colourful range of exciting winter sports activities off the slopes. On Zauberberg, for instance, sledging becomes a night-time adventure. Alternatively, you could also set out on a guided snowshoe tour with your family and discover Lower Austria's stunning nature.
Pro tip: Thanks to ski rental at INTERSPORT Rent, you can travel light and spontaneously decide to stay in a ski resort in Lower Austria. The latest equipment, as well as expert advice from our RENTertainers, are available to you at the many shops on site.
Ski rental in Lower Austria
INTERSPORT Rent shops in Lower Austria
At the INTERSPORT Rent shops in Lower Austria, you will find winter sports equipment that suits your needs perfectly – at an optimal value-for-money ratio. Our RENTertainers have the latest winter sports gear from leading manufacturers ready for you! And when you visit one of our INTERSPORT Rent shops, you'll also get expert advice from them.
Can't wait to hit the slopes? With our convenient three-step online reservation system, you can save time that you can use to conquer the picturesque slopes of Lower Austria. Simply reserve your skis, snowboard or ski helmet and pick them up at the location of your choice – and you're good to go! By the way: At INTERSPORT Rent, we have numerous attractive offers for families – just drop by!
Skiing in Lower Austria
More about the ski resorts
Whether you want to take advantage of the family slope in Annaberg or tackle the World Cup downhill run at Semmering: Ski pros, freeriders and freestyle fans as well as families feel right at home on the 200 kilometres of ski runs in the more than 20 ski areas of Lower Austria. If you're still in the process of perfecting your turns, you should visit one of the many local ski schools.
Did you know? Hochkar ski resort on the border to Styria is the largest ski resort in Lower Austria. It boasts 19.2 kilometres of ski runs. The ski resorts of Lower Austria in the Eastern Alps have everything you could hope for when it comes to an unforgettable winter holiday – you'll see!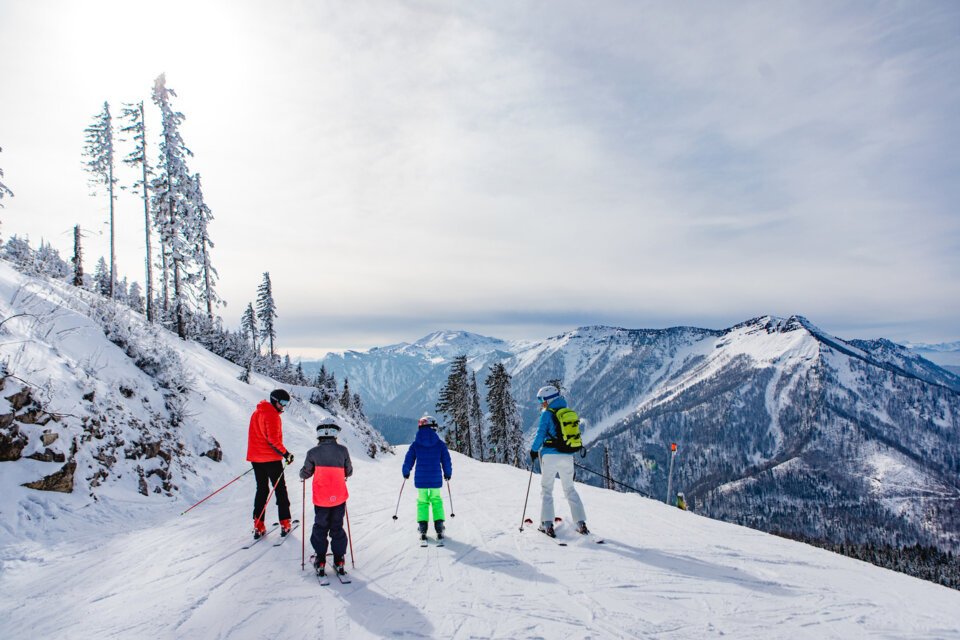 The six most popular ski resorts in Lower Austria
Lackenhof – Ötscher: At Lackenhof am Ötscher ski resort you can choose between the two mountain peaks Kleiner Ötscher and Großer Ötscher. 20 kilometres of ski runs with guaranteed snow, ski touring routes and a snow park promise varied winter sports adventures in the Eastern Alps.

Puchi's World in Puchberg am Schneeberg: a winter sports paradise for young skiing newbies and their families. At the family-friendly Puchberg am Schneeberg ski resort , the four-person chairlift takes you up to 1,210 metres in just a few minutes.

On Wunderwiese, your little ones can have a blast – thanks to two magic carpets, a children's lift and a T-bar lift. In addition to diverse ski runs, challenging freeride descents are waiting for ambitious winter sports enthusiasts.
Skiing on Hochkar: On Hochkar near Göstling an der Ybbs, beginner skiers, powder-snow enthusiasts and seasoned pros are offered a multi-faceted ski resort with 19 perfectly groomed slopes, sunny ski runs, rustic alpine huts, and a snow trail.

Are you in the mood for a sporty challenge and want to give an alpine triathlon a try? Then you should take part in the Hochkar Challenge – a perfect mix of cycling, running and ski touring!
Zauberberg Semmering – Hirschenkogel: Semmering offers winter sports experiences at any time of the day – and also in the evening. Zauberberg boasts no less than six night ski runs. So, if you fancy exploring 13 kilometres of floodlit ski runs, Semmering ski resort is the right place for you! A little treat off the slopes: The three-kilometre adventure sledging run is a fun activity, especially for families.

Mönichkirchen – Mariensee: Mönichkirchen is located on the border to Styria. The charming ski resort has a long-standing winter sports tradition: As early as 1949, a single chairlift took visitors to the top of the mountain. You can also enjoy some relaxation in Mariensee : Extensive cross-country ski trails are waiting for you – among them, the 60-kilometre Wechsel Panorama Trail. And from 20:30, you can go on evening ski tours on all ten slopes at Mönichkirchen ski resort.

Annaberg lifts: Families appreciate Annaberg ski resort because it's small and endearing, with its 12.5 kilometres of ski runs that meet all needs and wishes for a varied winter sports holiday in the Eastern Alps. Another highlight: winter horseback riding at Schaglhof.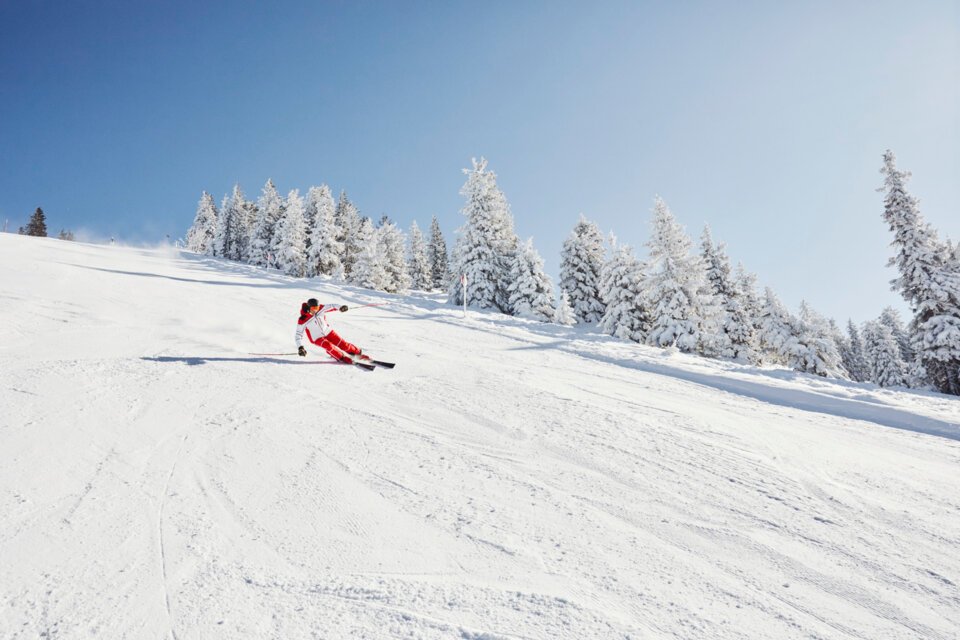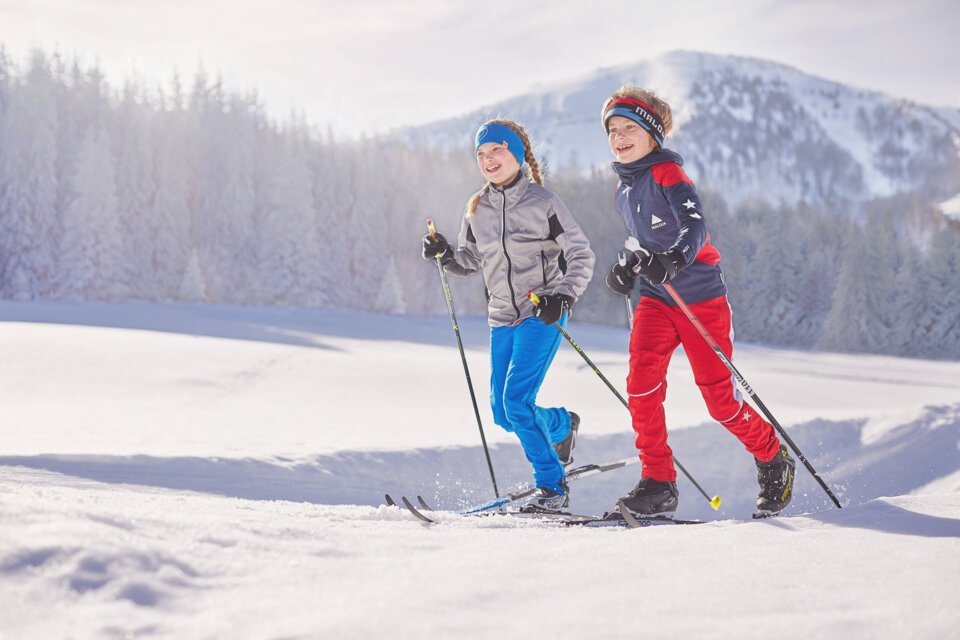 Skiing in Lower Austria is right for you if ...
… you are looking for ski resorts that are suitable for families.
… you want to experience varied adventures off the slopes, for instance, while night sledging on Semmering, cross-country skiing in Mariensee or at the alpine triathlon on Hochkar.
… you want to enjoy impressive scenic views of the Eastern Alps.
… you prefer slightly smaller ski resorts.
… you want to go on a laid-back and relaxed ski holiday in the east of Austria.
INTERSPORT Rent tip
Our RENTertainers recommend
Are you a die-hard ski touring enthusiast and looking for suitable tours? In the quiet and impressive mountains of the Eastern Alps, you can bask in the silence of nature and tackle a variety of challenging routes. One thing's for sure: The idyllic, wintry atmosphere will invigorate and inspire you.
Our insider tips away from the big ski areas:
Göller (1,766 metres above sea level, near St. Aegyd am Neuwalde in the Mostviertel region)
Schnabelberg (near Waidhofen an der Ybbs)
Großer Sulzberg (1,400 metres above sea level, near St. Aegyd am Neuwalde in the Mostviertel region)
Schnalzstein (1,546 metres above sea level, start at Donaudörfl)
Ringkogel (1,699 metres above sea level, near Göstling an der Ybbs)
Prochenberg (1,123 metres above sea level, near Ybbsitz)
INTERSPORT Rent shops in the federal states
INTERSPORT Rent shops in the regions