Ski rental in Zell am See-Kaprun
INTERSPORT Rent is your reliable partner for ski rental and ski servicing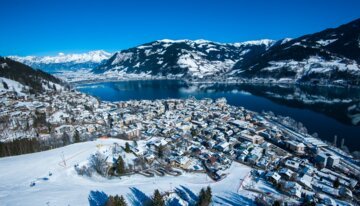 ©
© Zell am See-Kaprun Tourismus - http://zellamsee-kaprun.com
Speaking of powder snow: Zell am See – Kaprun is known for its beautiful backcountry. And our RENTertainers are happy to equip you with the latest freeride and ski touring gear for your off-piste adventures.
Ski rental in Zell am See – Kaprun
Your INTERSPORT Rent shops in Zell am See
Do you want to have the time of your life on the slopes of Zell am See – Kaprun? With the right ski and snowboard equipment, you'll be one step closer to your goal. You'll find everything you need at INTERSPORT Rent. What's more, our RENTertainers know the Zell am See – Kaprun ski resort like the back of their hand and are happy to give you insider tips.
We recommend you reserve your gear online before your stay. It's quick, convenient, and your ski equipment will already be waiting for you at the shop when you arrive in Zell am See – Kaprun!
Skiing in Zell am See – Kaprun
More about the ski resort
Skiing in Zell am See means pure freedom. At over 3,000 metres above sea level, you can explore one of the most popular freeride areas in the Alps. The resort's high elevation ensures guaranteed snow, so there are no limits to all the fun you can have off-piste.
Night skiing, XXL Funslope, steep descents, terrain parks, and children's adventure worlds: Whether you're a young skiing enthusiast or a freestyle pro, the various offers at Kaprun ski resort make every winter sports dream come true.
Ski-in/ski-out: Did you know that the new 3K K-ONNECTION takes you from Kaprun via Maiskogel up to the Kitzsteinhorn glacier ski resort? To get back to Kaprun, you can take the extra-long valley descent (3.000 m) all the way down into the town centre.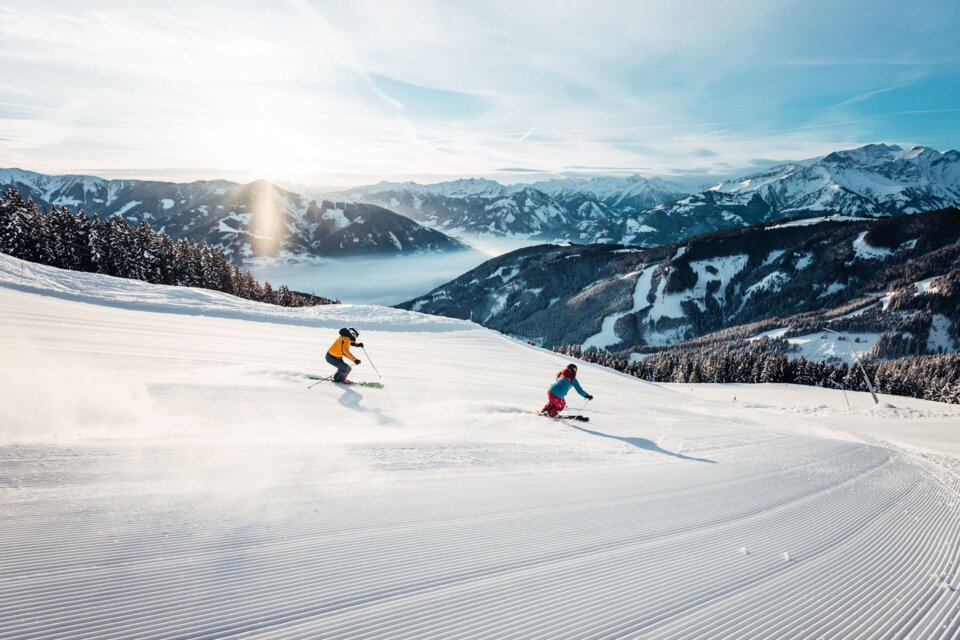 What's waiting for you in Zell am See – Kaprun?
408 kilometres of ski runs
121 lift and cable car facilities
3 ski resorts
31 ski huts and mountain restaurants
5 snowparks and a "Superpipe" at Kitzsteinhorn glacier ski resort
night skiing on the Schmittenhöhe
the 4-kilometre "Trassabfahrt" World Cup downhill run
5 freeride routes
Are you already itching to hit the slopes of Zell am See – Kaprun? Then let's go!
Skiing in Zell am See – Kaprun is right for you if ...
… you want to enjoy a view of 30 three-thousand-metre peaks while skiing and snowboarding.
… you would like to give the XXL Funslope on the Schmittenhöhe a try.
… you can't wait to go night skiing.
… you want to go freeriding in one of the best freeride regions in the Alps.
… you're up for the challenge of hurling yourself down steep slopes with a gradient of up to 63 per cent.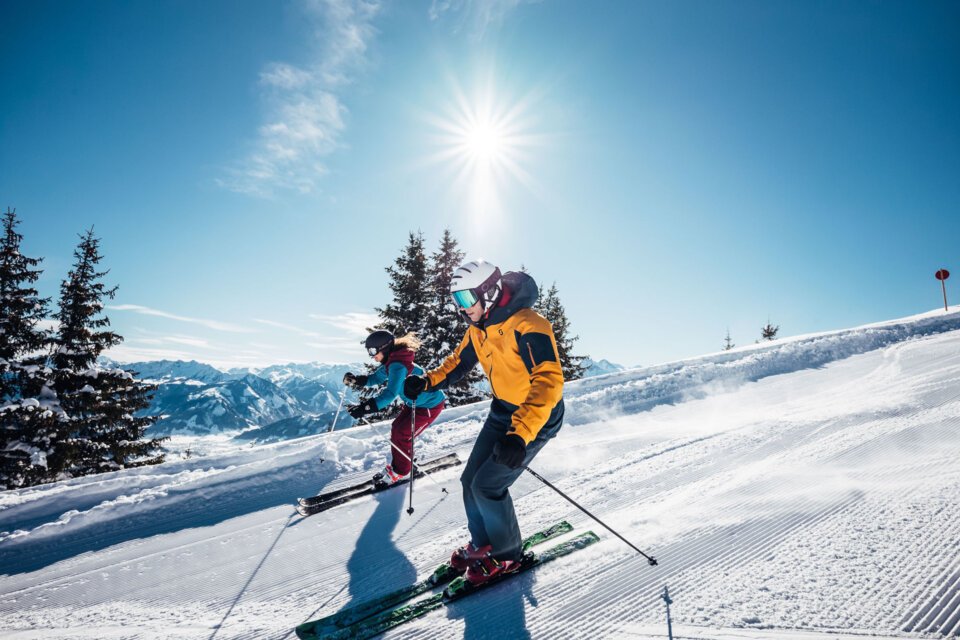 INTERSPORT Rent tip
Our RENTertainers recommend
At eye level with the giants of the Alps: In Zell am See – Kaprun, you can experience a mountain adventure of the exceptional kind – with a view of 30 three-thousand-metre peaks and the Hohe Tauern range! At the highest point (3,029 m) of the Salzburger Land region, the surrounding mountains seem close enough to touch. "Where is this magical place?", you may ask. It's at the Top of Salzburg scenic-view platform on Kitzsteinhorn.
Pro tip: Be sure to snap a picture with the three-thousand-metre peaks at the photo point, so you can share this one-of-a-kind experience with your friends. Say "cheeeeese"!
INTERSPORT Rent shops in the federal states
INTERSPORT Rent shops in the regions
Cities with INTERSPORT Rent shops in the region