Ski rental INTERPSORT Arlberg main store St. Anton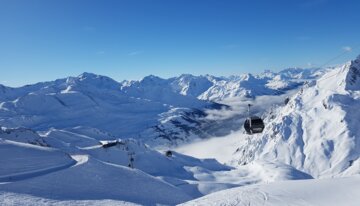 Opening times Winter
Nov 6, 2023 - Apr 21, 2024
Monday - Friday
8:30 AM - 7:00 PM
Saturday, Sunday
8:30 AM - 7:00 PM
Particularity
Test and Buy at INTERSPORT Rent in St.Anton
about us
Rent your ski and snowboard at INTERSPORT Arlberg in St. Anton am Arlberg
Expertise you can rely on: The 60, mostly local employees at the INTERSPORT Rent locations in Arlberg are happy to lend an ear to your wishes. Due to beeing connected closely with INTERSPORT Arlberg for many years, the ski coaches at INTERSPORT Arlberg main store - St. Anton, are best-trained and well-educated. Take advantage of optimal care - whether at testing, purchasing or renting your ski equipment.
Try before you buy - a motto to which the INTERSPORT Arlberg locations comitted theirselves. Also in the ski rental of INTERSPORT Arlberg main store - center St. Anton, you have the opportunity to venture some extensive test drives before making a purchase. A service which is of dual use in one of Austria's most beautiful ski areas. At INTERSPORT Arlberg you can test your ski equipment for two days - at no additional cost!
If you wish, we deliver your rental equipment directly and contactless to your accommodation around the Arlberg. You don't pay extra for this service, only the pre-booking discount does not apply. Simply book your rental equipment online as usual and select the #DeliveryService products. Or book #DepotPickup: pick up ready-to-go at your personal INTERSPORT depot!