Ski rental in St.Leonhard: INTERSPORT Huter, parking Rifflseebahn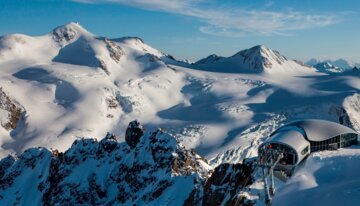 Opening times Winter
Sep 23, 2023 - Apr 26, 2024
Monday, Tuesday
9:00 AM - 12:00 PM and 1:30 PM - 5:30 PM
Thursday, Friday
9:00 AM - 12:00 PM and 1:30 PM - 5:30 PM
Saturday, Sunday
9:00 AM - 12:00 PM and 1:30 PM - 5:30 PM
Particularity
Access to the Pitztal cross-country ski area: rent cross-country ski sets for classic and skating
Ski and snowboard equipment for children
about us
Relaxing and amazing winter holiday in the Pitztal
INTERSPORT Huter in Mandarfen, directly at the car park of the Rifflseebahn, is the perfect starting point for all winter sports activities in St. Leonhard. Whether skiing, ski tours, winter hiking, cross-country skiing, tobogganing or snowshoe hiking, the Pitztal offers so many sports activities.
Thanks to the skiing connection between the Rifflsee skiing area and the glacier skiing area, you can enjoy 40 kilometres of pistes on perfectly groomed natural snow slopes in winter. In our 800 square metre rental shop you will always find the latest skis of the current season, with the most innovative technologies. To ensure that your equipment is always well maintained and serviced, we offer a professional ski service in our shop according to the motto "Brought in the evening and ready in the morning". Grinding, waxing and polishing - we use the most modern machines from Wintersteiger for your service.
Our tip for absolute comfort: When you buy new boots, we fit your ski boot perfectly using a foot analysis. That way you'll never have ski boots again that are too thight or uncomfortable. We offer ski boots from all well-known brands, including customised insoles from Sidas. We also individually fit the well-known Strolz ski boots.
For cross-country skiers, the Pitztal offers a large number of free cross-country trails in various degrees of difficulty. Are you still missing the right equipment to explore the snow-covered winter landscape on cross-country skis? Then visit us in our shop in Mandarfen. We have cross-country skiing equipment for classic and skating in our rental shop. Ski touring fans will also find the right touring skis and touring ski boots in our shop.
Our highly trained RENTertainers will be happy to advise you on finding the perfect equipment for unforgettable winter adventures. We look forward to your visit!