Ski rental Kreischberg - INTERSPORT Pintar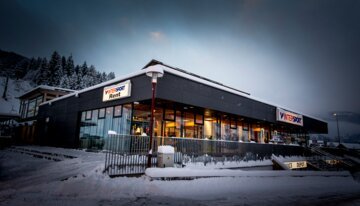 Opening times Winter
Dec 8, 2023 - Apr 1, 2024
Monday - Friday
8:00 AM - 6:00 PM
Saturday, Sunday
8:00 AM - 6:00 PM
Particularity
Ski depot with pleasant extras for female winter athletes
about us
Rent your ski and snowboard at INTERSPORT Pintar in St. Georgen / Murau
Tedious towing of the equipment from the hotel to the pistes belongs to the past: Rent your ski or snowboard equipment at INTERSPORT Pintar, base station Kreischberg and keep all the material for your skiing day in the modern depot. The choices are heated ski lockers for two pairs of skis or snowboards and heated family cabinets that can accommodate the equipment of four persons.
Especially the ladies will enjoy this luxury: Thanks to heated storage cabinets in the ski rental of INTERSPORT Pintar, base station Kreischberg, cold feet in winter sports belong to the past. What could be nicer than to slip into pre-heated ski boots and start the winterday with warm feet?

But that's not nearly all, the ski rental in St. Georgen Murau comes up with another extra special for ladies: The Beauty Corner, featured with washing basin and mirror, provides helpful service to check the appereance before starting to the slopes.