Ski rental INTERSPORT Arlberg Nassereinbahn St. Anton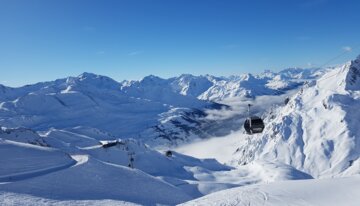 Opening times Winter
Dec 1, 2023 - Apr 14, 2024
Monday - Friday
8:30 AM - 6:30 PM
Saturday
8:30 AM - 8:00 PM
Particularity
Know-how and experience: the team in the ski rental of INTERSPORT Rent in St.Anton
about us
Rent your ski and snowboard at INTERSPORT Arlberg at Nassereinbahn
You can not only enjoy an impressive mountain scenery, but also a lot of comfort and service during your winter holiday. In the ski rental of INTERSPORT Arlberg Nasserein mountain railway in St.Anton, you can start into skiing pleasure without detours: Your safely storaged ski equipment is already waiting for you in the custody! Your ski boots are disinfected and dried overnight.
A job to fall in love with: The INTERSPORT Rent team is at home on the Arlberg. The numoerous years of experience in one of the world's most beautiful ski areas is good for all those who need first-class advice on the purchase of ski equipment. Also when it comes to the finding of suitable rental skis, the employees of INTERSPORT Arlberg Nasserein mountain railway are on the spot.
Are you planning a winter holiday in the Arlberg and still looking for tailored-to-your -individual-needs ski? Visit the ski rental of INTERSPORT Arlberg Nasserein mountain railway in St. Anton. The INTERSPORT Rent coaches are happy to answer your questions. A special bonus: Before you decide, you have the opportunity to test your equipment extensively for two days.
If you wish, we deliver your rental equipment directly and contactless to your accommodation around the Arlberg. You don't pay extra for this service, only the pre-booking discount does not apply. Simply book your rental equipment online as usual and select the #DeliveryService products. Or book #DepotPickup: pick up ready-to-go at your personal INTERSPORT depot!