Perfectly equipped with INTERSPORT Felder Sörenberg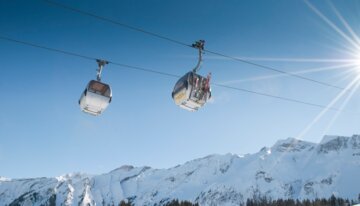 ©
UNESCO Biosphäre Entlebuch | Matthias Nutt
Opening times Winter
Dec 1, 2023 - Mar 31, 2024
Monday - Friday
8:00 AM - 6:00 PM
Saturday, Sunday
8:00 AM - 6:00 PM
Particularity
Winter Sports in Sörenberg: convenient ski rental at INTERSPORT Felder Sörenberg
about us
Top equipment along top service
Hand over your outfit for the night - the next morning you can collect your skis or board and start again to the slopes after an extensive service.

The right things, not only for the tracks, can be found at INTERSPORT Felder Sörenberg: If you want to explore the breathtaking panorama of the Eiger, Mönch and Jungfrau on varied slopes and snowshoe-trails, the ski rental Sörenberg has the best equipment in store for you.
Do you to try different sports during your winter holiday in Switzerland? Sledding is highly regarded in all winter sports resorts. Grab your sled locally at INTERSPORT Felder Sörenberg and there you go down the slopes! A range of 250 snow sleds guarantees fun for everyone!