Murau am Kreischberg: ski rentals and ski servicing
INTERSPORT Rent is your first stop for ski rentals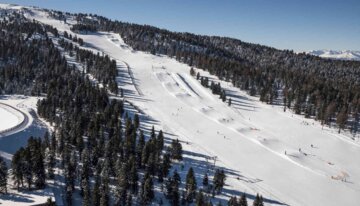 ©
Murtal Seilbahnen Betriebs GmbH
At the Murau resort, located on the Kreischberg Mountain, you can ski, board or carve to your heart's delight on over 42 kilometres of pistes. A large cross-country skiing network and action-packed extras such as speed courses round out the multifaceted range of amenities. Your first stop for ski rentals in Murau am Kreischberg is naturally INTERSPORT Rent. Here, you'll not only receive the best equipment, but also will benefit from excellent advice from winter sports experts.
In Murau am Kreischberg, placed in the midst of the styrian Murtal, you can do skiing, snowboarding and carving, down to your whim. Get your equipment at the ski rental of INTERSPORT Rent, put on your ski and start into an absolute winterly enjoyment! More than 42 kilometrs of pistes awaits you!
Webcams
A look into the ski resort
Cross-country skis from the ski rental shop: discover the most beautiful trails in Murau
Are you looking for some rest off the pistes too? In Murau am Kreischberg a special cross-country skiing enjoyment awaits you. Along the mur a part of Mur bycycle track is groomed and furthermore you find beautiful circle courses at the Zechnerdorf in St. Lorenzen and in front of the Stadl an der Mur - or enjoy the 2,5 kilometres of cross-country slopes at dreamy 1700 metres above sea level! The adquate equipment for your cross-country amusement, classical or skating style, you find at the ski rental of INTERSPORT Rent in Murau.
You´re planning a ski vacation in Murau and you still need a suitable skiing equipment? At the ski rental of INTERSPORT Pintar in St.Georgen/ Murau you find anything you need for a perfect skiing day - competent advise inclusive!
INTERSPORT Rent shops in the federal states
INTERSPORT Rent shops in the regions
Cities with INTERSPORT Rent shops in the region