Mariapfarr: ski rental and advice by winter sports experts
Rent ski and snowboard at INTERSPORT Rent in the Lungau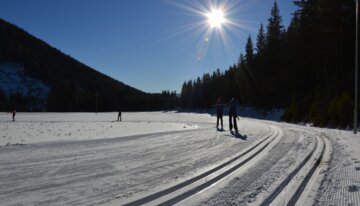 ©
© Copyright 2016 Tourismusverband Mariapfarr
The varied pistes in the sunny ski area Mariapfarr make the hearts of families leap for joy: whether skiing, snowboarding or carving - every winter sports fan will get his money's worth. INTERSPORT Rent in Tamsweg near Mariapfarr takes care of proper equipment. You can rent adequate ski gear and safety equipment for pure skiing pleasure in the ski rental.
The Fanning Mountain, the local mountain of Mariapfarr, is known as one of the most beautiful skiing mountains in the Salzburgian Lungau. Skiers, snowboarders and carvers of any age get their money's worth at 1.500 up to 2.100 meters. The modern 6-seated Samson chairlift and three dragging lifts transport you quickly and easily - this way you can enjoy untroubled winterly enchantment.
Webcams
A look into the ski resort
From night skiing to ski rental: manifold offers in Mariapfarr
The third bordering ski area, Katschberg-Aineck, offers a special proposal for night owls: If you cannot get enough of skiing, visit the Koenigswiese near Katschberg for floodlit skiing, carving and snowboarding from 7 to 10 pm.
Looking for a competent partner for ski rental in the surroundings of Mariapfarr? You can receive first-class ski models and snowboards as well as competent advice and tips by winter sports experts in the ski rental of INTERSPORT Rent in Tamsweg.
INTERSPORT Rent shops in the federal states
INTERSPORT Rent shops in the regions
Cities with INTERSPORT Rent shops in the region