Ski rental Krimml, Hochkrimml-Plattenalm- INTERSPORT Patterer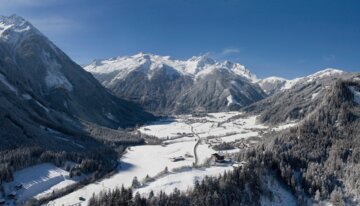 Opening times Winter
Dec 17, 2023 - Apr 18, 2024
Monday - Thursday
9:00 AM - 4:30 PM
Saturday, Sunday
9:00 AM - 5:00 PM
Particularity
Take advantage of the INTERSPORT Rent network in Krimml
about us
Rent your ski and snowboard at INTERSPORT Patterer in Krimml
Winter athletes can enjoy all the INTERSPORT Rent services at INTERSPORT Patterer, your INTERSPORT Rent Network in the Zillertal Arena: Whether daily free ski service, first-class rental equipment or testing capabilities of new winter sports models - The ski rental in Krimml makes your winter holidays not only extremely comfortable, but also safe and affordable with countless services.
The ski rental of INTERSPORT Patterer, Hochkrimml Plattenalm, is one of three locations of INTERSPORT Rent in Krimml. Winter sports enthusiasts will not only benefit from the modern rent shops, directly next to the base stations of the Duxeralmbahn and Plattenkogel X-Press II, but also from their interconnectedness: Start directly from one of the shops in your day of skiing and replace your rental equipment down to your whim at the location of your choice. Also the year-round sports shop in the center of Krimml can work as a contact point.

All three INTERSPORT Rent sites have one thing in common: The sports-loving staff is looking forward to advise and serve you.