Ski rental in Krimml city center - INTERSPORT Patterer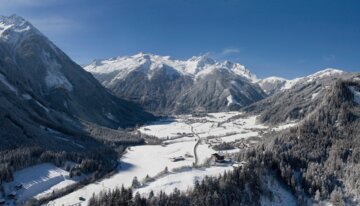 Opening times Winter
Dec 17, 2023 - Apr 18, 2024
Monday - Friday
8:15 AM - 12:00 PM and 2:30 PM - 6:00 PM
Saturday
8:15 AM - 12:00 PM and 2:30 PM - 5:30 PM
Sunday
8:15 AM - 11:00 AM and 3:30 PM - 5:30 PM
Particularity
Ski rental in Krimml: ski equipment for children
about us
Rent your ski and snowboard at INTERSPORT Patterer in Krimml
The ski rental of INTERSPORT Patterer is represented by three INTERSPORT Rent locations in Krimml. INTERSPORT Patterer center Krimml, situated directly in the city center, is your first contact point for customized winter sports equipment for all ages.
Are you planning a winter holiday in the Zillertal Arena with the whole family? Then you have to pay a visit to INTERSPORT Patterer, center Krimml. The INTERSPORT Rent team not only provides modern equipment for rent, also your safety is close to the employees´ hearts. Optimally maintained ski equipment, which is tailored to age, size and skill level, are the most important requirements in order to ensure that especially the little ones can enjoy safe driving pleasure.

INTERSPORT Patterer, center Krimml combines all INTERSPORT Rent services that respect the special needs of children under the slogan "Cool Kids". Just stop by, the INTERSPORT Rent team is happy to advise you!