Skirental INTERSPORT Grossglockner Heiligenblut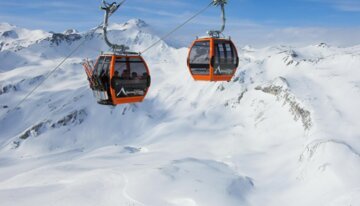 ©
© Grossglockner Bergbahnen Touristik GmbH
Opening times Winter
Dec 4, 2023 - Apr 9, 2024
Monday - Friday
9:00 AM - 12:30 PM and 1:30 PM - 5:00 PM
Saturday, Sunday
9:00 AM - 12:30 PM and 1:30 PM - 5:00 PM
Particularity
Winter sports equipment for rent: Ski rental INTERSPORT Großglockner
about us
Rent your ski and snowboard at INTERSPORT Grossglockner in Heiligenblut
Heiligenblut is a place to dream, to experience, to enjoy and relax. The idyllic mountain village at the foot of the Grossglockner is the ideal base from which you can explore the alpine world of the Hohe Tauern. Today race downhill on magnificent slopes into the valley, tomorrow glide on the snowboard through the deep snow, the day after betake yourself with snow shoes on a discovery tour: Whatever you want, you will find the proper equipment for your favorite sport in the ski rental of INTERSPORT Grossglockner Heiligenblut center.

And the best part: You can experience a new sport every day - according to your mood - with the affordable rental equipment at your INTERSPORT Rent partner. Winter sports could not be more varied!
Smart winter athletes know: If you rent your equipment at one of the INTERSPORT Rent partners, you can benefit from numerous advantages. The practical and straightforward rental service of INTERSPORT Grossglockner Heiligenblut center will make you enjoy your winter holiday to the fullest from the first moment: Just receive your perfectly maintained rental equipment in the ski rental in Heiligenblut and leave all the time-consuming things, such as service, maintenance and transportation with the INTERSPORT Rent staff.