Your partner for ski rental in Flattach
Ski rental and expert advice at INTERSPORT Rent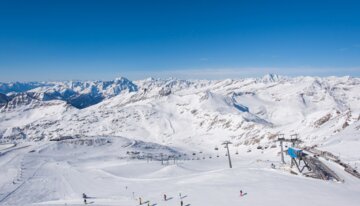 ©
Copyright 2017 Hohe Tauern - die Nationalpark-Region
A gorgeous panorama of the Alps, guaranteed snow until spring, modern lifts and perfectly groomed slopes – all that awaits you at the ski resort Flattach in the region of the Mölltaler Glacier. Enjoy carefree skiing in Austria's southernmost ski area and use the numerous service facilities such as the ski rental of INTERSPORT Rent in Flattach.
Flattach, located at the base of the Mölltaler Glacier, offers all the requirements for the perfect winter vacation. 71 kilometres of perfectly groomed slopes excite skiers and snowboarders of all skill levels. Nine lift units transport you quickly and comfortably through Austria's southernmost glacial ski resort – plus an extensive recreational programme and many service facilities such as the ski rental of INTERSPORT Rent.
Mölltaler Glacier upper station Stollenbahn
INTERSPORT Mentil
Mölltaler Gletscher, 9831 Flattach
Flattach: Recreational skiiers count on our ski rental
Do you love skiing? Then Flattach is the right place for you! In spring, magnificent, fresh snow hillsides await you at Mölltaler Glacier, where you can enjoy with brilliant sunshine and warm temperatures. Get yourself the newest ski models from our ski rental – with good skis you'll have even more fun on the slope!
The competent team at INTERSPORT Rent is available for all questions concerning ski rentals in Flattach. At two locations.
INTERSPORT Rent shops in the federal states
INTERSPORT Rent shops in the regions
Cities with INTERSPORT Rent shops in the region