Ski rental INTERSPORT Kienpointer, base station cable car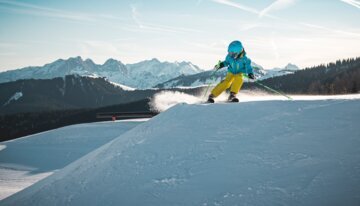 ©
Bergbahn Steinplatte / Klaus Listl
Opening times Winter
Dec 5, 2023 - Apr 10, 2024
Monday - Friday
8:00 AM - 5:30 PM
Saturday, Sunday
8:00 AM - 5:30 PM
about us
Choice, service and advice: INTERSPORT Rent Kienpointner in Waidring-Steinplatte in Tyrol
The ski area Waidring Steinplatte offers transnational skiing pleasure in the alps of Kitzbühel at the Pillersee: Snowpark, cross-country trails and ski slopes are located on a high plateau between Reit im Winkl including Winkelmoosalm in Germany and the states of Salzburg and Tyrol. At the Steinplatte your snow experience is save within the 3 country venture fun area, a skicard composite between the skiing areas Waidring-Steinplatte, Reit im Winkl-Winklmoos, St. Jakob i.H. – St. Ulrich a.P., St Johann Tirol-Oberndorf-Eichenhof, Kirchdorf in Tirol, Erpfendorf-Lärchenhof, Almenwelt Lofer with St. Martin and Weißbach b. Lofer, Unken/Heutal. Your perfect skiing experience with 164km of slopes and 61 cables. The snow park is a popular destination for freestylers and snowboarders: Picnic tables, Wavebox & Co provide action and variety.
The necessary equipment is available in the ski rental of INTERSPORT Kienpointner, base station cable car: The large choice of cool boards and cutting-edge carving ski especially makes young skiers adore. If you can not decide, take advantage of the "Test and Buy" service of the INTERSPORT Rent partner in Waidring in Tyrol: This allows skiers and snowboarders to test new equipment every day. Those who decide to purchase get credited the rental fee.
Ski lockers
Where to put your ski after a great day on the slopes? What to do with wet and cold snow- and skiboots? Just put them in your warm & heated locker directly located at base station cable car Waidring-Steinplatte in your INTERSPORT Rent Kienpointner shop.
Innovative Technology secures that your equipment is save during the night and you'll have your shoes dried automatically till the next morning. So you'll be able to start your perfect skiing day with warm & dry shoes and you can enjoy a great time on the slopes.