Skiing & ski rental in Serfaus
All INTERSPORT Rent locations at a glance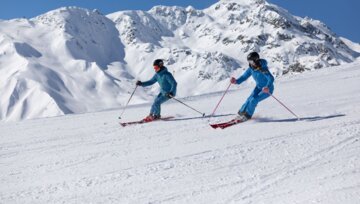 ©
Serfaus-Fiss-Ladis Marketing GmbH / Andreas Kirschner
Ski rental in Serfaus
Your INTERSPORT Rent shops in Serfaus
If you decide to go skiing in Serfaus-Fiss-Ladis, you can look forward to the best service when it comes to renting winter sports equipment. Our RENTertainers at the shops in Serfaus will equip you with the latest ski and snowboard gear from leading manufacturers.
Simply reserve it online and then pick it up at the shop – it's really as easy as that! Insider tips for the region included …
Skiing in Serfaus
More about the ski resort
The village of Serfaus, in the Oberes Gericht region, is located amidst the picturesque three-thousand-metre peaks of the Samnaun mountain range and the Ötztal Alps. The merger with Fiss and Ladis has created one of the largest ski areas in Austria. Yet, despite its vast dimensions, the region has retained its idyllic charm.
In Serfaus, you will find anything from tranquil winter hiking trails to action-packed freeride slopes. With more than 200 kilometres of ski runs, Serfaus-Fiss-Ladis offers plenty of variety. Those who love "ski acrobatics" should head for one of the six freestyle areas. That's where freestyle skiers and snowboarders show off their skills on boxes, kickers and rails.
What's waiting for you in Serfaus-Fiss-Ladis?
over 200 kilometres of slopes
more than 60 state-of-the-art lifts and cable cars
snow-sure slopes until spring
30 kilometres of cross-country ski trails (eight kilometres of high-altitude trails)
ski runs for all skill levels
12 freeride routes
6 freestyle areas with boxes, kickers, tubes, rails and jibs
idyllic winter hiking trails
Good to know: Those who still feel a little "wobbly" on their skis might want to take some skiing lessons with Serfaus' expert ski instructors. Young skiers will have a blast at Berta's Kinderland – an 80,000-square-metre children's paradise in the Alps!
Skiing in Serfaus is right for you if ...
… you would like to explore several idyllic winter hiking trails.
… you've never been to the family-friendly Serfaus-Fiss-Ladis ski area.
… you want to take an atmospheric horse-drawn sleigh ride with your family or partner.
… you appreciate perfectly groomed slopes for every skill level... you can't wait to practice your tricks in the various freestyle areas.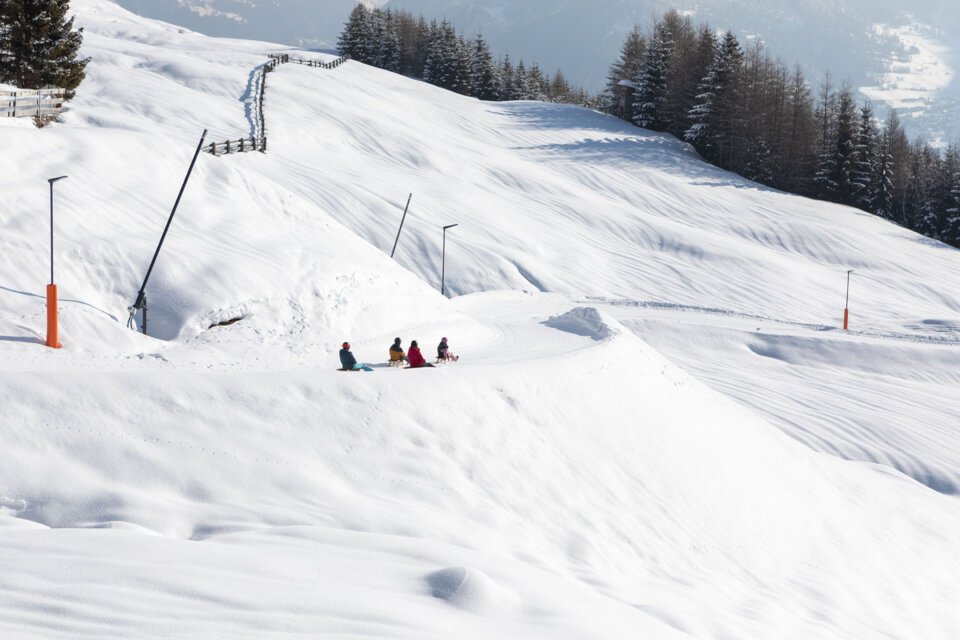 Webcams
A look into the ski resort
INTERSPORT Rent tip
Our RENTertainers recommend
How about going ziplining in Serfaus-Fiss-Ladis? 2,000 metres of pure thrill and top speeds of up to 65 kilometres per hour are waiting for you on the "Serfauser Sauser" flying fox. One thing is for sure: You'll be squealing with exhilaration as you swoosh all the way down into the valley.
The adventure starts at Sunliner mountain station. And in case one flying fox is not enough for you, you can choose from four different lines. How fast will you go down the mountain?
INTERSPORT Rent shops in the federal states
INTERSPORT Rent shops in the regions
Cities with INTERSPORT Rent shops in the region