Ski rental INTERSPORT Fischer Basestation Acherkogelbahn in Ötz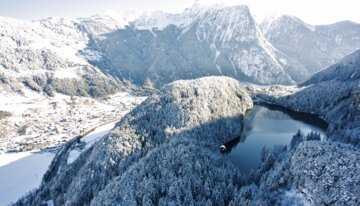 ©
© Ötztal Tourismus | Ernst Lorenzi
Opening times Winter
Dec 8, 2023 - Apr 13, 2024
Monday - Friday
8:30 AM - 5:00 PM
Saturday, Sunday
8:30 AM - 5:00 PM
Particularity
Ski rental and ski school: INTERSPORT Fischer in Oetz
about us
Rent your ski and snowboard at INTERSPORT Fischer in Ötz
The small and contemplative Oetz is a paradise for families: Two cable cars, three chair lifts, five dragging lifts and two "magic carpets" are the guarantors of pure winter delight. The ski rental of INTERSPORT Fischer Acherkogel mountain railway base station is focused on the special needs of parents and children: ski equipment can be purchased or rented for young and old. The INTERSPORT Rent partner in Oetz is easily to find: The entire range of INTERSPORT Rent is available directly in the building of the Acherkogel mountain railway.
The INTERSPORT Rent branch in Oetz offers more than sale or rent of modern ski equipment: the ski school of the Fischer family helps children to delve into fascination for winter sports and provides comprehensive child care. Safety is not only a top priority to parents and their children, but also to the ski rental of INTERSPORT Fischer, Acherkogelbahn base station.

You want to spend your winter holiday in the Oetztal? The contemplative ski resort Oetz is the first choice for families. Visit INTERSPORT Fischer, Acherkogel mountain railway base station. The attentive team of INTERSPORT Rent will inform you about all offers.