Skiing & ski rental in Les Contamines-Montjoie
All INTERSPORT Rent locations at a glance
Ski rental in Les Contamines-Montjoie
INTERSPORT Rent shops in Les Contamines-Montjoie
In Les Contamines-Montjoie, two INTERSPORT Rent shops supply you with the latest winter sports gear. Carving or touring skis, ski helmets, ski boots or avalanche equipment: Whatever it is that you need – you're sure to find it in our shops.
Do you want to learn more about your equipment? For instance: What do you need to keep in mind when getting new freeride skis? How do you adjust your bindings correctly? Or are you simply interested in finding the best off-piste areas? Our RENTertainers will be happy to answer these questions for you.
If you already know exactly what equipment to get for your stay in Les Contamines-Montjoie, then how about booking your gear online? You can collect it when you arrive at the resort. This saves you time, and you'll be on the slopes even quicker!
Skiing in Les Contamines-Montjoie
More about the ski resort
Les Contamines-Montjoie ski resort comprises the municipality of the same name and Hauteluce ski resort. It's easily accessible by shuttle bus from both villages, so you can leave your car parked at your accommodation. Les Contamines-Montjoie also offers a varied range of slopes for freeride enthusiasts – with perfect powder conditions and a view of Mont Blanc.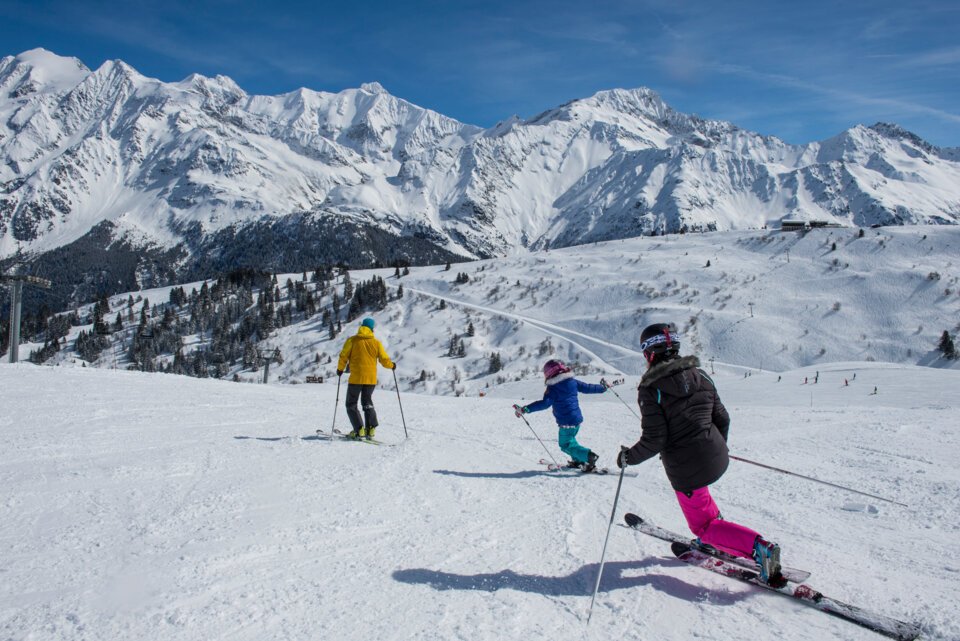 What's waiting for you in Les Contamines-Montjoie?
120 kilometres of ski runs
24 lift and cable car facilities
7 freeride descents
access to the ski resorts of Hauteluce, Le Lay, Belleville and Notre Dame de la Gorge
diverse winter sports activities such as cross-country skiing, biathlon, snowshoeing, ice climbing or skijoring
impressive scenic vistas of Mont Blanc (4,810 metres above sea level)
snow-sure conditions throughout the winter season
Skiing in Les Contamines-Montjoie is right for you if ...
… you appreciate natural freeride slopes and would like to expand your off-piste repertoire in fresh powder snow.
… you want to experience unforgettable moments on the slopes with a view of the Mont Blanc mountain range.
… you are looking for a multi-faceted ski resort for you and your kids, where you can benefit from the services of various ski schools, a children's daycare service and a snow playground for your little ones.
… you would like to discover the 15 kilometres of winter hiking trails in the region.
… you don't want to leave your car parked at home while on holiday. From the village of Les Contamines-Montjoie, a free ski bus takes you directly to the valley station of Hauteluce ski resort.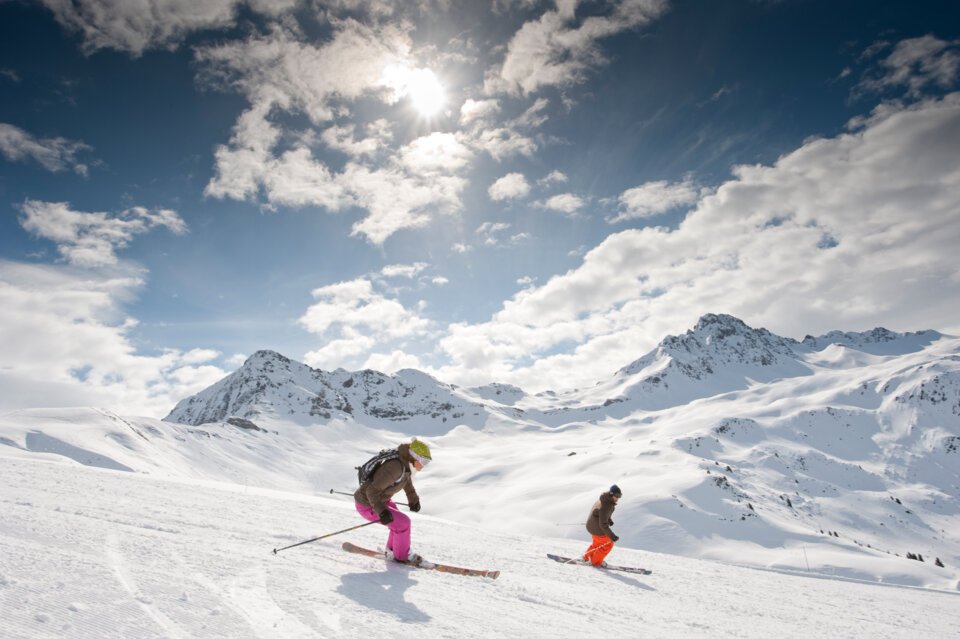 INTERSPORT Rent tip
Our RENTertainers recommend
Amidst the impressive natural scenery at the foot of Mont Blanc, there are around 15 kilometres of winter hiking trails for you to explore. If you don't have snowshoes, you can rent the necessary equipment at our INTERSPORT Rent shops in Les Contamines-Montjoie.
Good to know: In the evening, you can go on guided torchlit hikes – an atmospheric hiking experience underneath the French stars.