Ski rental INTERSPORT Arlberg Sporthaus Lech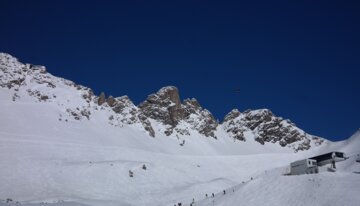 Opening times Winter
Dec 1, 2023 - Apr 21, 2024
Monday - Thursday
8:30 AM - 6:00 PM
Saturday
8:30 AM - 7:00 PM
about us
Rent your ski and snowboard at INTERSPORT Arlberg Sporthaus Lech
With the proven team in Lech, INTERSPORT Arlberg offers an attractive assortment and best service from Lech to St. Anton
Sports wear and equipment for every requirement
3x INTERSPORT in Lech means anything but "more of the same". The offer in the three shops is deliberately oriented towards different buyer interests - because freeriders and sport-savvy fashion lovers are clearly not looking for the same.
With the diversity offered, INTERSPORT Arlberg now meets different requirements. The Sporthaus Lech in Haus Pfefferkorn is home to upscale sports labels with its full range. In the completely renovated shop, visitors can expect 300 m2 of designs that are not to be found everywhere. Many will be surprised by the generous rental in the basement, which is fully equipped with many technical refinements in the INTERSPORT Arlberg style and thus guarantees a very comfortable rental process. The INTERSPORT Arlberg Rüfikopfbahn is all about rental, depot and service due to its proximity to the cable car. In addition to great products, sports enthusiasts and lovers of sporty styles can expect a dedicated service at all locations with the certain extra with which the INTERSPORT Arlberg team has already been able to inspire countless customers. Wherever you look, the Intersport Arlberg team is looking forward to your visit!
If you wish, we deliver your rental equipment directly and contactless to your accommodation around the Arlberg. You don't pay extra for this service, only the pre-booking discount does not apply. Simply book your rental equipment online as usual and select the #DeliveryService products. Or book #DepotPickup: pick up ready-to-go at your personal INTERSPORT depot!