Ski rental INTERSPORT Montafon - Gargellen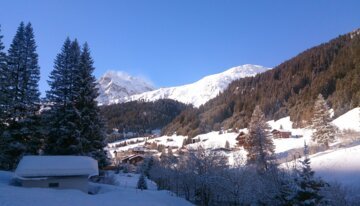 Opening times Winter
Dec 15, 2023 - Apr 7, 2024
Monday - Friday
8:30 AM - 12:30 PM and 2:00 PM - 6:00 PM
Saturday, Sunday
8:30 AM - 12:30 PM and 2:00 PM - 6:00 PM
Particularity
INTERSPORT Rent adantages for children and youngsters
about us
Rent your ski and snowboard at INTERSPORT Montafon in Gargellen
Imposing peaks, tempting deep snow slopes and manageable runs: Gargellen is an insider tip that casts a spell on skiers, snowboarders and carvers in equal measure. Also families feel easy in the quiet winter landscape of the Montafon. For the perfect winter sports gear you don´t need not look far: The ski rental of INTERSPORT Montafon Gargellen center has a wide rental range for large and small winter athletes in readiness.
A good reason to attend INTERSPORT Montafon Gargellen center are the INTERSPORT Rent benefits for families: If both parents rent equipment, their children under the age of 10 obtain ski, boots, poles and helmets for the same period of time for free. Juniors under the age of 14 receive a discount of 50% off the regular price.

Want to learn more about the INTERSPORT Rent services? The INTERSPORT Rent employees are at your service!