Skiing & ski rental in Bourg-Saint-Maurice
All INTERSPORT Rent locations at a glance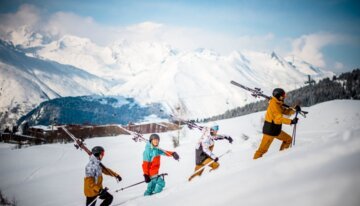 Ski rental in Bourg-Saint-Maurice
INTERSPORT Rent shops in Bourg-Saint-Maurice
In Bourg-Saint-Maurice, there are two INTERSPORT Rent shops for you. They have the latest equipment in stock, so you can enjoy your skiing and snowboarding adventures in Bourg-Saint-Maurice and Les Arcs to the fullest. Which ski model suits you best? What should you keep in mind when choosing and adjusting your ski boots? Our RENTertainers have the answers for you. At our locations on site, you will receive expert advice and great insider tips.
Good to know: You can book your winter sports equipment online in three easy steps – why not give it a try?
Départ Funiculaire
Départ du funiculaire - 725 avenue de l'Arc en Ciel, 73700 BOURG SAINT MAURICE
Skiing in Bourg-Saint-Maurice
More about the ski resort
A skiing experience fit for the king of France: At Bourg-Saint-Maurice ski resort, you can look forward to winter sports pleasure at its best! Perfectly groomed slopes, fresh powder snow, excellent cross-country ski trails or beautiful hiking trails: In Bourg-Saint-Maurice, Les Arcs and Paradiski, you can enjoy wintry France to the max!
Good to know: The resort's snow-sure conditions make it a great location for off-piste adventures. And on a guided ski tour, you will get to know Bourg-Saint-Maurice from a completely new perspective. What do you need for ski touring? Touring skis, touring boots, a backpack and avalanche gear. We'll tell you how to prepare for your touring adventures on the blog – read more now!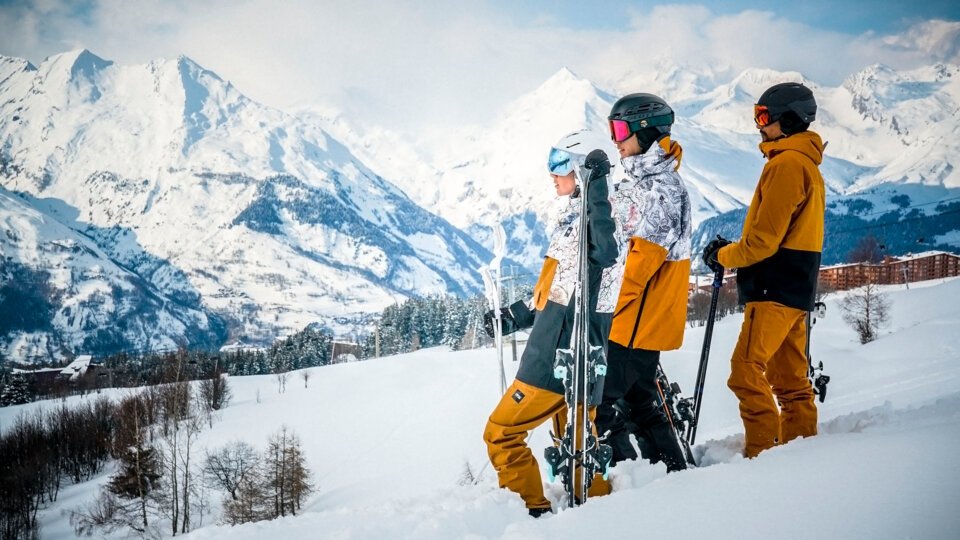 What's waiting for you in Bourg-Saint-Maurice?
a total of 425 kilometres of ski runs
119 state-of-the-art lift and cable car facilities
2 slalom courses – one for beginners and one for advanced skiers
diverse winter sports activities: dog sledding, tobogganing, speedriding, paragliding or skijoring
10 kilometres of cross-country ski trails at the resort and another 44 kilometres of trails in Peisey-Vallandry
kickers, rails, slides, a mini-pipe and other obstacles at the snow park – accessible from the ARC 1600, ARC 1800 and ARC 2000 ski resorts
guided snowshoe tours in the untouched nature of the French Alps
Skiing in Bourg-Saint-Maurice is right for you if ...
… you love action and adventure. The most enjoyable way to climb the powder slopes of Aiguille Rouge is on a guided ski tour. Fresh powder and stunning scenic views are waiting for you!
… you want to make the most of your winter sports experience and explore the numerous kilometres of ski runs that Les Arcs ski resort has to offer.
… you want to try something new. Expand your winter sports repertoire, for instance, with skijoring!
… you appreciate travelling by train. Thanks to the ski area's connection to the TGV network, Bourg-Saint-Maurice is perfectly accessible by train, which saves you time and protects the environment.
… you are looking to explore the winter world of the Western Alps.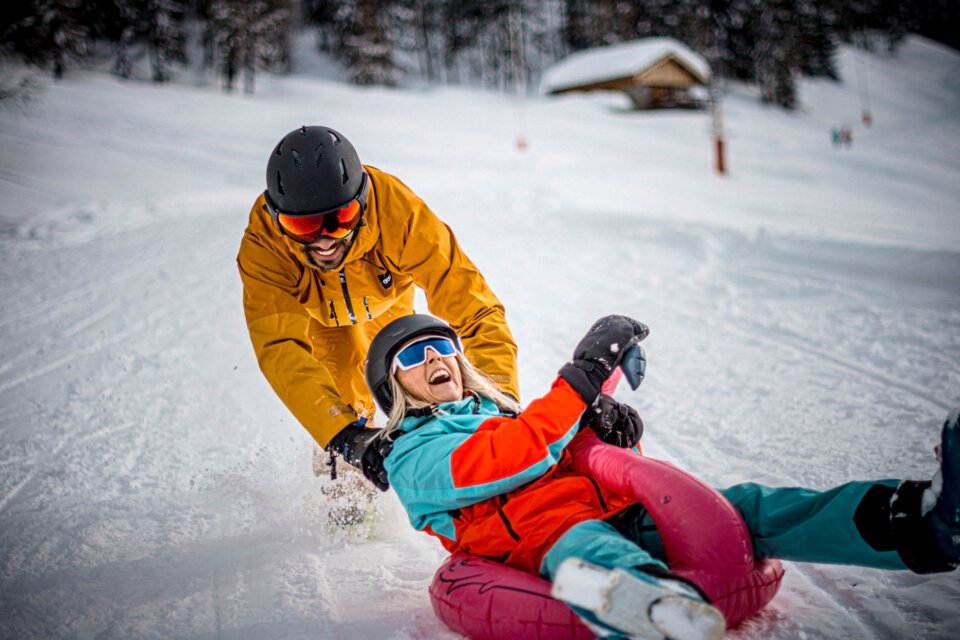 INTERSPORT Rent tip
Our RENTertainers recommend
Scenic vistas at the summit of Aiguille Rouge: At an altitude of 3,226 metres, you'll enjoy breathtaking 360-degree views of the Italian and French Alps. The sight of the mountain peaks of Mont Pourri (3,779 metres above sea level) and Mont Blanc (4,809 metres above sea level) will make time stand still for what feels like an eternity.
The fastest way to reach the summit of Aiguille Rouge is to take the Aiguille Rouge cable car. Tip: Don't forget to bring your camera with you and record your mountain experience for your friends and family!
INTERSPORT Rent shops in the regions
Cities with INTERSPORT Rent shops in the region