Skiing & ski rental in Alpe d'Huez
All INTERSPORT Rent locations at a glance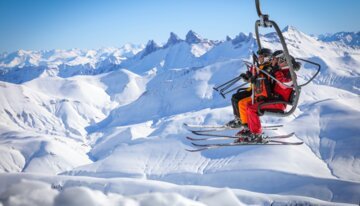 ©
Cyrille Quintard / Alpe d'Huez Tourisme
Ready for the challenge? If you're planning to tackle one of Alpe d'Huez's steeper slopes, it's vital to have high-quality, reliable equipment. If your gear is not up for the challenge, it might be a good idea to visit one of the INTERSPORT Rent shops on site!
Ski rental Alpe d'Huez
Your INTERSPORT Rent shops in Alpe d'Huez
Skis? Check! Snowboards? Check! Helmets and boots? Check! The INTERSPORT Rent shops in Alpe d'Huez have everything you need for a great time in the snow. Browse through our vast selection online or on site and benefit from our RENTertainers' profound mountain expertise!
Whether you need rental skis for your kids or want to try snowboarding for a change – at INTERSPORT Rent in Alpe d'Huez you'll be spoiled for choice!
Skiing in Alpe d'Huez
More about the ski resort
Alpe d'Huez offers a great mix of slopes for all skill levels. Whether you're a beginner or advanced rider, skier or snowboarder – the varied French ski resort offers the perfect playground for all tastes.
Plenty of blue runs are ideal for easy beginner's cruising, while more accomplished skiers love tackling the resort's legendary black runs. Or how about some panorama skiing on the glacier?
Alpe d'Huez in a nutshell:
249 km of slopes
41 green slopes, 34 blue slopes, 40 red slopes, 16 black slopes
84 lifts and cable cars
2 snow parks
1 boardercross park
1 halfpipe
excellent off-piste possibilities
Alpe d'Huez is top of your holiday list? Then head over to www.alpedhuez.com to find out more about the French ski resort!
Skiing in Alpe d'Huez is right for you if …
… you love sunshine skiing in the Alps.
… you want to combine slope adventures with off-piste relaxation.
… you want to top off your day of skiing with some pirouettes on the local ice-skating rink.
… you can't get enough of skiing during the day and want to try Alpe d'Huez's weekly night skiing.
… you're courageous enough to take on the "Tunnel", a notoriously steep and seemingly endless black run.
INTERSPORT Rent tip
Our RENTertainers recommend
Our tip for action junkies is the famous Sarenne run. With a total length of 16 kilometres, the Sarenne is the longest black run of the Alps. It starts from the top of 3,300-metre Pic Blanc glacier and follows a winding path down to the centre of Alpe d'Huez. Are you up for an altitude drop of 1,800 metres?
By the way: If you need reliable equipment or expert advice on how to tackle the Sarenne, don't hesitate to consult our RENTertainers on site!